Powerful, versatile and easy to shoot, the .327 Federal Magnum offers big performance in a little package.
Why the .327 Federal Magnum Excels:
A 115-grain bullet can move up to 1,335 fps from the muzzle of a 3-inch barrel.
Mild recoil compared to other magnums.
.327 Fed Mag guns can also shoot .32 H&r Mag, .32 Long, .32 Short and .32 ACP.
Useful for plinking, self-defense and hunting.
In 1983 — the year I graduated high school — Federal shocked the shooting world with the .32 H&R Magnum. It was nothing more than a .32 Long with a longer case, loaded to a higher pressure — 21,000 psi as compared to 12,000 psi. This resulted in velocity increase of about 300 fps. Just as appealing was that this new cartridge could be housed in Ruger's Single Six, single-action revolver. But, most importantly, that revolver could also fire .32 ACP, .32 Short and .32 Long cartridges. I bought the first Single Six in .32 H&R I ever laid eyes on.
The Single Six in .32 H&R developed a cult-like following, but due to limited factory ammunition options, for the next quarter-century it mostly languished in near obsolescence. A few cowboy action shooters toyed with it, and it was thought to be suitable for self-defense — if you couldn't handle a 38 Special. Still, I remained a faithful devotee: There's always been a .32 H&R — if not on my hip — in my safe.
That all changed in 2008 … well, kinda.
.327 Federal Magnum: A New Magnum
In that year, Federal again shocked shooters with the .327 Federal Magnum. They lengthened the .32 H&R Magnum case and upped the pressure just like they'd done with the .32 Long in 1983. But this time, instead of increasing it by 6,000 psi, they more than doubled it to a staggering 45,000. Just to establish some perspective, the .44 Magnum is only loaded to a maximum average pressure of 36,000 psi. You could say the .327 Federal Magnum is one of the most powerful handgun cartridges of all time.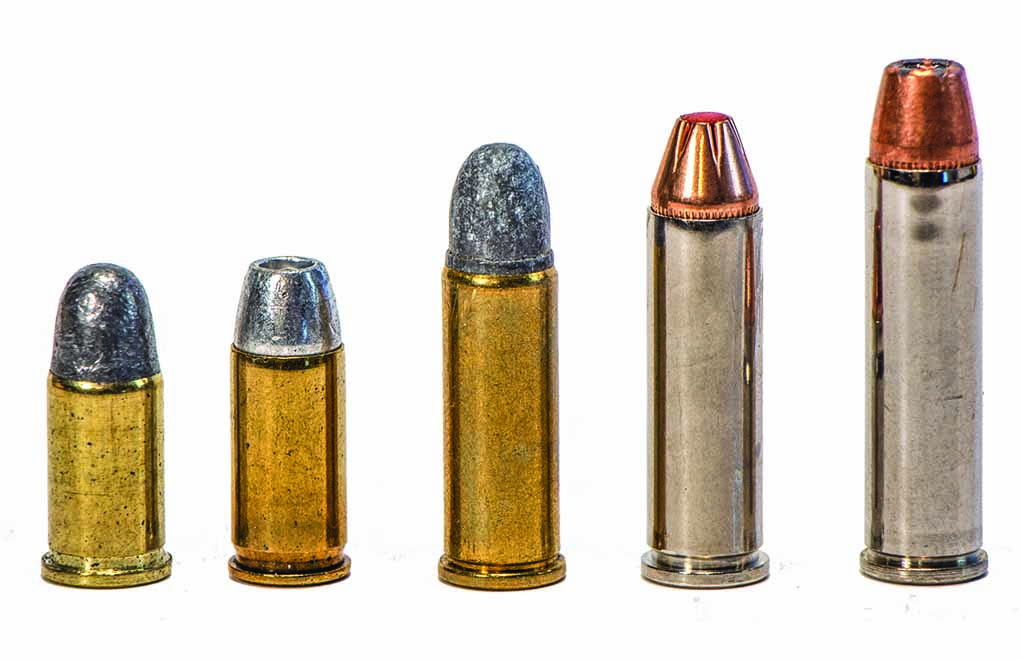 High pressure means high velocity, and that's where the .327 Federal Magnum stands out. From a 3-inch barreled revolver, you can expect muzzle velocities as high as 1,335 fps for a 115-grain bullet and 1,450 fps for 100-grain bullets. Longer barrels mean even higher velocities. With a 5.5-inch barrel, you're looking at about 1,550 and 1,725 fps, respectively. These blistering velocities required Federal and their sister company, Speer, to develop special bullets to handle all that speed.
From a 3-inch barrel, Speer's 100-grain Gold Dot bullet will penetrate 17.5 inches in 10 percent ordnance gelatin, and expand to 0.45-inch, while retaining 85 percent of its weight. Federal's 100-grain JSP bullet will penetrate 16 inches, expand to 0.51-inch and retain 97 percent of its weight.
Maybe more impressive are the hardcast loads available from Doubletap and Buffalo Bore for the .327 and .32 H&R. Even at modest velocities, they will penetrate more than 3 feet, and even though they'll not expand, they're deadly. I've taken several deer with both.
---
More Revolver Cartridge Articles:
---
Because .327 Federal Magnum revolvers retain the ability to fire .32 H&R Magnum, .32 Long, .32 Short and .32 ACP ammunition, you have a very versatile handgun that can fire five cartridges. (See Table 1 for a comparison of these cartridges in various barrel lengths.) Not only is this cartridge compatibility unmatched, what's often overlooked is the versatility it provides. If you want to go plinking with a low-recoil load, fill the cylinder with .32 Shorts. If you want to hunt small game, use .32 H&R Magnums. If you want to hunt deer or defend your person, go with the .327 Federal Magnum.
.327 Federal Magnum's Slow Start?
So, you're probably wondering why 327 Federal Magnum revolvers — if so versatile and practical — are not more popular. This is partly the fault of Federal. Initially, the cartridge was offered as a lower-recoiling defensive revolver alternative to the .357 Magnum. The .327 Federal does recoil less, and for all practical purposes it's just as effective, but it simply could not compete with the well-established .357/.38 Special revolver options on the market. Early on, only compact double-action revolvers were offered for the .327 Federal, and shooters mostly yawned.
It really wasn't until 2015 when Lipsey's — a firearms distributor out of Louisiana — partnered with Ruger to offer the .327 in their Single Six, single-action revolver. (Remember, the .32 H&R was originally offered in this same revolver.) Lipsey's rolled out 4.6-, 5.5- and 7.5-inch barreled versions, with an un-fluted cylinder that held seven — as opposed to six — cartridges. The Single Seven was born, and it breathed new life into the .327 Federal Magnum, not necessarily for defensive, but for general-purpose use.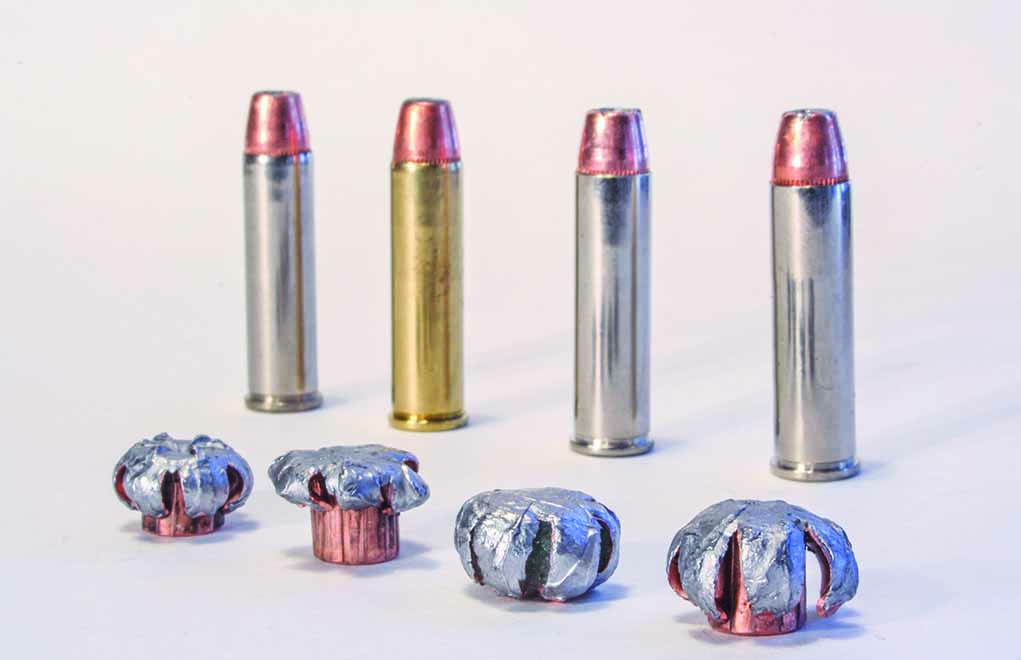 The cartridge was a great idea all along — the problem was gun makers were putting it in the wrong handguns. Now the word is getting out, and Lipsey's has trouble keeping Single Sevens in stock. Whether you're looking for a revolver to wear around the farm, take on a camping trip or hike, to supplement your rifle or shotgun while hunting, or to just take to the range for fun, one chambered for the .327 Federal Magnum is a wonderful option. And, it's even a better option since you can now have a lever-action rifle chambered for it too.
I've had a .32 H&R Magnum of some sort for 35 years — I always will. Now it's just called a .327 Federal Magnum, and I got no plans of getting rid of it. Hell, I might even buy another one.
Henry Big Boy Steel .327 Federal Magnum Carbine
The allure of the lever action is rooted in the American West, and so is the concept of a revolver and lever gun sharing the same ammunition. Henry's Big Boy Steel has traditional lever-action lines but retains the signature Henry tube-loading. Though the mechanics of this system precludes the load-as-you-go concept, it makes the rifle infinitely easier and safer to unload.
The magazine holds 10, 9 and 8 rounds of .32 Long, .32 H&R Magnum and .327 Federal Magnum respectively, and the rifle will reliably cycle, chamber and fire all three. The factory sights are the traditional brass bead front and semi-buckhorn, ladder rear, but my eyes need a little help. Fortunately, the XS Sights' aperture and white post front sights for a Marlin 336 fit the Big Boy, which is also drilled and tapped for scope mounting.
Metal surfaces are finished in matte blue, and the big loop lever allows for comfortable one-hand carry at the wrist. The stock is American walnut with wrap-around checkering, and at 3.5 pounds, the trigger was very nice. There's no manual safety, but there's a transfer bar safety, which means the trigger must be pulled for the rifle to fire. It also means you can carry the rifle loaded, with the hammer down — safely.
The rifle shoots exceptionally well. At 50 yards it averaged 1.76 inches, and that's with seven different .32 Long, .32 H&R Magnum and .327 Federal Magnum loads, all fired with open sights. And with an MSRP of $893, the Henry Big Boy 327 Federal Magnum Carbine makes an ideal companion to any of Ruger's Single Sevens.
Single Seven Bisley .327 Fed Mag
Originally known as S&S Wholesale Sporting Goods, Louisiana based Lipsey's has been distributing hunting and fishing products for 65 years. They've distinguished themselves by working with manufacturers to offer exclusive firearms, such as the Ruger Single Seven. Their latest Single Seven is a Bisley version and it's exceptional.
This blued steel revolver has a 5.5-inch barrel, an un-fluted cylinder and walnut grips that fit the astoundingly comfortable Bisley frame, which was inspired by the Colt Bisley revolver. Many find it and the target style hammer much more comfortable than the traditional gunfighter grip common to most single-actions. The Bisley grip positions the hand to perfectly manipulate the trigger, without disturbing the sights. I managed seven out of seven hits on an 8-inch steel plate, while shooting off-hand — from 50 yards! I've never done that with any other handgun.
As far as packing pistols go, a 5.5-inch barrel stretches carry comfort, but, that extra bit of barrel and longer sight radius not only offers tremendous assistance when it comes to hitting what you're aiming at. On average, you can expect a velocity gain of 150 fps or more over a 4.6-inch barreled Single Seven. MSRP is $709.
.327 Federal Magnum Compatible Cartridge Velocity by Barrel Length Comparison
CARTRIDGE LOAD
BARREL LENGTH (Inches)
3
4.6
5.5
16
32 S&W Magtech LRN 85-grain
624
701
732
NT
32 S&W Long Federal LRN 98-grain
658
626
680
NT
32 ACP Winchester Silvertip 60-grain
869
900
939
NT
32 H&R Mag Black Hills FP Lead 90-grain
734
711
781
967
32 H&R Mag Federal JHP 85-grain
982
960
1031
1272
32 H&R Mag Black Hills JHP 85-grain
955
983
1049
1225
32 H&R Mag Doubletap WFN Hardcast 115-grain
1038
1038
1079
1420
32 H&R Mag Hornady FTX 80-grain
1039
1046
1123
1301
32 H&R Mag 11.0 gr. Lil Gun Sierra JHC 90-grain
1210
1156
1305
1743
32 H&R Mag Buffalo Bore JHP 100-grain
1197
1236
1288
1737
32 H&R Mag Doubletap Barnes TAC-XP 60-grain
1300
1375
1523
2007
327 Fed Mag Doubletap WFN Hardcast 115-grain
1052
1178
1466
1916
327 Fed Mag Buffalo Bore Hardcast Lead 130-grain
1386
1306
1425
1671
327 Fed Mag Buffalo Bore JHP 100-grain
1361
1339
1469
1850
327 Fed Mag Federal JSP 85-grain
1340
1376
1461
2155
327 Fed Mag Speer Gold Dot 115-grain
1335
1393
1550
1872
327 Fed Mag Federal Hydra-Shok 85-grain
1396
1406
1535
1855
327 Fed Mag Federal JSP 100-grain
1446
1434
1725
2150
327 Fed Mag Speer Gold Dot 100-grain
1456
1511
1636
1911
327 Fed Mag Doubeltap Barnes TAC-XP 75-grain
1554
1545
1752
2020
NT=not tested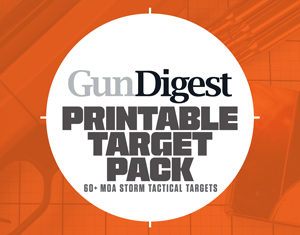 Next Step: Get your FREE Printable Target Pack
Enhance your shooting precision with our 62 MOA Targets, perfect for rifles and handguns. Crafted in collaboration with Storm Tactical for accuracy and versatility.
Subscribe to the Gun Digest email newsletter and get your downloadable target pack sent straight to your inbox. Stay updated with the latest firearms info in the industry.