Hornady has just announced the release of CX bullets and pre-loaded ammunition, offering great expansion, penetration and aerodynamic performance in a wide variety of popular hunting calibers.
Some consider Hornady to be the acme of high-performance projectiles. Whether talking about defensive handgun ammo or premium hunting bullets, one of their products is bound to be acknowledged. Now the company has announced a new line of projectiles and ammunition called CX bullets, engineered to deliver outstanding terminal performance, a consistently stable ballistic coefficient and even reduce fouling. Available in several calibers as either reloading components or Hornady-loaded ammunition, CX bullets are now the most advanced projectile in their class.
The CX bullets are of a monolithic design and are made of copper alloy. The result is a projectile that penetrates deep, doesn't disintegrate upon impact and delivers devastating effects on target. It uses the Hornady Heat Shield Tip used on many of their other bullets, which due to its heat-resistant polymer construction can maintain a high and consistent ballistic coefficient throughout the entire flight. This all comes together to make the new CX bullets both accurate and effective. Redesigned groove geometry results in less copper fouling as well.
CX bullets are available either in the form of projectiles as reloading components or as complete ammunition in Hornady's Outfitter, Custom and Superformance lines. They offer one subsonic loading in 350 Legend as well. The biggest shakeup to Hornady's existing lineup is the incorporation of CX bullets into all existing Outfitter line loads. Made with watertight nickel-plated cases, Outfitter ammo is available in 243 Winchester up to 375 H&H Magnum as well as most popular hunting cartridges that fall in between. Now with all calibers loaded with the high-performance CX bullets, the Outfitter line has whatever you need to take medium to large game. The monolithic copper construction means they are legal to hunt with in areas that require the use of lead-free projectiles too.
Whether you load your own ammo or buy it pre-manufactured, the new CX bullets are ready to deliver excellent performance across the board. Hornady claims that these new projectiles only feature a few incremental improvements, but hunters who are used to the old GMX bullets are bound to notice the greater terminal performance at longer ranges.
To see all available calibers and loadings of CX bullets, please visit hornady.com.
---
More High-Tier Ammo:
>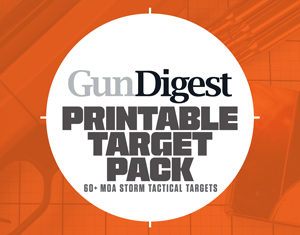 Next Step: Get your FREE Printable Target Pack
Enhance your shooting precision with our 62 MOA Targets, perfect for rifles and handguns. Crafted in collaboration with Storm Tactical for accuracy and versatility.
Subscribe to the Gun Digest email newsletter and get your downloadable target pack sent straight to your inbox. Stay updated with the latest firearms info in the industry.