Sig Sauer jumps into 6mm Creedmoor ammo with a Sierra MatchKing tipped option.
How Sig 6mm Creedmoor Ammo I Made To Go The Distance:
At 107-grains, the MatchKing bullet is at the heftier end of the spectrum.
Sig loads the ammo to push the bullet 2,950 fps at the muzzle.
At that velocity, the bullet's effective BC is .547.
Less heralded among everyday shooters than its older, bigger brother, the 6mm Creedmoor nonetheless provides excellent downrange performance. Much like the 6.5 Creedmoor, the 6mm has a healthy selection of long, high-BC bullets of which to choose from, which equates another wind-bucking option that goes the distance. Only, a little bit lighter and less recoil than the original Creedmoor.
Sig Sauer is the most recent chasing after the ballistically talented cartridge, expanding its line of Elite Match Ammunition with its first 6mm Creedmoor offering. Similar to many of its match ammunition options, Sig opted for the popular and effective Sierra MatchKing bullet with the Creedmoor. At 107-grains, it's not the heaviest bullet found in the cartridge, but certainly it falls within the spectrum of what many precision shooters prefer. And it moves at a clip most precision marksmen should appreciate—2,950 fps at the muzzle. Given Sierra's velocity-base ballistic coefficients, at that rate the bullet's BC is effectively .547, which in a word is good.
Sig lists a box of 20 at $30.95, which doesn't quite make it plinking material. But taken relative to a good swath of the 6mm Creedmoor market—which is dominated by match ammo—it's fairly competitively priced.
More From Sig Sauer:
NEWINGTON, N.H., (November 7, 2019) – SIG SAUER, Inc. extends its line of Elite Match premium competition ammunition with the addition of 6mm Creedmoor.

Featuring a 107gr Sierra MatchKing® bullet, the new 6mm Creedmoor Elite Match OTM load has a muzzle velocity of 2,950 fps and muzzle energy of 2,068 ft-lbs.

"6mm Creedmoor is a popular long-range round that performs well in wind thanks to its high ballistic coefficient and flat trajectory," said Brad Criner, Senior Director, Brand Management and Business Development, SIG SAUER Ammunition. "We are pleased to offer this highly accurate round for competition shooters along with 6.5 Creedmoor and numerous other match grade loads."

SIG Elite Match ammunition is currently available in the following calibers: 223 Rem, 300BLK, 308 Win, 30-06 Springfield, 300 Win Mag, 6mm Creedmoor and 6.5 Creedmoor.

SIG SAUER Elite Match ammunition features a temperature-stable propellant that delivers consistent muzzle velocity in all weather conditions. Premium-quality primers ensure minimum velocity variations, and the shell case metallurgy is optimized in the SIG Elite Match OTM cartridge to yield consistent bullet retention round to round. All SIG SAUER rifle ammunition is precision loaded on state-of-the-art equipment that is 100% electromechanically monitored to ensure geometric conformity and charge weight consistency.
---
Load Up More Ammo Info:
For more information on Sig Sauer's 6mm Creedmoor ammo, please visit www.sigsauer.com.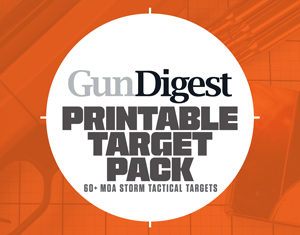 Next Step: Get your FREE Printable Target Pack
Enhance your shooting precision with our 62 MOA Targets, perfect for rifles and handguns. Crafted in collaboration with Storm Tactical for accuracy and versatility.
Subscribe to the Gun Digest email newsletter and get your downloadable target pack sent straight to your inbox. Stay updated with the latest firearms info in the industry.