Adding two popular self-defense calibers to the Hydra-Shok lineup, Federal Premium has armed citizens covered.
How Hydra-Shok Deep improves on the original:
50-percent greater penetration than original Hydra-Shok.
15-inches of penetration in bare ballistic gel and through heavy clothing.
Improved center post that helps bullet retain structural integrity.
Better barrier penetration.
Released a year ago, Hydra-Shok Deep was Federal Premium's attempt to improve on a legend. With an improved core design, the defensive rounds were devised to provide 50-percent deeper penetration than original Hydra-Shok. Furthermore, the hollow point's trademark post in the center was beefed up, creating a projectile that retained more of its structural integrity through barriers. The only problem was Hydra-Shok Deep was strictly a 9mm affair … until now.
Federal Premium tacked on additional loads for the .40 S&W and .45 ACP for 2019, which means the line now has an option for the most popular defensive semi-auto pistol calibers in use today. The .40 S&W Hydra-Shok Deep is a 165-grain load with a muzzle velocity of 1,050 fps and the .45 ACP is a 210-grain load which leaves the muzzle at 980 fps. According to Federal, the new Hyrda-Shok loads have shipped to distributors, so should appear on store shelves soon.
---
More Ammo Posts:
---
From Federal Premium:
ANOKA, Minnesota – – Federal unveils two new Federal Premium Hydra-Shok Deep loads that better meet modern handgun performance measurements. Shipments have been delivered to dealers.

In 2018, Federal reinvented the proven Hydra-Shok bullet design with Hydra-Shok Deep in 9mm Luger. Now, it has expanded the line with new loads in 40 S&W and 45 Auto. The bullets feature a more robust center post and a core design that penetrates to critical depths through common self-defense barriers, without over-penetrating.

Features & Benefits

Now available in 40 S&W and 45 Auto
Penetrates 15 inches in bare ballistics gel and through heavy clothing — the optimal depth according to FBI standards
Improved penetration to optimal depths
Significant improvement in FBI protocol score
Iconic center post design has been improved for better, more consistent expansion through standard barriers
Consistent, specially formulated propellant
Extremely reliable Federal primer

Part No. / Description / MSRP

P9HSD1 / 9mm Luger 135-grain Hydra-Shok Deep HP / $27.95
P40HSD1 / 40 S&W 165-grain Hydra-Shok Deep HP / $31.95 NEW
P45HSD1 / 45 Auto 210-grain Hydra-Shok Deep HP / $33.95 NEW
For more information on Federal ammunition, visit www.federalpremium.com.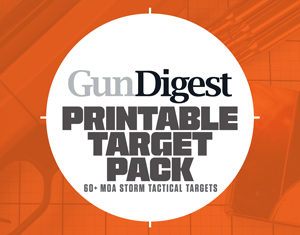 🎯 Exclusive Offer: Get Your FREE Printable Target Pack!
Dive into precision shooting with our 62 Exclusive MOA Targets featuring DOT Drills. Perfect for both rifle and handgun enthusiasts, these targets are designed for accuracy, especially for long-range shots.
Why You'll Love This Pack:
🎯 Expertly Crafted: Brought to you in partnership with the renowned Storm Tactical.
🎯 Versatile Use: Suitable for both rifle and handgun range sessions.
🎯 Precision Design: Target grids and bullseyes meticulously measured in MOA for the best shooting experience.
Bonus: By grabbing this offer, you'll also be subscribing to the Gun Digest email newsletter, keeping you updated with the latest in the world of firearms.
Don't miss out!
Simply enter your email below, and we'll send your downloadable target pack straight to your inbox.