Some of the best long-range shooting gear, made right here in the USA by companies like TBAC and RRS.
Adaptive Tuning System

The Adaptive Tuning System (ATS) is getting a lot of attention in the precision rifle world. It also has a bit of controversy as to the merits of a harmonic tuning system for your rifle.
We understand barrels have a harmonic property to them, and those harmonics can be tuned to move the accuracy node to the cartridge you're shooting. Do you have a lot of ammunition that's not grouping as well as expected? Adjusting the tuning can bring it from 2 MOA to ¼ MOA … during a casual afternoon at the range.
The devices are simple: a weight system tied to a rotating adjustment that threads on the end of your barrel. It uses the existing threads, provided your barrel is threaded. They're graduated so the user can rotate the adjustment and then lock it in place once the accuracy node is achieved.
The products born out of competition tend to work really well. These shooters are investing a lot of time and money when competing. Today's competitions are won by a single point or single stage, so anything you can do to gain an advantage is necessary. The ATS isn't the only tuner of this type available, but his doesn't require additional gunsmithing … and it's very good.
ThunderBeast Arms (TBAC)

Aside from being personal friends, I really like the ThunderBeast (TBAC) products. It's a suppressor company, but they also create a top-notch bipod, which was born out of Army contracts for a new sniper system.
People mistakenly believe anything holding up the front of a rifle is enough; however, tests have proven that accuracy can vary based on design.
First, the Army wanted the bridge to hold the legs slightly wider apart. Balancing the barrel over an apex is inferior to hanging it inside a triangle shape. That creates stability.
The Army also wanted to move the leg locks to the side. Why? Because shooters often accidently employ the locks when pushing or pulling the bipod against an obstacle.
Machined to perfection, the TBAC Bipod isn't cheap, but it's so worth it. They also removed any panning feature from the design. We're not machine gunners, so we don't want to pan anyway. This requested change led to Atlas adding the CAL to their lineup. The CAL and TBAC appear very similar for all these reasons.
The final step was providing a tight lockup, so the rifle isn't canted during the shot. You don't fix cant with a level, you simply identify it … and you fix can't with the bipod by locking it in place or providing enough tension that the shooter won't roll it over accidently.
It's hard to put into words, but you really have a different experience behind the rifle with a good bipod.
In addition, TBAC cans are some of the best precision rifle suppressors on the market. With precision rifle shooters, sound suppression is always meaningless without accuracy. If, without a suppressor, my rifle groups 3/8 MOA, I don't want that group to be 5/8 MOA when I add the suppressor. Sound suppression often comes at the cost of accuracy, because the idea is to create a bunch of turbulence inside the can. I won't tell you how many suppressors I currently own, but if you guessed less than 30, you'd be way wrong. Many sit collecting dust because they opened up my groups.
Precision Underground

Rarely talked about are nylon products, such as rear support bags. I'm the ultimate rear bag snob and don't believe in shortcutting this part of the equation.
Rear bags can matter, and today, we see a lot of guys looking for that "one bag" solution. Thanks to precision rifle competition, the use of nylon bags has grown exponentially.
Because of the need to manage bags during competition, many have neglected the elements of a proper rear bag. More goes into a rear bag today than just filling a sock with sand. Sure, that worked for me in the Marines in 1986, but in 2021, I want more out of my rear bag.
The height, width and depth all matter when trying to balance the rifle between the bipod and bag. I recently sampled 12 different Precision Underground Bags to help nail the fill amount alone.
We can compromise, and for one or two shots, anything works. But when you want a real five-shot group—not one shot fired five times—how the bag supports the back of the rifle matters.
Really Right Stuff

Really Right Stuff leads the pack when it comes to shooting tripods. Given the choice between carrying a rifle with just a bipod or a rifle with just a tripod, I want the tripod. There's no precision rifle shooting problem I cannot solve with a tripod.
Different-sized tripods handle different tasks in the field. Many use the 33 Series for precision rifle competition. For the hunter, there's the Ascent series. They took the smaller 14 Series legs and modified it to use an Anvil 30 shooting head. It still features a removable center column, one with a micro ball or a short version for the Anvil. These are perfect to hunt with due to their size and weight.
We're living in the golden age of precision rifle. Everyday something new drops, thanks to all the great innovators around the country making these products. Everything mentioned here is currently in my toolbox ready for deployment.
Editor's Note: This article originally appeared in the October 2021 issue of Gun Digest the Magazine.
---
More Long-Range Shooting Info: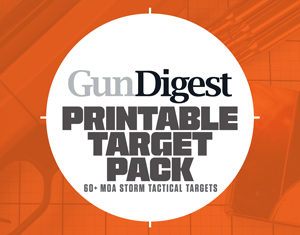 Next Step: Get your FREE Printable Target Pack
Enhance your shooting precision with our 62 MOA Targets, perfect for rifles and handguns. Crafted in collaboration with Storm Tactical for accuracy and versatility.
Subscribe to the Gun Digest email newsletter and get your downloadable target pack sent straight to your inbox. Stay updated with the latest firearms info in the industry.