Timney finds an extra gear for Glocks with its Alpha Competition Series Trigger.
When shooters think triggers, Timney generally comes to mind. From upgrading war-trophy Mauser rifles for the hunting woods to picking up the pace of a souped-up AR-15, the manufacturer has set the standard for more than half a century. Now it's tackling Glock.
The Timney Alpha Competition Series for Glock raises the bar of aftermarket upgrades for the iconic striker-fired pistol, offering not only performance, but safety. Safety? Quite so, with the trigger's small footprint leaving the entire upper of the pistol stock, thus maintaining its precise factory integrity. The frame, on the other hand, receives a new trigger bar and shoe that install in true drop-in fashion. As to what it brings to the table, a break-like-glass 3-pound pull weight and minuscule reset that remains the same from shot one through one thousand.
Timney's expert engineering is one part of the Alpha Competition Series performance. The other, quality manufacturing. Both the trigger bar and sear are Teflon nickel (NP3) coated, adding a layer of resilience to the parts and also eliminating virtually all friction. This also makes the pull smooth as polished marble. The straight aluminum trigger, complete with blade safety, give the pistol a sporty appearance—thanks to the cherry-red blade—and facilitate proper finger placement and linear pull with its flat face. Additionally, the architecture does its part in reducing the felt pull weight of the already snappy trigger.
For its launch, The Alpha Competition is available for Glock Gen 3 and 4 pistols. Expect more options down the line. And, for what shooters get—whether upgrading a race gun or a carry piece—the trigger proves an excellent value at $149.99.
For more information on the Timney Alpha Competition Series Trigger for Glock, please visit timneytriggers.com.
---
Raise Your Gear IQ:
---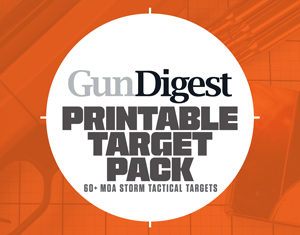 Next Step: Get your FREE Printable Target Pack
Enhance your shooting precision with our 62 MOA Targets, perfect for rifles and handguns. Crafted in collaboration with Storm Tactical for accuracy and versatility.
Subscribe to the Gun Digest email newsletter and get your downloadable target pack sent straight to your inbox. Stay updated with the latest firearms info in the industry.