Updated 7/21/2022
If you're planning some trigger time you need to consider what you'll pitch rounds toward. Here's everything you need to know about shooting targets and then some.
What You Need To Consider When Buying A Shooting Target:
Material best suited to your style of shooting.
Cost they'll run.
Their longevity — are they one-time use or will you get years out of one.
The type of target that will enhance your style of shooting.
If you don't enjoy target shooting, well … there's something just plain wrong with you. No offense, but even if you live for elk season or were born to run and gun at a practical pistol match, an afternoon plugging away at the bullseye should still get your juice flowing. Especially nowadays …
Never has there been a wider, more diverse and more useful selection of shooting targets available, no matter what gun or discipline happens to be your passion. From precision sight-in options to "dial your riflescope way up" options, to AR500 steel monsters made for the long haul, you have everything you need to satiate your itchy trigger finger and sharpen your skills. With the wealth of shooting targets out there today, the only question really is: Which one is right for you?
The answer, as always when it comes to guns and gear, is "It depends… ." If it's purely pleasure principal, then nearly anything that turns your fancy will do. However, if you aim at something greater, such a skill improvement, well then picking your target requires some consideration.
Shooting Target Material
As most know, targets are made from different materials. The four most commonly used are:
Paper or cardboard
Steel
Clay
Polymer
As is usually the case with different materials, each excels at different tasks and flounder at others. In turn, what your target is made of should match up with what you plan to do when you go shooting. Here's a brief rundown of what each material is good and bad at achieving.
Paper: As the most familiar target material, paper continues as one of the most versatile. An excellent medium for tracking shot groups, it's a top choice if you need to adjust your sights or scope, or if you need to tally a score in a competitive shooting match. Plain paper targets, at distance, can prove difficult to inspect with the naked eye. However, modern reactive chip targets – where hits create vivid halos on their surface – make them easier to read. Only clays have less longevity than paper shooting targets; however, in most cases, neither will break the bank.
Steel: Gaining more popularity among everyday shooters in recent decades, steel targets are the most durable and longest lasting. With proper care, many AR500 steel targets last nearly a lifetime. Excellent for training, steel shooting targets provide instant auditory feedback when struck – a sound you'll grow to love. Furthermore, there are a variety of reactive targets made from steel that not only increase the enjoyment of shooting, but they also up the challenge. The drawback to steel targets is many of the larger ones are fairly unwieldy and are a hassle to move around. What's more, steel costs more up front … but don't let that make you think they're not economical over the long haul.
Clay: If you're a shotgun shooter, you know clay targets. Chances are good that you shoot them when you aren't shooting birds. While they're the dominant target in shotgun games, clays are sometimes found downrange from pistols and rifles, generally as a bit of fun. You definitely know when you hit these brittle targets because they break up or evaporate into a cloud of dust. And therein lies their drawback: Clays are absolutely one-time use.
Polymer: Designed to allow a bullet to pass through with minimal damage, polymer targets typically have a decent lifespan. However, they won't last forever. Predominantly, polymers are used in ground targets – three-dimensional targets that rest on the ground – because they require some sort of backstop. This style of target, however, proves great fun, since they'll jump like a frog in hot water when hit.
Types Of Shooting Targets
Given the variety of shooting target styles available today, it would take a multi-volume book to catalog them all. But that's alright, because many of them cater to specific shooters with specific interests and goals.
That said, it's safe to break down the types of shooting targets into a few different categories to get an idea what's available. By no means are these definitive: Many of the targets bleed over into other categories. But, in general, this gives you an idea of what you might look for to achieve certain goals the next time you're fixing to burn some ammo.
Accuracy Targets
Certainly, accuracy is always the top goal when you send a bullet flying … otherwise, what's the challenge? And there are definitely shooting targets that are adept at improving and evaluating how well you hit the mark. Two of the most common are bullseye and sight-in. The former is perhaps the best-known shooting target and is excellent for new marksmen. It's ideal for refining a sight picture and learning where to hold, as well as honing the mechanics of making an accurate shot – breathing, trigger control, etc. As a staple of riflemen, the latter is a must-have for zeroing in a scope – as its "sight-in target" name suggests. With a grid laid out across its surface, the target gives you the ability to appraise your groups and adjust your optic's aim point.
Feedback Targets
Occasionally, immediate or specific feedback is required to drill down a shooting skill. In turn, a target that lets you know you're on the mark soon after the trigger is pulled is required. Steel shooting targets are the most familiar variety, with their sweet "Ping!" ringing out when you've made a hit. Ideal for rapid fire-training with a handgun or carbine, or for long-range shooting, a good piece of steel gives you the feedback you need.
Get On Target With These Posts:
Although they're very much different from steel, modern game targets also fall into this category, though they deliver a different kind of data on how you're shooting. With the vital zones embossed on the game animal, this shooting target option familiarizes you with your particularly quarry's anatomy well enough to put meat on the table.
Skill-Based Targets
Skill-based targets are legion. In a certain respect, when talking trap and skeet, clays fall into this group. For rifle and pistol shooters, the silhouette is among the most utilized. If you own a handgun, there's a good chance you've stared one down and understand their importance to self-defense training. Deadly force isn't something to take lightly, and a shooting target such as a silhouette ensures you know how to wield it effectively.
Cost Of Shooting Targets
Economy is an issue any time you're shooting. In turn, it should play a role in your target selection. But don't fool yourself: A tiny price tag at the store doesn't necessarily mean you're saving money.
Without argument, paper targets are the cheapest, but, at best, you'll get an afternoon out of one … and much less time than that if you're shooting a lot. More durable targets, such as steel, can last nearly a lifetime. Given this, they'll tend to cost less the more you shoot.
Again, it all comes down to personal habits when choosing which shooting target better fits your budget. If you head to the range once a month or less, paper most likely will prove a lighter burden on your pocketbook. But, if you're a once or twice weekly shooter, then steel should turn out to have greater value.
Parting Shot
Now that you know what shooting target options available to you, it should be a piece of cake getting one to fit your needs. But here's a final word of advice: Don't hem yourself in. Similar to finding the right ammo for your gun, you won't truly know what works until you pitch a few rounds at one. Besides, it will get you shooting more often.
10 Best Targets
NRA Official Smallbore Rifle Targets A-23/5 50 Yard
Outside of the competitive world, the .22 often gets pegged purely as a pleasure gun. A little something to knock over soup cans and pot the occasional squirrel. The accuracy of these small-bore rifles is sometimes overlooked, leaving a lot of potential on the table. That's a shame, no matter how you use yours.
The NRA Official Smallbore 50-Yard Rifle Targets can change this rather quickly. I promise you, if you work these relatively pedestrian shooting targets into your regular range time, you'll be blown away with how steely you'll get with your rimfire.
A bullseye a hair under 4-inches in diameter, I can attest, is frustratingly imperceivable at 50-yards through open sights. But learn to hold and hit at that range, the sky is the limit. Best of all, NRA Smallbore Rifle Targets are as affordable as they come, so there's little excuse not to add a sheet to your next shooting session.
Birchwood Casey Pregame Turkey
You've got to know your choke. You've got to know your ammo. You've got to know your gun's limit. Plain and simple, to have success in the turkey woods, you've got to know how your shotgun patterns. Birchwood Casey makes it easier than ever before with the Pregame Turkey Target.
More than simply a photorealistic turkey with illustrated anatomy, the different target zones react with different colors when hit. Knock the gobbler in the brain or spine, a bright orange halo appears. Put shot on a non-vital area, a yellow halo. A plum miss, look for a white halo, then cuss.
Realistically, this makes the chore of walking the range to evaluate your pattern a thing of the past and is a boon for those zeroing in a reflex sight. More importantly, the Pregame Turkey will add another fan to your wall. birchwoodcasey.com
Rite In The Rain 25-Meter Zeroing Target
Those with military experience will recognize the next shooting target. You most likely zeroed in on one. For a lot of shooters, the familiarity of the layout makes this a grand option if you have a carbine you need to dial in. Even if you're new to this style, it's still dynamite.
Rite In The Rain makes it even better doing what they do best, making paper waterproof. If you spent any time at the range in inclement weather and with regular targets you know this is a godsend. No more soggy corners coming off in the middle of a string or paper disintegrating in a deluge.
If you take your training seriously, you should get out in the muck for some trigger time. Rite In The Rain makes certain you don't have an excuse not to. riteintherain.com
Birchwood Casey Dirty Bird Silhouette
As pointed out above, Birchwood Casey has greatly improved sighting in with their easy-to-see Shoot-N-C line of shooting targets. Rifle marksmen, however, aren't the only ones who benefit from the company's splatter targets.
Bringing Birchwood Casey's high-visibility technology to self-defense training, Dirty Bird Silhouettes are a downright boon when working with your carry gun.
Logically, you might ask, why would you'd need a splatter target if you're shooting between, say, 7 and 20 yards. The same question rattled through my head before I hung one up at my local indoor range. After a few rounds, I got it – big time.
With instant feedback of where you're hitting, the Dirty Bird Silhouette is invaluable, particularly during rapid-fire segments. It's a real gem on the Mozambique drill. Furthermore, I'd imagine the silhouette is gangbusters at close- to medium-range training with a carbine. birchwoodcasey.com
IPSC Shooting Targets (Paper)
If you carry, you need to train. In turn, you need shooting targets. Plain as generic-label beer, USPA/IPSC silhouettes are tough to beat – especially the paper variety. I've thrown countless rounds at these and still prefer them to nearly any other silhouette available.
Number one, they're about as inexpensive as they come. A stack of 100 costs a little more than a box of defensive ammo.
Next, the scoring boxes are solid geography for self-defense training. Certainly, they're not overly realistic by any stretch of the imagination, but you get a solid handle if you're placing your rounds where they need to go. And they're versatile. If you happen to compete, they truly pull double duty. In short, your range kit simply isn't complete without a few of these targets.
XSteel Jumping Jax
Many times, we think of ground targets as strictly handgun affairs. As XSteel proves, they most assuredly are not.
Constructed of quality 3/8-inch thick AR500 steel, the jack-style target can withstand hits up to a .308 Win. And when you hit, the shooting target more than lives up to its name, jumping into the air letting you know you've connected.
Thing is, you've got to hit it first. It's harder than it sounds. There must be a few masochists working at XSteel, because they made the 12-inch tall shooting target's paddles an infuriating 3-inches in diameter. Move it out past 100 yards and it's a challenge. As we all know that only makes it more fun. MSRP: $54.97, xsteeltargets.com
Champion DuraSeal Bowling Pin Wobble
Some 3D and steel shooting targets have a major drawback. You have to set them up after you knock them down. Not the case with the DuraSeal Bowling Pin Wobble, a slick little piece of amusement that rights itself after you've wronged it.
A weighted round bottom, the pin resets itself almost immediately after you hit it with almost any conceivable caliber firearm. Seriously, this thing is rated up to .50 BMG. Though, if all you've got is a .22 pistol, never fear, it's just as fun. Self-sealing rubber gives the target its resiliency, with any holes punched into it closing up after the bullet passes through.
As a diversion during serious training or just a little something to pass the time, you should set your sights on a DuraSeal Bowling Pin. championtarget.com
Birchwood Casey Ground Strike Hex
Due to poor action after being shot, some ground targets aren't fun to shoot. The Ground Strike Hex certainly doesn't fall into this category.
This baby can plum fly when you connect, which gives a fella ideas. Such as, why not buy two and race your buddy down the range? Anything for bragging rights.
Made in the USA, the Hex is rated for all calibers and is made to take a beating. Its self-sealing rubber is engineered to take hundreds of rounds before it shows any wear. To boot, its vivid fluorescent yellow color makes it easy to see, though at 6 inches in diameter, at some ranges it's not exactly easy to hit. birchwoodcasey.com
Birchwood Casey World Of Targets Popper
As a simple, satisfying and practical way to sharpen your handgun skills, poppers are must-haves for serious shooters. Among the more affordable options is Birchwood Casey's.
The USA-made AR500 steel pistol target stands 22 inches tall and is engineered for portability and durability. Easily set up in minutes, the target provides an ample yet challenging 8-inch wide paddle to punish. Best of all, boasting a hefty actuating spring, the target resets itself in the blink of an eye and is ready for another go-round. Providing both visual and auditory feedback, there's perhaps no better or more enjoyable target to pepper. birchwoodcasey.com
Caldwell AR500 Full Size IPSC Steel Targets

When it comes to practical rifle marksmanship, full-size steel silhouette targets like this example from Caldwell take the cake. When minute-of-man accuracy is your only goal, the satisfying ring produced by these targets lets you know when you've made a successful hit without the need for a spotting scope or binoculars.
The biggest downside is the cost, as the nearly 50-pound weight of the full-size model takes a lot of steel to produce. Caldwell also offers reduced-size targets for cheaper, but the full-size targets enable the most realistic training by remaining true-to-scale at whatever range it is placed at.
These targets are 3/8-inches thick of hardened AR500 steel, meaning that they're rated for rifle calibers up to 3,000 fps and can withstand thousands of rounds of fire. So, while they may be expensive, at least these targets should last quite a while. To top it off, Caldwell also offers several different hanging solutions for these targets, meaning that most shooters should have a way to make them work with their range setup.
MSRP: $209.99, caldwellshooting.com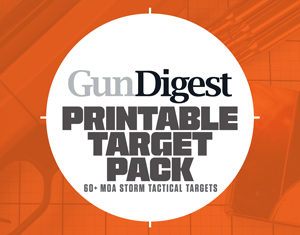 Next Step: Get your FREE Printable Target Pack
Enhance your shooting precision with our 62 MOA Targets, perfect for rifles and handguns. Crafted in collaboration with Storm Tactical for accuracy and versatility.
Subscribe to the Gun Digest email newsletter and get your downloadable target pack sent straight to your inbox. Stay updated with the latest firearms info in the industry.