Competition or personal defense, the Strike Industries AR Modular Magazine Release optimized your carbine's controls.
How The AR Modular Magazine Release Upgrade A Rifle:
Give shooters three configurations to choose from: standard, extended and oversized.
Switches out quickly with a small screwdriver or punch.
Built for hard use—impact resistant polymer button, stainless-steel shaft.
Next to lights out accuracy in most of its calibers, the attraction of the AR-15 is its modularity. Quick to upgrade, the rifle is easily configured to excel in any role, typically with minimal effort. Now the gun's protean nature has been extended to among its smallest features.
Strike Industries AR Modular Magazine Release rethinks the vital control, giving shooters a button that adapts to circumstances. Outfitted with a T-Slot at the base and retained by a spring-loaded square adapter, the release is modifiable to three configurations: standard, extended and oversized. Changing buttons is simple, requiring a small tool to retract the spring and slide off the adaptor and then put a new one in place.
The release buttons are made from a lightweight and durable polymer affixed on a stainless steel shaft sleeve. Furthermore, they are textured to provide a tactile reference point, as well as a positive surface for maximum control. Included in the kit is a steel magazine catch along with a magazine spring, everything for drop-in installation right out of the package. Additionally, the AR Modular Magazine Release is compatible with mil-spec AR-15 lower receivers as well as DPMS pattern AR-10 lowers, covering nearly all bases.
True enough, the upgrade is a bit of overkill, given most shooters are good with one size of release—standard or otherwise. However, the modular release could have a place, particularly for one-rifle shooters and the like. Shooting in a competition, run one of the oversized buttons to ensure lightning-fast reloads on the move. Need to stay streamlined and snag-free, pop off the big levers and run standard. It seems to have a place, at least for some.
For the price Strike Industries is asking, the AR Modular Magazine Release is at least worth experimenting with. Its MSRP is $35.95.
For more information on the AR Modular Magazine Release, please visit strikeindustries.com.
---
Get On Target With The AR: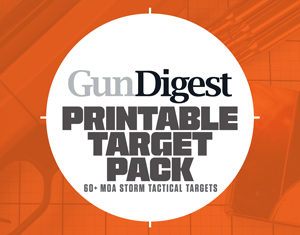 Next Step: Get your FREE Printable Target Pack
Enhance your shooting precision with our 62 MOA Targets, perfect for rifles and handguns. Crafted in collaboration with Storm Tactical for accuracy and versatility.
Subscribe to the Gun Digest email newsletter and get your downloadable target pack sent straight to your inbox. Stay updated with the latest firearms info in the industry.