Faxon Firearms delves deeper into the pistol market with their new EXOS compensators, designed to work with popular Glock, S&W and Sig pistol models.
EXOS Compensator Models:
EXOS-513: Glock 19 Gen 3, Glock 17 Gen 3, Glock 34 Gen 4
EXOS-514: S&W M&P 1.0 Full-Size 4.25"
EXOS-515: SIG P320 Full Size Model
Faxon Firearms are mostly known for their high-quality AR-15 barrels, but their continued expansion into the handgun market has been met with positive feedback from both defense and competition-oriented shooters. Earlier this year, Faxon released Glock 19 magazine extensions designed for both defensive and competition use, as well as new threaded barrels for some popular CCW pistol models. Now, many of those same pistols can have a Faxon EXOS compensator to go along with them.
Compatibility

Faxon's three new compensator models were officially tested to be compatible with six pistol models, but they imply that they will also work fine with some other, similar models. They warn that because compensators can affect a gun's timing, it is up to the user whether or not they want to experiment mounting an EXOS compensator on something besides what's listed on the box. Examples include Glock generations outside of what was tested as well as compact models of the S&W and Sig. The EXOS-513 model intended for Glocks will also work with Faxon's own FX-19 Hellfire.
The new EXOS compensators are also compatible with other brands of barrels with 1/2×28 threading, but they were optimized to work with Faxon's own designs.
Performance

Made of 6061 aluminum and anodized black, each of the three new EXOS compensators were designed to fit their respective gun model's performance as well as style. They feature gas port cuts on the tops of the compensators as well as the sides, intended to not only reduce muzzle flip but also improve reliability. It's up to you whether you want to use your EXOS compensator strictly for competitions and the range, or if its performance-enhancing features would also be a worthy addition to your CCW gun. If users find that the EXOS compensators work reliably on the compact models of Sigs and Smith & Wessons, they may become a more popular edition to those carry pistols.
All three new EXOS compensators have an MSRP of $85 and include all necessary mounting equipment in the box.
For more, please visit faxonfirearms.com.
---
More Handgun Upgrades: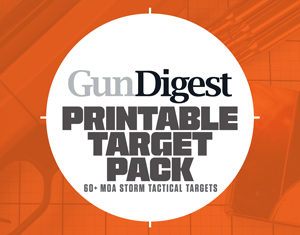 Next Step: Get your FREE Printable Target Pack
Enhance your shooting precision with our 62 MOA Targets, perfect for rifles and handguns. Crafted in collaboration with Storm Tactical for accuracy and versatility.
Subscribe to the Gun Digest email newsletter and get your downloadable target pack sent straight to your inbox. Stay updated with the latest firearms info in the industry.