The new RAPS-C Collapsible AR buttstock from FAB Defense combines the ergonomics of a precision rifle stock with the functionality of a carbine stock in a single package.
FAB RAPS-C Stock Features:
Rapidly Adjustable Length Of Pull
Adjustable Cheek Rest Height
QD Sling Cups
Covered Picatinny Segment For Monopod
Heavy Rubber Recoil Butt-Pad
Continuing in their tradition of releasing innovative, interesting and function-oriented weapon accessories, FAB Defense of Israel has just introduced their new RAPS-C collapsible buttstock. Made to fit both commercial and Mil-Spec AR buffer tubes, the RAPS-C was designed to bring the ergonomics and adjustability of a precision rifle stock to a carbine platform without making any sacrifices.
Dual Purpose

RAPS-C stands for "Rapid Adjustment Precision Stock-Carbine". The standard RAPS came out earlier this year, and while it may have been adequate as a purpose-built precision rifle stock, it was bigger and bulkier than most AR users appreciate. Designed to fit any carbine-length AR buffer tube, the new RAPS-C is smaller, sleeker and more versatile than its older brother. In its collapsed configuration, the RAPS-C is nearly as compact as a standard AR-15 carbine stock, but once deployed it can provide the ergonomics necessary to do more precision-oriented work.
Rapid Adjustment

The RAPS-C uses a patent-pending one latch system to adjust both the length of pull and cheek riser height with a single lever. Configurable for either right or left-handed shooters, when the latch is unlocked it allows the spring-loaded butt-pad to automatically deploy to your set length. This eliminates the need to fiddle with your stock in the field by allowing you to dial in your preferred setting before you need it. Unlocking the latch also allows you to adjust the cheek riser height. The versatility of this design enables one to easily and quickly switch their rifle's buttstock from one that is ideal for CQB use to one that is better for precision shooting.
Available in black, OD green or FDE, the RAPS-C looks to be an interesting stock that could be very well suited on a jack-of-all-trades rifle build. Its MSRP is set at $235.99 and is available now.
For more on FAB Defense, please visit fab-defenseus.com.
---
More AR-15 Stocks And Accessories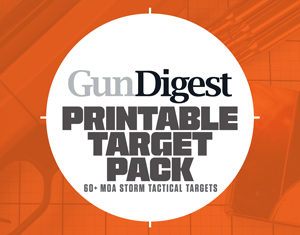 Next Step: Get your FREE Printable Target Pack
Enhance your shooting precision with our 62 MOA Targets, perfect for rifles and handguns. Crafted in collaboration with Storm Tactical for accuracy and versatility.
Subscribe to the Gun Digest email newsletter and get your downloadable target pack sent straight to your inbox. Stay updated with the latest firearms info in the industry.