A new 5.56 AK rifle and pistol model are now available in the U.S., freshly imported from WBP Rogów of Poland.
Kalashnikovs of all types have exploded in popularity among American gun owners these past few years, with many new and young shooters looking to the platform for their first semi-auto rifle. Despite this, WBP of Poland has remained relatively under the radar. Of all the different factories that are currently exporting AKs to the U.S., WBP is the youngest, but despite this they have established themselves as a reputable producer of reliable, true-to-spec Kalashnikovs. Zastava of Serbia seems to currently be winning the battle for first-time AK buyers, having models available in both 7.62 and 5.56, but WBP is doing its best to challenge the status quo. The Polish company has had their 7.62x39mm Fox, Jack and Mini Jack models available for some time now, but they've recently begun importing 5.56 WBP Jack AK rifles and pistols as well.
AK-enthusiasts have had concerns about the future availability of Soviet-designed calibers following the Russian ammo ban, leading many to look towards 5.56 AK models to ensure a reliable supply. 7.62×39 isn't going to go anywhere, and even after Russian supplies dwindle Stateside there will still be a steady stream coming from both foreign and domestic producers. It will almost certainly cost more than what we've been getting from Tula, but what isn't more expensive these days? Regardless, more 5.56 AK import options are never a bad thing, and the WBP Jack 556SR and Mini Jack 556SR now join the relatively small list of models currently available new in the U.S.
Like the other AKs in the WBP Jack series, the new 5.56 models are essentially just classic AKMs, only now chambered for the smaller NATO cartridge. Both the pistol and rifle can accept standard AKM-pattern furniture and they both also include a side scope rail for mounting an optic. The 5.56 AK pistol obviously can't legally accept a stock from the factory, but it does come with an underfolder rear trunnion. This means that after paying the proper dues to Uncle Sam, one could legally convert the 5.56 Mini Jack to an underfolder SBR. Both guns come with 14×1 LH threaded muzzles, but the pistol's muzzle is covered by a spot-welded thread protector that can legally and easily be removed once in your possession. Blending classic AKM features with some modern ones, the 556SR Jack rifle includes both an enhanced selector and mag release as well as a classic slant muzzle brake. The rifle's bayonet lug has been left intact as well.
These new 5.56 WBP Jack AK models look as solid as they do handsome, and the general consensus surrounding their release has been mostly positive. Some detractors have latched on to the fact that the barrels, made in-house by WBP, are nitrided rather than chrome-lined. While an understandable concern, many people forget that the main advantage of chrome-lining is to prevent wear from shooting corrosive ammo and sustained full-auto fire. Since these guns are for American civilians mostly stuck shooting in semi-auto with new commercial ammo, nitrided barrels should last just as long as a chrome-lined ones.
Like the company's other guns, the new 5.56 WBP Jack AK rifle and pistol models are imported by Arms Of America and converted by Atlantic Firearms. MSRP for the WBP Jack 556SR is $1,299 and MSRP for the Mini Jack 556SR is $899, both are available now.
For more information on the manufacturer or American distributors, please visit wbprogow.com, atlanticfirearms.com, and armsofamerica.com.
---
More 5.56 AK Imports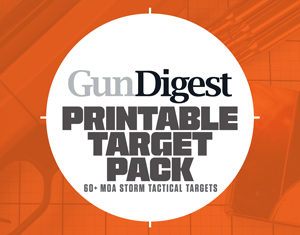 Next Step: Get your FREE Printable Target Pack
Enhance your shooting precision with our 62 MOA Targets, perfect for rifles and handguns. Crafted in collaboration with Storm Tactical for accuracy and versatility.
Subscribe to the Gun Digest email newsletter and get your downloadable target pack sent straight to your inbox. Stay updated with the latest firearms info in the industry.