The popularity of waterfowl hunting has only continued to grow in recent years. And with its growth, shotgun manufacturers have begun introducing models with camo patterns designed to meet the needs of goose and duck hunters.
Stevens is a recent example. The manufacturer has announced the release of a new 12-gauge Model 320 shotgun that features a Mossy Oak Shadow Grass Blades camo treatment to better blend into the wetland environments waterfowl inhabit.
This new shotgun carries all the same great features as Stevens' other field-grade Model 320 shotguns, such as dual slide bars, a rotary bolt, a rugged synthetic stock and fore-end, and a vent rib barrel. The Model 320 Waterfowl Shotgun also comes with interchangeable choke tubes for varied shooting scenarios and is equipped with a green fiber optic front sight.
The Model 320 Waterfowl Shotgun has a maximum capacity of 5+1 shells and is available with either a standard length of pull or a compact length of pull for smaller-stature shooters. MSRP on the new shotgun is listed at $273.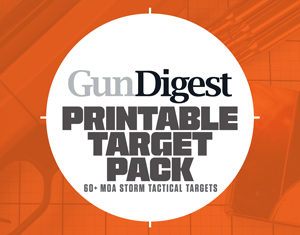 Next Step: Get your FREE Printable Target Pack
Enhance your shooting precision with our 62 MOA Targets, perfect for rifles and handguns. Crafted in collaboration with Storm Tactical for accuracy and versatility.
Subscribe to the Gun Digest email newsletter and get your downloadable target pack sent straight to your inbox. Stay updated with the latest firearms info in the industry.