Colt has been an elite name in the firearms industry for some time, having been around since Samuel Colt founded it well over 150 years ago. In recent years, the company has faced some struggles, but if the manufacturer's new crop of products for 2016 are any indication of Colt's future, those woes may be on their way out the door.
One of Colt's most impressive new offerings is its brand new Colt Competition 1911. Built for the competitive circuit, this 1911 features Colt's innovative Dual Spring Recoil System, a National Match barrel and quality sights – Novak's new adjustable rear sight and a fiber optic front sight – and is available in the standard .45 ACP or 9mm.
As one of the first members of the media to shoot the new Colt Competition 1911 during a media event last fall, I can testify that the gun is a smooth and sweet shooter, particularly in 9mm. With its undercut trigger guard, upswept beavertail grip safety and crisp, three-hole aluminum trigger, it feels excellent in the hand and is a highly capable pistol.
In the video above from our friends at Deer & Deer Hunting, Colt competition shooter Maggie Reese outlines some of the great features on the new Colt Competition 1911. Watch the video, and visit the Colt website to learn more about the company's new race-ready 1911.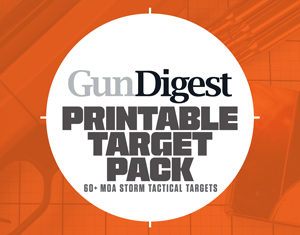 Next Step: Get your FREE Printable Target Pack
Enhance your shooting precision with our 62 MOA Targets, perfect for rifles and handguns. Crafted in collaboration with Storm Tactical for accuracy and versatility.
Subscribe to the Gun Digest email newsletter and get your downloadable target pack sent straight to your inbox. Stay updated with the latest firearms info in the industry.