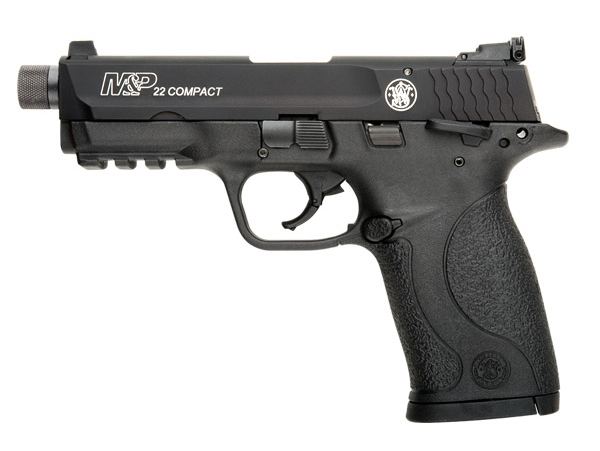 Suppressors have made a ton of headway in the shooting world in recent years.
To be sure, most of this has been due to the changing legislative landscape with more and more states legalizing the noise-reducing devices. But there has also been a push by firearms manufacturers, who have turned out more and more models that are compatible with the accessory.
Smith & Wesson is one of those companies that has given suppressors the nod and has continued to expand its offerings. Recently, the Massachusetts gun maker introduced one of its most popular plinkers in a variation that allows the easy addition of a suppressor — the M&P22 Compact Suppressor Ready model, which could prove to be popular with many shooters.
What has the potential to make the new pistol popular is its chambering — .22 LR. The round is by far the most popular (when there is ammo to be had) across the country, whether for target shooting or taking small game.
The rimfire round's esteem, however, is only part of the reason why the M&P22 Compact Suppressor Ready model could find a place in many shooters' hearts. The cartridge it shoots is also eminently suppressible, thus making the potential of long shooting sessions more enjoyable and less damaging to hearing.
The new pistol is nearly identical to the original M&P22, except for its supplemental thread adapter. The handgun is designed to accept most 1/2×28 threaded suppressors presently available on the market.
Like earlier iterations of the pistol, the new suppressor ready model is polymer-framed and hammer fired. And it has decent capacity — 10+1 — particularly for a compact.
The pistol weighs in at a nimble 15.3 ounces, which should keep it wieldy with a suppressor hanging off the muzzle. The pistols dimensions are also very manageable, measuring in at 7.25 inches in length and 1.48 inches in width.
M&P22 Compact Suppressor Ready model comes outfitted with a Picatinny Rail under its muzzle for the easy addition of an accessory. And it features fully adjustable rear sights that can be tuned for windage and elevation.
The pistols features an ambidextrous manual safety, a reversible magazine release and a magazine safety. Presently, the MSRP on the suppressor ready model is $409.
---
NEXT STEP: Download Your Free Storm Tactical Printable Target Pack
62 Printable MOA Targets with DOT Drills - Rifle Range in YARDS
This impressive target pack from our friends at Storm Tactical contains
62 printable targets
for rifle and handgun range use. Target grids and bullseye sizes are in MOA. Ideal for long-range shooting!
Subscribe to the Gun Digest email newsletter and we'll send your print-at-home target pack right away.
Just enter your email address below.
---