Sig Sauer has just been announced as the winner of the U.S. Army's Next Generation Squad Weapon (NGSW) Program.

The Next Generation Squad Weapon Program, or NGSW, was announced by the U.S. military in 2017. The goal of the initiative was to find replacements for the currently issued service rifle, light machinegun and their shared 5.56x45mm cartridge. After 27 months of testing design submissions from at least five different companies, the U.S. Army has finally announced the winner. Sig Sauer's MCX-SPEAR (XM5) rifle is slated to replace the M4, their SIG-LMG (XM250) will replace the M249 and both new weapons will fire Sig's 6.8×51 FURY Hybrid Ammunition (6.8mm Common Cartridge). SIG SLX suppressors were also selected to be used with the weapon system.
The benefits offered by the new equipment are multi-faceted, but the 6.8mm cartridge is the heart of the upgrade. It was designed to be flat-shooting and powerful enough to defeat modern body armor without a dramatic increase in recoil, and the hybrid nature of the case allows for a much higher chamber pressure without significantly increasing weight.
It's not surprising that the Army ended up selecting Sig's rifle design over the other manufacturers' submissions, as the MCX-SPEAR's manual of arms is the most similar to the AR family of weapons. For those interested in owning their own Next Generation Squad Weapon, Sig has already made commercial variants of the rifle and ammunition available for purchase. As for those who are issued their gear, it will likely be quite a long time until we actually start to see these new weapons in soldiers' hands.
Ron Cohen, President and CEO of Sig Sauer, said this in response to the company being awarded the contract:
The U.S. Army is taking a bold step toward command of the 21st century battlefield and SIG SAUER is immensely proud to be the selected provider for this historic revolution in infantry weapons. The fielding of the SIG SAUER Next Generation Squad Weapons System will forever change the dynamic of military engagement for America's warfighters with American innovation and manufacturing,
For more information, please visit sigsauer.com.
---
More On NGSW Products: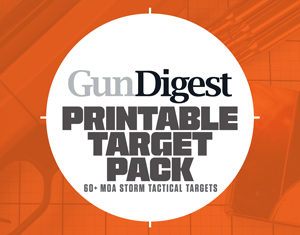 Next Step: Get your FREE Printable Target Pack
Enhance your shooting precision with our 62 MOA Targets, perfect for rifles and handguns. Crafted in collaboration with Storm Tactical for accuracy and versatility.
Subscribe to the Gun Digest email newsletter and get your downloadable target pack sent straight to your inbox. Stay updated with the latest firearms info in the industry.