The Shooting, Hunting and Outdoor Trade (SHOT) Show is the largest gathering of its kind. The event is held at the Sands Expo Center in Las Vegas and boasts over 65,000 attendees from over 100 countries. Within this sea of products, we sorted out the good from the bad to bring you the 10 best products of SHOT 2017. And the winners are…..
SilencerCo Maxim 9
SilencerCo has a habit of leapfrogging the competition. The company's products are consistently redefining what is considered leading edge, and this year is no exception. SilencerCo's integrally suppressed handgun, the Maxim 9, was introduced last year, but it was still in development at that time. This year the Maxim 9 goes into production, and some were available at the SHOT Show Industry Day at the Range for testing.
In a word, the Maxim 9 is stunning. It is well balanced, extremely quiet, and smartly designed—form has followed function. Designers paid attention to details, like the functional, ambidextrous stippling for the support thumb right where it should be. The Maxim 9 can be configured in a short or long version by removing two sections of the integrated suppressor. The trigger pull is crisp, and the pistol's sound is amazing. It is extremely quiet for the shooter and hearing safe with all 9mm ammunition in the standard configuration (also hearing safe with subsonics in the short configuration).
There were many new pistols at SHOT this year, but there is only one integrally suppressed, production-ready pistol, and that is the Maxim 9. ($1,499; SilencerCo.com)
G2 Precision Mk12CF
When you mention the name Marcus Luttrell, several things come to mind: decorated Navy SEAL, "Lone Survivor," and "never quit." Given Luttrell's reputation, for him to get behind something makes one take notice. Luttrell and Garrett Golden, a former SEAL teammate, founded G2 Precision and are now taking orders for a precision rifle based on the Mk12 rifles designed and used by SOCOM operators.
"[The Mk12CF] is the gun I would want to take with me into battle," Marcus said, which is significant coming from someone who made a living as a gunfighter.
While not inexpensive at $2,899 (MSRP), the components are of the highest quality: Proof Research carbon fiber barrel, CMC trigger, a titanium muzzle brake, and more. Each rifle is personally inspected by Garrett Golden himself. Several of the components are serialized and engraved with "TNQ" for Team Never Quit, an organization started by Luttrell. It is rumored there will be a limited run of these rifles, and they are sure to become collector's items as much as they are competition, defense, or hunting rifles.
Lower/Upper: 7075-T6 Type III hard anodized aluminum, G2 ambi selector, G2 forward assist
Barrel: Proof Research 18-inch carbon fiber wrapped 416R stainless steel barrel in .223 Wylde, 1:8-in. twist, rifle-length gas system, match grade, hand lapped; titanium brake, ½-28 threads
CMC curved two-stage trigger 2-pound take up and 3-pound release, G2 15-inch Recce M-Lok 6061-T6 handguard, G2 nickel boron-coated BCG, Magpul SPR buttstock, Ergo grip, AXTS Raptor ambi charging handle. (sales@g2precision.com)
Benelli Super Black Eagle 3
One of the best shotguns of the SHOT Show was the redesign/update of the Benelli Super Black Eagle 3. The SBE was cutting edge 26 years ago when it was introduced, but it was due for another update. All of the refinements to this proven design are well thought out. Benelli had this gun at Industry Day at the Range at SHOT; it handles like an upland shotgun, kicks politely, and looks like a duck gun should (available in several camouflage patterns).
The action locks up better now with a spring assist to eliminate the embarrassment of an open bolt. The safety, bolt release, bolt handle and trigger guard are all enlarged for ease of use with gloved hands. The loading port is also opened up similar to those used in 3-gun competitions for faster loading. A third-generation ComforTech stock and CombTech cheek piece make this a very comfortable gun to shoot. Available in 26- or 28-inch barrels, the new SBE3 only weighs a hair over 7 pounds, and it handles shells up to 3½ inches. ($1,899 in black, $1,999 camo; BenelliUSA.com)
Leupold VX-3i LRP
This year at SHOT there were many, many new high-end scopes. While it was tempting to award Best Riflescope there, the fact is they cost a couple thousand bucks and are out of reach for most shooters. Enter Leupold. This made-in-the-USA company has packed its new LRP riflescope with features without breaking the bank.
Starting with its VX-3i scope, Leupold has added an exposed elevation turret with zero-stop and a power ring lever. The capped windage turret has a thread protector for those who want that knob exposed at all times. What makes this the best riflescope of SHOT 2017 is a shooter can pick up a first focal plane mil 4.5-14x50mm zero stop scope with the Tactical Milling Reticle for $1,100 (MSRP). This will get anyone started in precision rifle series matches for a lot less money, and it still comes with the best warranty you will never need. (Leupold.com)
StingerWorx Emperor 556-L2
Suppressors are hotter than ever, and SHOT 2017 was loaded with new models. The one that stood out from the pack was the Emperor 556-L2 by StingerWorx. What's different about the Emperor 556-L2, and StingerWorx suppressors in general, is the titanium blast chamber design. This patent-pending chamber directs gasses to two chambers, thereby eliminating the need for heavier materials. This design makes it very light. The baffle stack itself is not welded, and the suppressor is full-auto rated.
An Over the Barrel expansion Chamber (OBX) quiets the suppressor even more without adding extra length. They include a tool for removing a suppressor that is "carbon welded" on after extended fire. This is a thoughtful value add because suppressors get stuck and usually become marred in the process of removing them by force. This tool lets you avoid that problem. Finally, the baffle stack is replaceable without having to send serialized parts into the factory. (StingerWorx.com)
MSRP: $995
Length: 7.5 inches
Weight: 12.8 oz, 16.7 oz with OBX
Diameter: 1.75 inches
I2 Technologies and Systems Integrations PVS-14
More and more companies are offering consumer night vision as military contracts are drying up. As technology has advanced, crisp night vision images have become more available to nighttime predator and hog hunters. In recent years, however, few true advances have occurred in night vision, but the DEP PVS-14 from I2 Technologies and Systems Integrations changes that.
Peter Lesbo of I2 Technologies had these at SHOT 2017 and the clarity was nothing short of amazing. The image color was blue, similar to white phosphor night vision, but it was much, much clearer. It can best be described as high definition black and white television with a blue tint to it.
The secret of the DEP is the Photonis intensifier tube. It is described by the manufacturer as "a 40 percent improvement in detection/recognition/identification range over any other night vision available," as reported by an experienced in-theatre operator. We can't verify this claim, but based on just one session of amazed use, the assertion is likely accurate.
Another feature is the auto-gating speed which protects the unit and the user from temporary blindness in the presence of sudden white light—the day covers can be removed without harming the unit or losing any situational awareness. Seeing is believing, and this unit is very hard to believe in person! All of this goodness will run you $4,750 (MSRP) for a DEP outfitted PVS-14 monocular. (ISquaredNightVision.com)
Angel Armor Body Armor
Choosing Angel Armor for this "best of" list was easy. Selecting among the manufacturer's innovative products was far more challenging; it has a lot going for it. The company makes products to preserve the lives of our nation's police officers. They do so by focusing on effectiveness and practicality. While body armor is not a necessity to everyone, it is for law enforcement and people prepping for when the SHTF.
As a practical matter, body armor is usually heavy, as it is often comprised of heavy metal plates. Angel Armor has brought lightweight composite armor to the market in a package that is comfortable and reasonably affordable. The company's magnetic snap paired with the Truth Snap plate system is a modular two-plate system that offers protection up to .44 magnum with the thinner plate in place and .308 rifle-level protection with both plates installed.
The 8×10-inch Shooters Cut two-plate system weighs only 2 pounds. The idea is that an officer can roll around with the thin plate all day and, if called into a situation involving a rifle threat, he can simply snap on the additional plate. Although Angel Armor offers an excellent vest of its own (RISE vest), the plates fit in most popular body armor vests out there. MSRP for the two-plate Level III protection in the Shooters Cut is $461. (AngelArmor.com)
Crimson Trace Laserguard Pro
The utility offered by the Crimson Trace Laserguard Pro light/laser combination is hard to beat. Most shooters shoot more effectively in a short period of time when an aiming laser is added to a pistol. The Laserguard Pro's 150-lumen light integrated with the industry standard Crimson Trace aiming laser is compact, effective and intuitive to use. When installed, the unit looks like it is part of the gun.
The Laserguard Pro is offered in models that fit the most popular compact pistols including Glock, Smith & Wesson and Springfield Armory. Technological advancements allow the red and green laser models to be the same size, which is also a plus. The lasers have windage and elevation adjustments and a master on/off switch. The red version has a 4-hour run time, versus 2 hours for green (if the light/laser were on continuously). MSRP is $279 for red, $379 for green laser, and only an additional $20 for a Bladetech holster. (CrimsonTrace.com)
5.11 Tactical Defender-Flex Jeans
There were plenty of clothing introductions at the SHOT Show, including camo, tactical, cold weather, warm weather, and on and on. To make the list, clothing has to be practical and innovative at the same time. The 5.11 Defender-Flex jeans fit that bill. Once the decision to carry a concealed firearm is made, people often find their usual clothes just don't cut it for carrying. After 10 years of research and development, 5.11 Tactical has you covered.
Defender-Flex jeans are good-looking, purpose-designed jeans for carrying concealed. The material is a flexible rip stop cloth that looks good and feels good too. It moves with you, so it doesn't have to be baggy to be functional. Even the pockets are engineered to perform. The front watch pocket is enlarged to hold a pistol magazine or knife, and there are AR magazine pockets in the back (besides the regular back pockets). Available in men's and women's styling and a variety of colors, the Defender jeans are an absolute must for any concealed carry wardrobe. ($69.99; 511Tactical.com)
Magpul X-22 Backpacker Stock
This is a broad category, and this year's winner for Best Bug Out Accessory is the Magpul X-22 Backpacker Stock. A takedown 10/22, such as the Tactical Solutions 10/22 Takedown Stock and Barrel, is perfectly paired with this stock. When broken down, the barrel fits into the underside of the stock along with the fore end. Extra magazines or a suppressor may be stowed in a compartment in the top of the buttstock. The entire thing easily fits into a small day pack or bug out bag. ($109.95; Magpul.com)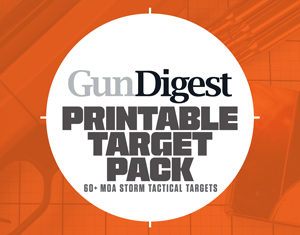 Next Step: Get your FREE Printable Target Pack
Enhance your shooting precision with our 62 MOA Targets, perfect for rifles and handguns. Crafted in collaboration with Storm Tactical for accuracy and versatility.
Subscribe to the Gun Digest email newsletter and get your downloadable target pack sent straight to your inbox. Stay updated with the latest firearms info in the industry.