Everything old is new again, including guns and firearms accessories. We delve into the new retro with seven must-have pieces of gear and guns that use throw-back designs, materials or systems.
What's new in retro guns and gear:
Hornady Custom .30-40 Krag 180-grain SP

Hornady added two new loads to its Custom line for 2018, but one of particular interest is the 180-grain SP .30-40 Krag loading. The .30-40 Krag was, of course, the smokeless powder cartridge that the U.S. armed forces switched to after the .45-70 Government. Although it wasn't long before the .30-03 and later .30-06 replaced it for military use, the .30-40 Krag remained a fairly popular and effective hunting cartridge. As with all Hornady Custom ammo, every round is hand inspected before packaging. $26 box of 20. www.hornady.com
Williams Gun Sight FireSights

Williams Gun Sight Company offers a wide variety of U.S.-made sights, including its target and self-defense fiber-optic pistol sights. The target sights provide windage and elevation click adjustment, while the self-defense sights feature an anti-snag design for easy draw from and return to the holster. Both offer high visibility in low light via the fiber optics. $26.95-$62.95. www.williamsgunsight.com
Brownells Retro Rifles

At this year's SHOT Show, Brownells made a big splash with its new Retro Rifles line, which consists of six vintage-style ARs in both 5.56 NATO and .308 Win./7.62 NATO. The 5.56 NATO AR-15 models incorporate the correct styling as appeared on rifles issued to GIs in the 1960s. In 5.56, there is a model similar to the original M16A1, a model that closely mimics the original Colt 601 USAF contract rifle, an authentic copy of the early XM177E2 carbine used by Special Forces and a copy of the transitional rifle between the M16A1 and the 601. In .308/7.62, Brownells offers two models in its Retro Rifles line — one closely mimicking early AR-10 rifles, such as those issue by the Netherlands, and one that's a close copy of later model rifles. $1,299-$1,699. www.brownells.com
Boyds At-One Adjustable Stock For Long Guns

Want a custom fit without the custom rifle price tag? Boyds Hardwood Gunstocks recently came out with the At-One gunstock, which is user-adjustable for both length and comb at the push of a button. The "Bring-It" push button technology featured in the At-One stock is simple to use and allows for quick and easy custom fitting for the shooter and anyone else who might use the rifle — no hardware or tools required. Length is adjustable at the butt pad from 12½ to 14 inches, and the comb has an adjustment range of 9/16 inch. Available for most popular rifle models and in 11 different color options. $189 and up. www.boydsgunstocks.com
---
More Gear Articles Check Out:
---
Nighthawk Custom Agent 2

Nighthawk is one of the most well-known custom 1911 outfits in the country, and in 2018 it collaborated once again with Agency Arms, Railscales and Hillbilly 223 to produce the new Agent 2 pistol. The successor to the earlier Agent 1, introduced in 2017, the Agent 2 features a faceted slide, which also incorporates side windows, to reduce weight and Agency Arms' "DNA Collector" front and rear cocking serrations. It also wears Railscales G10 grips, an ultra hi-cut front strap, a semi-crowned flush-cut barrel, a Nighthawk/Agency custom trigger and an extended, faceted and angled magazine catch. The Agent 2 also sports a Heinie Ledge rear sight and a fiber-optic front sight. $4,495. www.nighthawkcustom.com
Cimarron Firearms 1847 Texas Ranger Walker

This year, Cimarron has brought out an exact replica of the classic six-round 1847 Texas Ranger Walker .44 black powder, repeating pistol. This authentic replica version incorporates company markings and wears Cimarron's original finish. It also features a 9-inch barrel and a steel frame. And as an added bonus, Cimarron will donate 5 percent of each Texas Ranger Walker sale to the Former Texas Ranger Foundation. $669. www.cimarron-firearms.com
Hoppe's BoreSnake Snake Den

New for 2018, Hoppe's has made some improvements to its BoreSnake lineup in the form of the Snake Den. Now, the original, quick bore cleaning tool comes in a handier reusable carrying case, which includes a T-handle for more easily pulling the BoreSnake through your firearm. It retains the integrated bronze brush for scrubbing carbon fouling, as well as the tail, which clears the barrel of loose debris and has a surface area 160 times larger than a standard cleaning patch. $16.99. www.hoppes.com
Editor's Note: This article originally appeared in the April 2018 of Gun Digest the Magazine.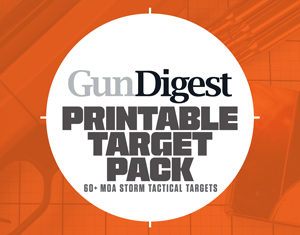 Next Step: Get your FREE Printable Target Pack
Enhance your shooting precision with our 62 MOA Targets, perfect for rifles and handguns. Crafted in collaboration with Storm Tactical for accuracy and versatility.
Subscribe to the Gun Digest email newsletter and get your downloadable target pack sent straight to your inbox. Stay updated with the latest firearms info in the industry.