Those sexy sixes — what match shooter's mind doesn't go to the center of the bull's eye when they're mentioned?
For the most part, it's been the 6.5 Creedmoor that has ruled the roost the past decade when it comes to those passionate about precision. The excellent ballistic coefficients and sectional densities the bullets offer have made the round a knockout when it comes to sub-MOA groups and top-places on the podiums. But a slightly more svelte six has made headway in recent years, capturing more and more match shooters and long-range hunters' attention.
The 6mm Creedmoor has become a popular choice for competition shooters and is making headway as a commonplace cartridge. At least it is in the Sturm, Ruger & Co., Catalog.
Shortly before the 2017 SHOT Show, the New Hampshire-based gunmaker unveiled both its American Rifle Predator and Ruger Precision Rifle in the tack-tapping round. These new offerings — for the time being — should cover most of the bases for Ruger when it comes to the 6mm Creedmoor. It does, however, come at a cost.
The company has discontinued the Precision Rifle in .243 Win., opting for the 6mm in its place. But the move should go a long way in cementing the bolt-action as a legit long-range rifle, with it now chambered for three of the most poplar competition rounds — 6mm Creedmoor, 6.5 Creedmoor and .308 Winchester.
Matched with the bells and whistles on the Precision Rifle, the 6mm Creedmoor has the potential to be a sweet shooter. The rifle's free-floated 24-inch barrel, fully adjustable stock and in-line recoil path should milk plenty of accuracy out of the round.
The 6mm American Rifle Predator also has plenty to offer, especially to shooters more comfortable with a traditional shooting platform. The rifle has a 22-inch free-floated barrel with a heavy tapper, which should all but erase the already light recoil of the round. And its threaded muzzle makes the addition of a suppressor a snap.
Presently, the 6mm Creedmoor is not offered in the Predator package — which mates it with a Vortex Crossfire II 4-12×44 scope. But given the 6.5 Creedmoor in this model comes with this accoutrement, it wouldn't be surprising to see one on the 6mm sometime in the future.
6mm Creedmoor Precision Rifle Specs
Stock: Folding, Adjustable Length of Pull and Comb Height
Barrel Length: 24″
Barrel: Cold Hammer-Forged, 5R Rifling
Handguard: Ruger Precision Rifle Short-Action
Twist: 1:7.7″RH
Grooves: 5
Weight: 10.8 lb.
Capacity: 10
Height: 7.30″
Overall Length: 43.25″-46.75″
Length of Pull: 12″ – 15.50″
Folded Length: 35.60″
Width: 3.30″
Suggested Retail: $1,599.00
6mm Creedmoor American Rifle Specs
Stock: Moss Green Synthetic
Sights: None-Scope Rail Installed
Barrel Length: 22″
Material: Alloy Steel
Capacity: 4
Thread Pattern: 5/8″-24
Finish: Matte Black
Weight: 6.6 lb.
Twist1: 7.7″ RH
Overall Length: 42″
Length of Pull: 13.75″
Grooves: 5
Suggested Retail: $529.00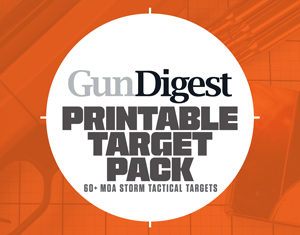 Next Step: Get your FREE Printable Target Pack
Enhance your shooting precision with our 62 MOA Targets, perfect for rifles and handguns. Crafted in collaboration with Storm Tactical for accuracy and versatility.
Subscribe to the Gun Digest email newsletter and get your downloadable target pack sent straight to your inbox. Stay updated with the latest firearms info in the industry.