Ruger has been one of the most well known, and well respected, manufacturers of revolvers for a while now. The company has a history of producing rugged, reliable and high-performing wheel guns, and as a result it has a wide array of double- and single-action offerings.
Two of Ruger's double-action revolver families – the GP100 and Redhawk lines – are going to have a couple new additions for the upcoming year. Ruger has announced that it is expanding these two families with a new GP100 chambered in .44 Special and a new Redhawk chambered in .357 Magnum. The new GP100 will have a five-round cylinder, while the Redhawk will hold eight rounds of .357 Magnum.
The new, big-bore GP100 is an all-stainless steel design that features a three-inch, full-shrouded barrel. It utilizes a smooth Hogue Monogrip without finger grooves, which attaches to Ruger's proprietary grip frame. According to Ruger's website, it's the only GP100 model chambered above the classic .357 Magnum.
The newest stainless steel Redhawk revolver pairs a 2.75-inch barrel with Altamont round butt, hardwood grips to create a compact yet highly shootable package. The un-fluted cylinder features a recessed ejector that allows shooters to easily reload the revolver with moon clips, and the gun ships with three full moon clips, with additional clips and speed loaders being available online at ShopRuger.com. Previous Redhawk revolvers have been chambered in calibers above .40, so the scaled down Redhawk in .357 Magnum should be a real hit.
Both of these new revolvers feature windage- and elevation-adjustable rear sights. The new GP100 utilizes a green fiber optic dot set inside a black square post front sight. Meanwhile, the new Redhawk uses a red ramp front sight, which can be easily replaced with other front sight blades available from Ruger.
The new GP100 in .44 Special is available for $829, while the Redhawk in .357 Magnum is available for $1079. For more information on these two new Ruger double-action revolvers, check out the full specifications for each below, or visit the Ruger website.
Specifications:
Ruger GP100
Type: Double-action revolver
Caliber: .44 Special
Barrel: 3 in., stainless steel
Overall Length: 8.5 in.
Weight: 36 oz.
Grips: Hogue Monogrip
Front Sight: Green fiber optic set in black square
Rear Sight: Adjustable, windage and elevation
Finish: Stainless
Capacity: 5 rounds
Price: $829
Manufacturer: Ruger
Ruger Redhawk
Type: Double-action revolver
Caliber: .357 Magnum
Barrel: 2.75 in.
Overall Length: 8.25 in.
Weight: 44 oz.
Grips: Hardwood
Front Sight: Red ramp
Rear Sight: Adjustable, windage and elevation
Finish: Stainless
Capacity: 8 rounds
Price: $1079
Manufacturer: Ruger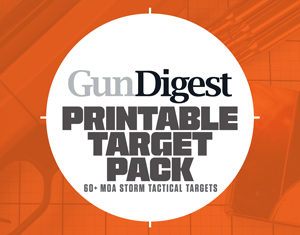 Next Step: Get your FREE Printable Target Pack
Enhance your shooting precision with our 62 MOA Targets, perfect for rifles and handguns. Crafted in collaboration with Storm Tactical for accuracy and versatility.
Subscribe to the Gun Digest email newsletter and get your downloadable target pack sent straight to your inbox. Stay updated with the latest firearms info in the industry.