[imagebrowser id=476]
Over the course of a shooting or hunting career our views and beliefs change, and perhaps the most polar shift over the past 20 years for me has been my reliance on binoculars. When I was in my teens hunting squirrels and deer in Ohio, I never owned a pair of binos; it was a struggle to afford shotgun shells and .22 ammo, and I couldn't see the value of investing in optics that I considered, at least at that time, a luxury and not a necessity. But I slowly began to appreciate good binoculars and started considering them an essential tool for hunting, shooting and scouting. Today I have no less than four pair of binoculars and I use them almost daily for everything from bird watching to scouting whitetails. There are binos in my hunting packs, in my shooting bag, in my home and in my truck, and I have carried them around the world. I've used binos to glass game in south Texas, Montana, Namibia and elsewhere, and almost weekly I help someone else center a rifle at the range by calling shots with my binoculars. I've changed my mind. Binos are, in fact, a necessity.
Today there are binoculars to fit every budget and every hunting or shooting situation, from larger, heavier binos that are perfect for serious long-range work on the bench to light, compact binoculars that can be carried to the world's highest summits. Here's a look at the best new options for 2016.
Editor's Note: This article is an excerpt from the October 2016 issue of Gun Digest the Magazine.
---
Recommended: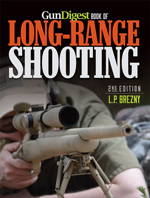 Gun Digest Book of Long-Range Shooting, 2nd Edition
Get the most recent advances in guns and gear to extend your range for hunting, informal target shooting, and formal competition. Discover new tools for long-range shooters both in the field and on the firing range, with coverage of new developments from advances in military applied combat theory. Learn more