The editors at Gun Digest regret to hear the sad news of the death of Robert Hillberg. He passed away on August 12, 2012. Over his many years of designing firearms, everything from machineguns to sporting pistols, shotguns and rifles, when asked of all his accomplishments, what he is most proud of; Bob replied "The Whitney pistol." History will surely remember Robert L. Hillberg as one of the foremost firearms designers of the 20th century.
To remember his passing, we are republishing a profile of him published in the 2008 edition of the Gun Digest annual by Don Findley.
ROBERT L. HILLBERG: PROFILE OF A FIREARMS DESIGNER
by Don Findley
You may remember Robert L. Hillberg as the man who designed and manufactured the Whitney Wolverine 22 pistol in the mid-1950s. The Whitney's space-age profile "grabbed" the attention of firearms enthusiasts everywhere. Unless you are employed in the firearms industry and are actually involved in the production of firearms, you may never have heard of Robert L. Hillberg at all. Bob is one of the men who design and test the guns, working in the background, and often leaving others to receive the accolades for their achievements. Bob Hillberg is far from a one-dimensional gun designer and his career in the firearms industry spans over 60 years.
Bob was born in Anamosa, Iowa on August 27, 1917. As a young boy he accompanied his father, an avid outdoorsman, on hunting trips in Minnesota and South Dakota. Starting at a young age, he was interested in anything mechanical, especially guns. His first gun was a 12-gauge Browning Auto Five shotgun. He was intrigued by the number of mechanical events that had to occur in a semi-automatic firearm to fire, extract, eject, reload, re-cock and be ready to fire the next round in a split second. Bob was not formally trained in firearms design. His engineering skills were "picked up" from odd jobs, after school and summers, in machine shops. He read everything available on firearms. He did, however, attend the University of Minnesota.
Hillberg became an avid firearms collector. After several years of collecting guns and studying their design, he designed a 357 Magnum submachine gun in 1937, and built a working prototype at the U.S. Naval Air Base, Wold Chamberlin Field, where he was a reserve member of Squadron VN11 RD-9.
Hillberg took his prototype to Colt Firearms in Hartford, Connecticut in 1938 and demonstrated his gun, hoping to sell the design. Colt wasn't interested in the submachine gun, but they were interested in Bob and offered Hillberg a job, which he accepted. This was his first employment in the firearms industry. While at Colt, he worked in engineering, assembly, inspection and manufacturing. Hillberg also designed a short action for their revolver and developed a ⅞-scale 22 version of Colt's Frontier Single Action that went into production years later.
In 1940 Hillberg accepted employment at Pratt & Whitney Aircraft, located in East Hartford, Connecticut and worked in the engineering department where he was involved with the design of engine components and experimental engine installations in test aircraft. While at Pratt & Whitney he began the development of a 30-caliber carbine, as well as a 20mm aircraft cannon
Hillberg moved to Burlington, Vermont in 1942 to take a position with the Ordnance Division of Bell Aircraft, where he worked as project engineer. He worked on numerous other projects including the B-17 turret, bomb racks and rocket releases. During his stay at Bell, Bob designed a 20mm continuous belt-fed mechanism for submarines and anti-aircraft. The 30-caliber carbine, started at Pratt & Whitney, was activated and prototypes were built at Bell. The design was completed late in the U.S. carbine competition, which was won by Winchester. Hillberg's carbine was radical in concept, in that it did not employ a moving breech block. The barrel moved forward with each shot. The rifle fed automatically, loading on the rearward stroke of the barrel. Since the magazine was located forward of the standing breech face, the cartridges fed forward in the magazine. This required a special crimp between the bullet and the cartridge case. The advantage in this unorthodox design was the rifle was two inches shorter than a conventional rifle with the same length barrel. It met the 5-pound criteria for carbines and was tested successfully at Bell and then sent to Canada for evaluation. World War II ended just as the carbine was finalized, and it never entered production.
After the war, 1947, Bob accepted a job with Republic Aviation, Armament Division, in Farmingdale, Long Island, NY. He worked on the F-84 gun deck and later was appointed F-91 armament unit leader and also worked in the "secret room" as an armament consultant for advanced fighter aircraft. He designed the gun mounts and feed systems for the F-84, as well as rocket systems and bomb racks for the F-84. While at Republic, Hillberg designed a series of semi-automatic weapons.
With each move Hillberg gained experience and knowledge. By 1951 he had left the aircraft industry and returned to designing firearms. He took a job with High Standard Manufacturing Company in 1951. After a few months, he accepted the position as head of research and development. Hillberg had gained a great deal of knowledge in the use of high strength aluminum alloy while working in the aircraft industry, and applied this expertise to firearms design. Hillberg should be given a great deal of credit for the commercial use of aluminum in firearms production. With Bob as head of R&D, High Standard was one of the first firearms manufacturers to make use of aluminum. High Standard's inventory included a complete line of sporting arms, shotguns, rifles and handguns.
High Standard was also involved in the manufacture of military weapons. Hillberg designed the T-152 tank machinegun for the Springfield Armory and the Detroit Tank Arsenal. This gun was later put into production as the M-37. He also designed the 9mm T-3 double-action pistol, a 22 semi-auto sporting rifle and the world's first commercial gas-operated semi-auto shotgun, originally called the Model 60. This shotgun was marketed by High Standard and was a huge commercial success.
Hillberg had an idea for a 22 sporting pistol, an all-new design that could be manufactured at a low cost without sacrificing quality, a pistol he believed could compete in a market dominated by Colt, High Standard and, more recently, Ruger. While at High Standard, he became acquainted with Howard "Howie" Johnson of the Bellmore Johnson Tool Company of Hamden, Connecticut. Bob was convinced, by his good friend (Johnson) to retire from High Standard and develop and manufacture the new pistol on his own.
Subsequently, Hillberg left High Standard and co-founded Whitney Firearms, Inc., of North Haven, Connecticut in 1954. Howard Johnson was president, Robert Hillberg, vice president and chief engineer. Employees included the top machinists and gunsmiths in the business and the two partners had high hopes for the new company.
After the 22 pistol was established as the company cornerstone, other models were to be introduced. Whitney Firearms had the necessary motivation and the right people in place — the possibilities seemed unlimited. After almost two years of designing and testing, production began in 1956. The new pistol, with its space-age profile, was called the Whitney Wolverine; "Tomorrow's Pistol Today." Ten thousand pistols were produced and shipped the first year.
Whitney Firearms, Inc. was set up to design and produce firearms, and needed distribution and marketing savvy. A deal was struck with J. L. Galef, a firearms broker from New York, to market the guns. That exclusive marketing contract ultimately led to the demise and closing of Whitney Firearms in May of 1957.
From mid-1957 to 1980 Hillberg was employed as Chief Engineer for Bellmore Johnson Tool Company. From his office, located in Cheshire, Connecticut, he ran a firearm consultant and design service. Customers included about every major firearms company in the U.S., plus several Pentagon agencies (confidential firearms projects). His designs while at Bellmore Johnson ranged from shotguns — both combat and sporting — to rifles and handguns.
Hillberg designed double-action revolvers for Browning and Winchester. His work on the Winchester Liberator, Colt Defender and the Model J brought the combat shotgun to a new level of refinement. The Liberator was a four-barrel repeating combat shotgun with the firepower of a semi-automatic without the mechanical complexity.
The Defender is a 20-gauge 3-inch Magnum combat shotgun designed to appeal to law enforcement agencies. The Defender featured eight selective-fire 12-inch independent barrels — all arranged in a circular cluster around a hollow axis — and an investment cast aluminum alloy receiver. Two machinegun-type grips are employed to control and fire the gun, from the shoulder or the hip. During independent testing conducted by a police expert at Colt Firearms' request, the expert's post-evaluation report stated, in part: "In no instance did the gun fail to function, to be absolutely correct, the gun could not be made to malfunction."
The Model J is a box-fed pump-action shotgun with an ejection port on both sides. A switch determines from which direction the spent shells are ejected for left or right-handed shooters. One of the first shotguns equipped with a folding stock, the Model J was tested in Vietnam by the U.S. military.
From 1980 to the present Hillberg has served as an independent expert witness — for both plaintiff and defendant — in court cases relating to firearms, with special interest in cases that involve design, testing, safety and prior art. Also, he is a retired deputy sheriff and a member of the following police organizations: New England Association of Chiefs of Police; International Association of Chiefs of Police; American Law Enforcement Officers Association; New Haven County Sheriff's Association National Sheriff's Association and the Connecticut Chiefs of Police Association (firearms committee).
Robert Hillberg has been granted over 36 patents — foreign and domestic — pertaining to firearms. The American National Standard, an industry performance standard established to provide the firearms designer and manufacturer with recommendations for test procedures to evaluate new designs as defined under the Federal Gun Control Act of 1968, lists Hillberg as an "independent expert."
If you seek a career in the firearms industry, find a copy of the June 1966 American Rifleman magazine, and refer to page 95. You may take some advice from that article offered by a man who has "been there and done that."Highlights from that article titled "Gun Designers," by Robert L. Hillberg: "The golden era of firearms design was at the turn of the century. Men like von Mannlicher, Paul Mauser, Andreas Schwarzlose, John Browning, and others pioneered the art so thoroughly that virtually nothing new in basic firearms design has been developed since. The heritage of every modern design, both military and commercial, can be traced back to the creative genius of a small group of designers some 60 years ago." The article concludes "Today's firearms industry needs top technical help in all other phases. If giving the public a better gun for the same money or the same gun for less money is your destiny, the gun industry will welcome you with open arms. If being a part of a team to produce this gun or to merchandise it is your aim, there is a place for you in the industry. If your burning ambition is to design a new gun and get rich & forget it."
Over his many years of designing firearms, everything from machineguns to sporting pistols, shotguns and rifles, when asked of all his accomplishments, what he is most proud of Bob replied "The Whitney pistol." History will surely remember Robert L. Hillberg as one of the foremost firearms designers of the 20th century.
The next time you reach for that favorite deer rifle or old reliable shotgun, or perhaps the 22 pistol your dad left you, take a minute to remember the people who designed and perfected those cherished pieces; the men and women who labor behind the scenes to guarantee a dependable and reliable product, a product that will withstand the test of time and man. Every great firearms design, from the early matchlock to today's newest military assault weapon, began with one man's idea.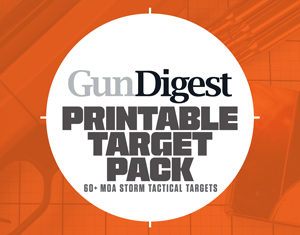 Next Step: Get your FREE Printable Target Pack
Enhance your shooting precision with our 62 MOA Targets, perfect for rifles and handguns. Crafted in collaboration with Storm Tactical for accuracy and versatility.
Subscribe to the Gun Digest email newsletter and get your downloadable target pack sent straight to your inbox. Stay updated with the latest firearms info in the industry.