[imagebrowser id=447]
Glock 43 Review — Exclusive
Gun Digest Publisher Jim Schlender was invited March 3 to Glock's factory in Smyrna, Ga., for what he thought was just going to be a tour of the production floor. But when he was asked to autograph a disclosure statement, he knew this was not going to be an ordinary tramp around Glock's digs. And it wasn't.
Turned out Mr. Schlender was part of a very select group of gun scribes that got the first gander at one of the most anticipated pistols in a spell — the Glock 43.
Yes, the mythical single-stack 9mm was finally a reality and our Publisher got to be one of the first ones outside the gun company to pull the trigger on one. His first impressions of the petite polymer striker-fired — slim, trim and manageable to shoot:
Most noticeable when you handle and fire the new pistol is that the grip has shrunk from the G26's 1.2 inches to an inch at its widest point, with the slide at .87-inch. In the world of compact 9s, those fractions of inches are a very big deal. Just as importantly for those on a quest for a little 9 that's still large enough to actually shoot well but isn't cumbersome to carry, the G43 weighs in at only a pound unloaded. Compared to the G26's nearly 22 ounces unloaded, this is a substantial difference.

On the firing line, I found the G43 had enough weight and bulk to make stout 9mm defense ammo manageable while its trimmed-down profile was slim enough to quiet any objections by those who, for whatever reason, find a double-stack configuration to their dislike.
Glock is set to formally introduce the G43 at the April 10-12 NRA annual meetings and convention, held this year in Nashville, Tenn. Until then, here's a bunch of photos from the head honcho's sneak peak at the 9mm. Yeah, we know, it's not the same as shooting it yourself.
Glock 43 Specs
Caliber: 9mm
Capacity: 6+1
Barrel Length: 3.39 inches
Overall Length: 6.26 inches
Width: 1.02 inches at frame; .87 inches at slide
Weight Unloaded: 16.19
Sights: Fixed White
Frame: Polymer
Slide: Steel
Options: N/A
MSRP: N/A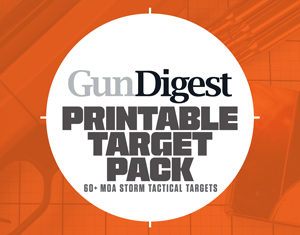 Next Step: Get your FREE Printable Target Pack
Enhance your shooting precision with our 62 MOA Targets, perfect for rifles and handguns. Crafted in collaboration with Storm Tactical for accuracy and versatility.
Subscribe to the Gun Digest email newsletter and get your downloadable target pack sent straight to your inbox. Stay updated with the latest firearms info in the industry.