In no small way, Ruger has helped reinvent the concealed carry revolver.
With the New Hampshire/Arizona manufacturer's LCR offering shooters options weighing in at less than a pound, the wheelguns are more than designed to be constant companions.
There, however, can be a price to pay in wielding the light polymer-frame firearms – recoil and muzzle flip. Ruger, in part, has helped combat these challenges by the inclusion of the Hogue Tamer Monogrip.
Now, shooters can further tailor their purchase of the concealable revolvers with Hogue enlarging its grip selection for the LCR series.
The Nevada manufacturer has expanded its Tamer line with a number of new options for the handguns. And it has introduced a couple of new models custom fit for the LCRs with enclosed hammers.
The two choices that are compatible with the entire series of the Ruger revolvers are Hogue's OverMolded Rubber Grips with finger grooves and a full-sized model without finger grooves. Each offers shooters a bit different option, depending on their needs.
The grooved model gives shooters a strong positive grip on their revolver and tactile reference points that can be key for a smooth draw. It also provides a non-slip texture, boasting a grippy over-stippled surface, common to the OverMolded line.
The grooveless option possesses  similar stippling as the aforementioned model, but it has slightly different dimensions. The grip features a longer butt, which allots maximum recoil damping and accommodates shooters with larger hands.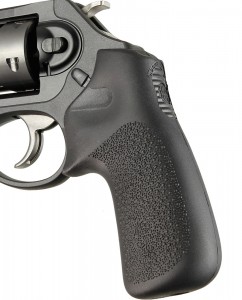 The models absorb much of the recoil due to their unique design. In addition to their exterior rubber, the grips also have internal rubber inserts that further reduce the guns' kick. Also, they feature in ingenious harden polymer guide embedded on the left side for speed loaders.
Hogue has also released a special Tamer for LCR models with enclosed hammers. The company's Bantam Boot is designed to facilitate a clean draw, particularly if the revolver is carried in a pocket.
It achieves this by the inclusion of a smooth polymer exterior that minimizes clothing snags. The grip still gives shooters a firm handle, however, with the incorporation of rubber strips on the front and back of the grips.
Hogue has also introduced a second grip option for LCRs with encased hammers, its G10 model. The hard polymer grips gives shooters a more traditional choice that draws clean, while still offering a firm handle on the revolver through aggressive stippling.
The MSRP on the OverMolded and G10 grips range from $59.95 to $79.95. Each variety of grip is available in a number of colors.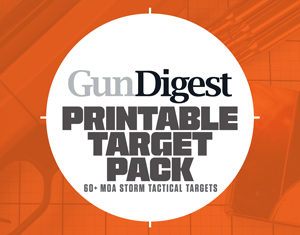 Next Step: Get your FREE Printable Target Pack
Enhance your shooting precision with our 62 MOA Targets, perfect for rifles and handguns. Crafted in collaboration with Storm Tactical for accuracy and versatility.
Subscribe to the Gun Digest email newsletter and get your downloadable target pack sent straight to your inbox. Stay updated with the latest firearms info in the industry.