Throughout the years, Nikon has been a steady innovator in the optics market, producing quality optics that continue to push the bounds with new technology. One such example is the company's newly introduced Monarch 7i VR Laser Rangefinder, which Nikon states is the world's first laser rangefinder to feature vibration reduction (VR) technology.
Using Nikon's optical VR technology, the new Monarch 7i VR reduces the effect of external vibrations, such as a hand shaking or moving when ranging distant objects. This makes it easier, particularly for hunters or long-range shooters, to keep the target mark on the rangefinder steady, even when unable to keep the body of the rangefinder itself still. In addition to stabilizing the image, this technology also helps steady the laser for increased measurement performance.
As anyone who's tried to range targets in the field or at the range without a stable position can attest, hand shake can be a real problem, especially when the buck of a lifetime happens to come into view. With the VR technology in the Nikon Monarch 7i VR, vibrations of the image in the rangefinder's 6-power viewfinder are reduced, while simultaneously aligning the image with the irradiated beam for quicker and more precise ranging.
The VR technology activates as soon as the rangefinder is on and requires no toggling or manual activation. The Monarch 7i VR Laser Rangefinder can continuously scan for 8 seconds and has an effective measurement range of 8 to 1,000 yards, displaying measurements in .1-yard increments. It features Nikon's HYPER READ technology, providing precise measurements in approximately half a second, irrespective of distance.
The new Nikon Monarch 7i VR also incorporates the manufacturer's ID (Incline/Decline) technology to compensate for angled shots uphill or downhill and comes in a compact, lightweight, and waterproof body for rugged field use. The rangefinder also has the ability to toggle between First Target Priority Mode, which provides a reading of the closest target within a group, or Distant Target Priority Mode, which offers a reading of the farthest target among a group.
"The MONARCH 7i VR is one of the most exciting new products of Nikon's recent releases. Not only does this make it easier for hunters and shooters to range objects at long distances, we are able to offer it at a price point that doesn't break the bank. We strive to make practical advances in hunting optics, and this is just the beginning of some exciting new things hunters can expect from Nikon," said Randy Garrison, Associate General Manager at Nikon Sport Optics.
The brand new Nikon Monarch 7i VR Laser Rangefinder is currently available for $399.95.
---
Recommended: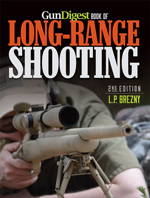 Gun Digest Book of Long-Range Shooting, 2nd Edition
Get the most recent advances in guns and gear to extend your range for hunting, informal target shooting, and formal competition. Discover new tools for long-range shooters both in the field and on the firing range, with coverage of new developments from advances in military applied combat theory. Learn more