Take a new pistol out of its box and subject it to field conditions in the hands of some of the toughest, most dedicated men in the U.S. Army and it will either fail the test or pass on its own merits.
Otherwise nearly identical in features to the full-size HK45, Heckler & Koch has introduced the new HK45-C Compact with a slim-line grip profile. It could be just another pistol, but H&K has such faith in its performance and durability that it donated new guns to the Army for its 2011 Best Ranger Competition April 15-17 at Fort Benning, Georgia.
The competition consists of enough physical and mental tasks to make a fighter in the octagon beg for mercy. Over the three days the Army intentionally provides very little rest or nourishment. Historically 60 percent of the two-man teams drop out due to injury, dehydration or exhaustion.
This event tests both men and their gear.
Day two of the Best Ranger Competition features an endurance event that is billed simply as "Day Ranger Stakes." Upon command a team begins a series of competitive challenges while fully outfitted including helmet and protective vest: firing the M4, hauling 200-pound skeds over obstacles and through culverts, firing combat shotguns off-hand and firing pistols from prone positions through a small ground-level slot. Is the pistol up to it?
The Pistol
The HK-45 Compact, chambered for .45ACP, has numerous features that will interest tactical operators, law enforcement officers and even competition shooters. Here's how it stacks up compared to the HK45 from which it is derived:
Barrels for the Compact are made in a cold-hammer forging process giving rise to steel with improved strength which means it holds its straightness tolerances even under stressed conditions. The
HK45 series also uses a proprietary HK O-ring barrel for precise barrel-to-slide lockup and repeatable accuracy.
HK's unique internal mechanical recoil reduction system reduces the force of recoil.
H&K spec sheets note that anticipated service life for the HK45-C is 20,000 rounds, which should be more than enough for any training, deployment or home-defense situation.
Both the HK45 Compact and full-size HK45 use an improved USP-style control lever, a combination safety and de-cocking lever. The lever is frame-mounted and is quickly accessible; it has a positive stop and returns to the "fire" position after de-cocking.
Back at the contest…
The HK-45C did all that was asked of it by competitors in the Best Ranger Contest. The pistol was dunked in the water, abused in the heat and mud, fired from various positions at typical combat pistol distances and came through without a hitch.
Officially, the Rangers were barred from evaluating any supplied products during or after the competition, but several competitors noted that they were enthusiastic about the comfortable feel and ease of target acquisition with new HK-45C.
Suggested retail price is $1,147 for the DA/SA model with control lever and $1,237 for the LEM enhanced DAO model without control lever. Heckler & Koch is currently building the HK45C at HK's new American manufacturing facility in Newington, New Hampshire.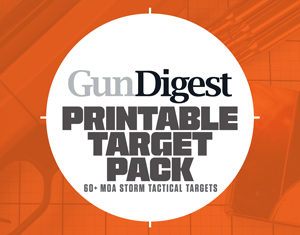 Next Step: Get your FREE Printable Target Pack
Enhance your shooting precision with our 62 MOA Targets, perfect for rifles and handguns. Crafted in collaboration with Storm Tactical for accuracy and versatility.
Subscribe to the Gun Digest email newsletter and get your downloadable target pack sent straight to your inbox. Stay updated with the latest firearms info in the industry.