Here's a look at some of CZ's oustanding pistols.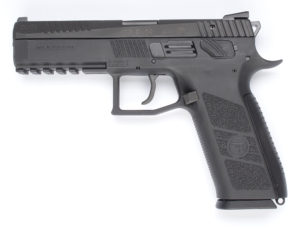 The CZ 75 is one of the most successful handguns of the modern era and it is the weapon of choice for law enforcement and military officers around the world. This short-recoil operated semiauto first appeared in the mid-1970s and it was a major hit immediately. The 75 has proven to be very reliable and accurate, thanks in no small part to its superb balance. Today, CZ offers over a dozen variants of the 75, including several small versions ideal for personal defense.
For those who are shopping for a concealed carry gun, the CZ 75 Compact has all of the features you'd expect from the full-size gun like SA/DA operation, a large manual safety and decocker, and a wide, double-stack grip. The 75 Compact comes with a steel frame, which is slightly heavier than other carry pistols in the CZ line (about 33 ounces), but that weight helps reduce recoil.
If you're looking for a lighter carry gun, the CZ P-01 in 9mm is ideal. The alloy frame reduces weight, and at 28 ounces unloaded the P-01 is large enough to reduce recoil and shoot accurately but still light enough for carry. There's also a conversion kit to turn your 9mm or .40 S&W 75 into a .22 for cheap, low-recoil practice.
Competition shooters also have several options available as well, including the IPSC-ready CZ-75 Tactical Sport. Designed for competition, the Tactical Sport offers competition-ready features like an extended magazine release and competition hammer. The magazine well is large so that it is easy to make rapid mag changes during the heat of competition, and the front and rear straps have heavy checkering for a secure grip.
If you want to step up another level, try the CZ 75 TS Czechmate. This semiauto pistol is designed for IPSC Open or Limited division competition and it offers a long list of features like an ambidextrous slide racker, four-port compensator, four magazines (three 20-round, one 26-round) and much more. The price for the Tactical Sport is $1,310, and the feature-loaded Czechmate sells for $3,317.
The P-09 is one of the best full-size, high-capacity, polymer-frame 9mms on the market. It's very well balanced, accurate, and the grip is comfortable. In addition, the P-09 has a large magazine capacity – 19 +1 in 9mm – so you'll cut down on time between reloads and you'll always know that you've got plenty of firepower on tap.
The P-09 also comes with a decocker that can be transferred to a manual safety, and there are new versions that come with a flat dark earth frame, and another version that is threaded for suppression. MSRP on the P-09 ranges from $530 to $577, making it one of the best buys in full-size polymer guns.
Dan Wesson, which is owned by CZ, is offering a full lineup of 1911 handguns for every need and budget. Some of the standouts in that lineup are the Razorback RZ-10, which is chambered in the mighty 10mm Auto and comes with defensive sights, cocobolo grips, a 5-inch ramped match-grade barrel, a smooth front strap and much more.
The Razorback is an ideal gun for defense (for those who can handle the recoil) and will also serve as a close-range hunting gun. Also from Dan Wesson is the compact ECO, a 25-ounce concealed carry 1911 available in either 9mm or .45 ACP. It has a solid one-piece guide rod and a flat recoil spring rated for an incredible 15,000 rounds. MSRP on the Razorback is $1,350 and the ECO is $1,662.
This article is excerpted from Gun Digest 2015. To get your copy click here.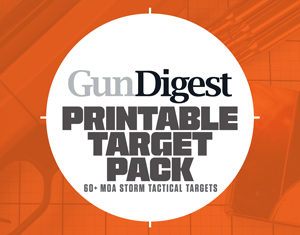 Next Step: Get your FREE Printable Target Pack
Enhance your shooting precision with our 62 MOA Targets, perfect for rifles and handguns. Crafted in collaboration with Storm Tactical for accuracy and versatility.
Subscribe to the Gun Digest email newsletter and get your downloadable target pack sent straight to your inbox. Stay updated with the latest firearms info in the industry.