From the local gun store to massive online retailers, anybody who has braved the gun market in recent years understands it's red hot. Gun Digest is here to make sure collectors and enthusiasts don't get burned on a firearms transaction with these five best gun buying and gun selling articles.
Buying Guns on Internet Auctions
Perhaps more than any other factor, online retailers have done more in the recent decade to reshape the gun market. Phillip Peterson arms you with the knowledge you need to get the most from internet gun purchases. Read More
10 Tips for Choosing a Concealed Carry Handgun
Bruce N. Eimer focuses on shopping for a specific category of firearms in this post. However, the rules of thumb he lays out can be applied to nearly every type of gun. Learn The Rules Of Thumb
Selling Antique Guns
Truthfully, you don't have to be a hardcore firearms collector to put this post to good use. Norm Flayderman outlines some of the best routes to sell guns quickly and for profit. Find Out Where To Sell
All About Shipping Guns
So you sold your gun for a tidy profit. Only problem is the buyer is two states over. How do you get that baby to their zip code? Phillip Peterson draws upon his personal experience to give you tips to successfully ship firearms. Ship Out
A Primer On Buying Used Handguns
The secondhand gun market has some real gems. But shooters better know how to weed out the lemons. Master gunsmith Patrick Sweeney goes through what you need to look for when it comes to finding a functional used handgun. Learn More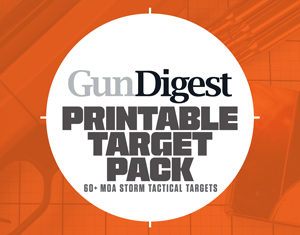 🎯 Exclusive Offer: Get Your FREE Printable Target Pack!
Dive into precision shooting with our 62 Exclusive MOA Targets featuring DOT Drills. Perfect for both rifle and handgun enthusiasts, these targets are designed for accuracy, especially for long-range shots.
Why You'll Love This Pack:
🎯 Expertly Crafted: Brought to you in partnership with the renowned Storm Tactical.
🎯 Versatile Use: Suitable for both rifle and handgun range sessions.
🎯 Precision Design: Target grids and bullseyes meticulously measured in MOA for the best shooting experience.
Bonus: By grabbing this offer, you'll also be subscribing to the Gun Digest email newsletter, keeping you updated with the latest in the world of firearms.
Don't miss out!
Simply enter your email below, and we'll send your downloadable target pack straight to your inbox.