Walther has taken its easy-to-shoot and manipulate CCP M2 .380 ACP.
At one time, little thought was given to those that have difficulty manipulating a semi-automatic pistol. An elderly person or someone with a permanent disability, whatever the case, the inability to efficiently work the slide could prove a hurdle too high. Thus arguably the most useful style of self-defense gun was out of reach. Those days are fast becoming a thing of the past.
Walther Arms is among a handful of gunmakers who've addressed this issue, and it's CCP M2 in .380 ACP is the result. The first polymer pistol with the company's Softcoil gas technology, the CCP—both the .380 and earlier 9mm models—boasts a slide nearly anyone can manipulate, regardless of hand strength. The same technology also cuts felt recoil considerably—particularly in .380—which is always a plus.
---
Load Up On More Walther Knowledge:
---
Following the same lines as the original 9mm version of the pistol, the .380 CCP M2 has a wealth of convenience engineered into it. Next to its easy shooting and manipulation, it also makes takedown less of a hassle than any other Walther. This is thanks to its toolless disassembly process, a blessing for those who don't relish spending extra time on routine maintenance. Other notables, a 3.54-inch fixed barrel, 5.5-pound trigger pull, 8+1 capacity, 20-ounce weight (empty) and 1.18-inch width.
More from Walther:
Maximum Efficiency. Minimal Effort. Cutting- Edge Technology.

An achievement born from an unabating commitment to excellence. All in the most comfortable and accessible firearm offered in the market today.

The CCP M2 handgun series represents the next step in performance at Walther. Once again pushing beyond the boundaries of expectations to meet this demand, Walther releases the extraordinary CCP M2 pistol in .380 ACP.

The CCP – or Concealed Carry Pistol – is the first polymer pistol with Softcoil gas technology. This technology improves the user's experience by reducing overall felt recoil and allowing the slide to be easily manipulated regardless of hand strength. The CCP is also the most ergonomic and comfortable handgun in Walther's dynamic concealed carry lineup. Tool-less takedown and a fixed barrel allow for easy cleaning and maintenance, making this one of the most accessible pistols available today.

Softcoil Gas Technology utilizes the gasses fired from the round to delay recoil with a piston attached to the slide. This gas-delayed blow-back system works hand-in-hand with Walther's fixed barrel semi-automatic system, making it the softest shooting .380 ACP on the market.

With additional popular features such as an external safety, front, and rear slide serrations and a reversible magazine release, the CCP M2 handgun is sure to become a valuable addition to your everyday carry.
CCP M2 in .380 Specs
Caliber: .380 ACP
Barrel Length: 3.54 inches
Trigger Pull: 5.5 pounds
Trigger Travel: 0.27 inches
Capacity: 8 rounds
Overall Length: 6.41 inches
Height: 5.12 inches
Safety: 1 manual thumb safety
Width: 1.18 inches
Weight Empty: 20 ounces
For more information on the CCP M2, please visit waltherarms.com.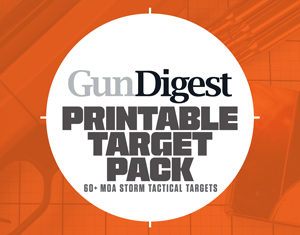 🎯 Exclusive Offer: Get Your FREE Printable Target Pack!
Dive into precision shooting with our 62 Exclusive MOA Targets featuring DOT Drills. Perfect for both rifle and handgun enthusiasts, these targets are designed for accuracy, especially for long-range shots.
Why You'll Love This Pack:
🎯 Expertly Crafted: Brought to you in partnership with the renowned Storm Tactical.
🎯 Versatile Use: Suitable for both rifle and handgun range sessions.
🎯 Precision Design: Target grids and bullseyes meticulously measured in MOA for the best shooting experience.
Bonus: By grabbing this offer, you'll also be subscribing to the Gun Digest email newsletter, keeping you updated with the latest in the world of firearms.
Don't miss out!
Simply enter your email below, and we'll send your downloadable target pack straight to your inbox.