When it comes to 9mm pistols, few guns have reached the heights of the Glock 19. Check out this video to see how the 4th generation of this pistol — which has been available long enough now to pass the test of time — performs on the range.
The Austrian-made Glock 19 has become one of the most popular handguns ever produced, giving shooters a dependable, accurate pistol in a sleek package.
And the futuristic handgun has continued to evolve as the years have gone on. Like the rest of Glock's firearms, the 19 now has a Generation 4 model, with a few tweaks that make it more useful and flexible.
The video by TyFromMD doesn't go into the minutia of the handgun, but it gives a pretty good idea about what a shooter will get when they buy a Glock 19 Gen 4.
A bit of a spoiler: Perhaps the most striking new feature is the gun's adjustable back straps. As an added bonus, TyFromMD gives us a sneak peek at his first shots with his new 19. Given the ease at which he is able to double tap, the pistol appears to have a pretty snappy trigger reset.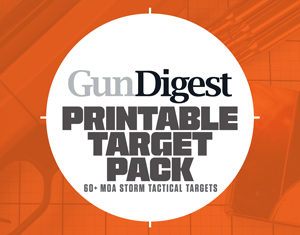 Next Step: Get your FREE Printable Target Pack
Enhance your shooting precision with our 62 MOA Targets, perfect for rifles and handguns. Crafted in collaboration with Storm Tactical for accuracy and versatility.
Subscribe to the Gun Digest email newsletter and get your downloadable target pack sent straight to your inbox. Stay updated with the latest firearms info in the industry.