The .327 Federal Magnum definitely packs a punch and looks to be a dandy in Ruger's new Single Seven revolver.
When it comes to tough-as-nails revolvers, few modern manufacturers can hold a candle to Ruger.
The New Hampshire/Arizona manufacturer's name has become synonymous with some of the most rugged wheelguns available today. And when it comes to selling some of the most unique models of Ruger revolvers, Lipsey's has the market cornered.
From sweet little Bird's Head .22LRs to salty flattop .45ACPs, the Louisiana distributor get some of the most distinctive revolvers Ruger has to offer. One of the companies most recent partnerships certainly continues this trend.
Lipsey's is now exclusively offering Ruger's Single Seven .327 Federal Magnum. It's a handgun that not only fits the definition of unique, but also flexible.
The .327 Federal Magnum has been around since 2008 and has developed a dedicated following in some corners of the shooting world. Part of the cartridge's appeal is its snappiness with the ability to push a 100-grain bullet a blistering 1,500 ft/s.
But the .327FM has more going for it than just red-hot ballistics. As pointed out in Cartridges of the World, a gun chambered for the round can fire the full range of .32 cartridges, including: .32 Short, .32 Long and .32 H&R Magnum.
This is a nice perk, for those looking to save a buck through cheaper ammo when punching holes in paper.
Ruger has put together a pretty sweet package to thumb through .32 ammo – no matter what type. Based off the Single Six line, the Single Seven has many of the scintillating features of its cousins, but with room for one more round.
The revolver is constructed from rugged stainless steel, giving the single-action a modern look. Enhancing this, is the revolver's unfluted cylinder, that gives the gun overall clean lines front to back.
The revolver, however, has not cut its roots. The Single Seven's hardwood grips give the gun a timeless appearance. The gun would look pretty ornery holstered in a Buscadero, Mexican Loop or any number of Western rigs.
Lipsey's is offering the revolver with three different barrel lengths: 4 5/8", 5 ½" and 7 ½". The smallest model tips the scales at 34 ounces, the medium-size model at 36 ounces and the largest at 43 ounces.
All the models come standard with a full adjustable rear sight – for both windage and elevation – and ramp front sight. And the Single Seven is outfitted with Ruger's patented transfer bar mechanism, which guards against accidental discharge if dropped or if the hammer is banged around.
Perhaps one of the Single Seven's top selling points is it won't break the bank to add it to a gun safe. Lipsey has .327 Federal Magnum listed with an MSRP of $659.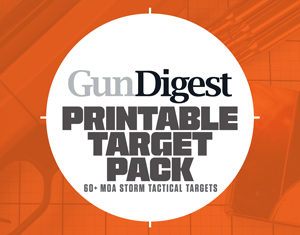 Next Step: Get your FREE Printable Target Pack
Enhance your shooting precision with our 62 MOA Targets, perfect for rifles and handguns. Crafted in collaboration with Storm Tactical for accuracy and versatility.
Subscribe to the Gun Digest email newsletter and get your downloadable target pack sent straight to your inbox. Stay updated with the latest firearms info in the industry.