Before the present era of high-capacity semi-auto handguns, FBI handguns were of the revolver variety. Here's a look at the FBI handguns that were fielded not that long ago.
What revolvers were the G-men packing:
Early FBI handguns were primarily Colts and Smith & Wesson revolvers in .38 Special.
Later, some FBI agents fielded the Model 19 .357 Magnum.
The Smith & Wesson Model 10 was, and still is, a fine-shooting and accurate revolver.
Early FBI Handguns
While it seems the initial FBI issue of .38 Special revolvers were Colts — primarily Official Police and Police Positives — the Smith & Wesson Military & Police (M&P), later called the Model 10, was soon issued and eventually became the sole issue revolver for new agents.
Other Colts had also been obtained and issued, including the Colt Pocket Positive in .32 caliber. A Police Positive in .32 caliber was also issued as well as a Colt Detective Special in .38 Special. The Detective Special was often issued with a factory hammer shroud installed.
Director Hoover was known to have owned or been issued a Colt Pocket Positive in .32 caliber with a bobbed hammer.
In 1934, he was given a Smith & Wesson .357 Magnum, Registration Number 1. Years later, when S&W introduced the Combat Magnum, the Model 19, he was presented with one. S&W historian Roy Jinks and Sandra Drein's book, Images of America: Smith & Wesson shows a photo of Hoover receiving an engraved Model 19 from an S&W representative.
When I entered on duty with the FBI in November of 1973, I was issued a S&W Model 10. It had a standard (slender) 4-inch barrel, PC (plain clothes) stocks and grip adapter. It was new or almost so and had a conservative action job. About that time, the Bureau also had in its inventory the Model 49 ("Bodyguard") and the Model 60, the stainless steel Chief's Special for special issue.
Agents were also allowed to purchase and carry their own revolvers and most selected the smaller versions. Agents who had Bureau-approved weapons were known to carry the smaller guns on the street but qualify with their issued 4-inch models. Because of this practice, new FBI regulations required qualification with all models agents had in their inventory, including their issue guns.
I was talking with an old friend, Claude Duffey Brown, who joined the FBI in 1956, and who had later sent me an email on his experiences as a new agent. "My firearms training was just before Christmas, 1956, and then during the first weeks of January 1957 — being some of the worst weather I had ever seen; (Duffey was from Texas.) snow, ice, etc. but told that can't pick weather for a gunfight, so tough it out. Our class was issued .38 Colt Official Police revolvers, which were believed to have a better single action than the S&W.
The S&W M&P was the other type revolver that could have been issued. The .38 Colt Official Police was on a .41 frame (Colt Police Positive was smaller frame, as was Detective Special — but not issued, while the S&W was on a regular .38 (K) frame.
The S&W had the best double-action pull — the Colt double action got harder as the trigger was pulled, while the S&W seemed to be smoother, and the last part of pull maybe easier that (sic) at first. I was shooting satisfactorily with the Colt, but a senior instructor, Bruce Hodge, told me that the Colt was too large for my hands, and after the first week, I was issued a .38 S&W, and my score greatly improved.
"I was tall and thin — wore a 28-inch belt, and even the .38 S&W seemed to get heavier each hour; plus I made more fast draws just to save my pants from falling; so for Christmas of 1957 I bought a .38 Chief Special revolver, with 2" barrel and 5 shot. Also, bought a Berns-Martin holster per advice of a firearms instructor.
This was the fastest rig ever made. It was a break-front holster. The revolver could not be lifted straight up, but one just pushed forward and out it came! Better have a good grip, because it was going to move forward and out. I practiced holding a penny match box up high, turning loose, and getting barrel of gun under it at about waist high. I really think this type holster was the one used by Jelly Bryce, but can't determine — yet it had to be!"
Brown continued: "I was on the New Jersey FBI pistol team from fall 1957 through season ending in April 1958. Did not try for following season since I thought would be transferred soon, and also had some ear/hearing damage. Never heard of ear muffs, or rubber plugs in those days."
Brown had heard he was going to be transferred to the New York office. The Texan resigned from the Bureau in June of 1959. A lawyer, he worked in private practice for several years and became an Assistant United States Attorney in 1961 and retired in 1997. He still remembers the class being sent out their first day to buy wide heavy belts and snap brim hats.
Agents were not allowed to modify their issue revolvers in any way and once their personally owned weapon was approved, all repairs were required to be performed by the FBI gunsmiths. Plastic or stag grips were not allowed as it was found that chips from these could drop into the lock work, jamming the gun.
After a study by FTU instructor Special Agent Glenn Ing, trigger shoes were specifically forbidden on FBI or Bureau-approved revolvers. It was found that they could slip on the trigger, preventing the gun from firing. And they made double-action shooting difficult.
By the mid-1970s, to achieve a compromise between caliber and size, the S&W Model 10-6 and later the 10-8 were adopted for new agent issue. This was a K frame, .38 Special with round grips and a 2 ½-inch barrel.
Yet it proved to be an unpopular choice as the ejector rod was too short to eject the fired cases efficiently and the short sight radius made lowlight sight alignment difficult. Some agents, myself included, had the rear sight notch on their guns opened up to allow a better sight picture. (Instructors then were required to carry the same gun as issued to new agents, at least around the academy.)
The next attempt in an issue revolver was an unqualified success. The Model 13 was a round butt K-frame Smith & Wesson with a 3-inch barrel in .357 Magnum caliber. Most agents still carried the .38 Special load in them (a 158-grain lead hollowpoint +P) but could carry the Bureau's magnum load, the Winchester 145-grain Silvertip, if required. The Model 13 was the last revolver issued by the FBI.
The magnum rounds were a handful and some PFIs (Principal Firearms Instructors) in the field required the agents to demonstrate their ability to handle the hot load before being allowed to carry them. During new agent training, the trainees were only required to fire a small number of magnum rounds. I recall one trainee in one of my classes showing me her split thumb web caused by the recoil.
Smith & Wesson was going through some ownership changes during this time and it occasionally affected quality control. The last batch of Model 13s the Bureau purchased was so bad that we sent a Bureau gunsmith to their factory to inspect them before acceptance.
He rejected so many that it appeared he would be in Springfield way too long, so the balance of the revolvers was accepted as is and later transferred to another federal agency with the warning that they would require extensive gunsmithing before use. I recall that on the cylinders of some the cut leading into the cylinder notch was missing!
After more than fifty years, the primary sidearm of FBI agents would become the semi-auto pistol. But before that change was made, an interesting event occurred at the Firearms Training Unit. Early one morning, before the classes were due to start, I was called into Unit Chief Tom Miller's office.
He asked me if I knew who General Dozier was. I did. General James Dozier was assigned to a position in Italy and on December 17, 1981, was kidnapped by members of the Italian Red Army Brigade, a terrorist group. He was held for 42 days before being rescued by NOCS also known as The Leatherheads, an advanced SWAT team. After his rescue, General Dozier gave a talk to staff members at the FBI Academy.
The Unit Chief told me that General Dozier had been contacted by Ross Perot, who thought it would be a nice gesture to reward the SWAT team members with some token of appreciation. Perhaps a gift handgun. Perot would pay for them. (A total of ten if I recall correctly.)
Tom Miller gave me the assignment to select the model and arrange for their delivery to the General. What kind of gun, I asked. Didn't matter. My choice. The only problem was time. This was a Wednesday morning and the general and his staff were leaving for Italy the following Saturday morning!
I left his office and spoke with the other instructors. I asked what model should be chosen. The model 19 was mentioned. Finally, my old partner Bob Dean said, "You know Bill. The Italians are really semi-auto oriented. Why don't we give them Smith 459s?" (The 459 was our current SWAT issue at that time.) Great idea. That morning I called Lee Deeters, Smith &Wesson President and explained the situation.
They were pleased to be of assistance. A half-hour later, Bob Haas, VP of Sales, called me back.
"Interesting problem, Bill. What kind of guns do you want?" I asked him if I could get ten Model 459s. No problem, he replied. "Do you want standard or FBI sights?" (The Bureau guns had fixed sights, red front and white outline rear.) I took the FBI sights.
I explained the tight deadline and stated that I didn't even know where Ross Perot lived, let alone how to bill him for the guns. No problem, Hass stated. He then asked if I needed anything else.
I hesitated and then asked if it would be possible to include a presentation case with each gun. Again, no problem. By noon, Haas' secretary called me and advised the guns would be on an Eastern Airlines flight arriving at National Airport Friday evening. (Talk about service!)
That evening, I was talking with a friend about the gift guns. He told me that the Italian government had a prohibition on private ownership of any handgun in a "military caliber," which included 9mm. With that in mind, I called the general's aide, a colonel, who advised me that arrangements had been made to get them to the team members.
The swap was made at National Airport and on Saturday morning, the guns (with General Dozier and staff) were in route to Italy … where they hit the proverbial brick wall. I understand the guns stayed locked up there until Smith & Wesson had special barrels made for them in .30 Luger caliber, sent a gunsmith overseas to fit them and then they could be presented to the Leatherheads.
I never did find out if Smith & Wesson ever billed Ross Perot.
Editor's Note: This excerpt is from Guns of the FBI, A History of the Bureau's Firearms and Training, available now at GunDigestStore.com.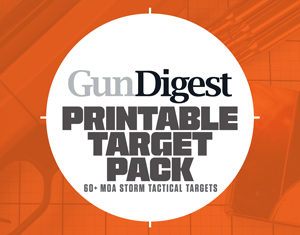 Next Step: Get your FREE Printable Target Pack
Enhance your shooting precision with our 62 MOA Targets, perfect for rifles and handguns. Crafted in collaboration with Storm Tactical for accuracy and versatility.
Subscribe to the Gun Digest email newsletter and get your downloadable target pack sent straight to your inbox. Stay updated with the latest firearms info in the industry.