Browning is sure to make some waves this year with a new team of time-tested designs that are each as popular today as they've ever been. The 1911 pistol and .380 ACP, both original designs of John M. Browning, will work together as shown in this Browning 1911-380 review.
Today's popularity of concealed carry around the country and the growing interest in shooting by all kinds of people have created a great avenue for Browning's newest sidearm.
The reduced size and quality features make this classic firearm design, more typically chambered in the much larger .45 caliber and sometimes in 9mm, ideal for a concealed carry sidearm. At the same time, the reduced size and recoil of the smaller design will appeal to new and small-stature shooters.
The Gun
When I first picked up the 1911-380, I was immediately impressed with how nicely it fit in my hand. This locked-breech, single-stack .380 is the same size as Browning's 1911-22—about 85 percent of a full-size .45-caliber 1911. The composite frame and machined steel slide keep the weight down to a handy 17½ ounces, and at only 7½ inches long, it's easy to picture comfortably carrying this gun all day long.
Browning designers incorporated several features on this little shooter more often found on high-end 1911s or as custom add-ons. The skeletonized hammer and trigger, extended beavertail grip safety with raised lower pad, extended slide release and extended ambidextrous thumb safety all add up to give it a cool look, as well as offer legitimate performance advantages.
Like it or not, the gun also has a magazine disconnect safety, which was actually on John Browning's original patent for the 1911.
Another nice bonus feature is that all of the grips, holsters and accessories made for the Browning 1911-22 fit the .380 without any modifications since they're both the same size.
On the Range
A couple of things really stood out once I got the pistol to the range and started putting some 95-grain Winchester Train & Defend rounds through it. First of all, it's accurate. With a two-hand grip, tight, consistent center mass groups were the norm at 15 yards, and knocking down steel plates at the same distance was not a problem with the combat-style sights.
The minimal recoil helped me stay on target for rapid successive shots, much easier than a larger caliber firearm might allow.
The rust-resistant 4¼-inch target crowned barrel and crisp 5-pound single-action trigger pull definitely aid in the accuracy department, especially compared to other 2- to 2½-inch barrel subcompact .380 carry guns.
The 1911-380 is also reliable. During several hours at the range, the gun never malfunctioned a single time. It ate through each seven-round steel magazine I fed it without a hiccup. Feeding, ejecting, reloading—no worries. This mighty midget of a 1911 is a solid, dependable shooter.
Browning 1911-380
Caliber:    .380 ACP
Capacity:    7+1
Barrel:    Rust-resistant, 4¼-inch with target crown
Sights:    Combat-style fixed
Frame:    Composite
Length:    7½ inches
Sight radius:    53⁄8 inches
Weight:    17½ ounces
Options:    Includes ABS plastic carry case and locking device
MSRP:    $670
Website:    browning.com
This article also appeared in the January 22, 2015 issue of Gun Digest the Magazine. Click here to download that issue.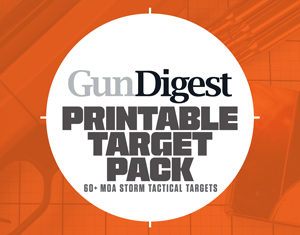 🎯 Exclusive Offer: Get Your FREE Printable Target Pack!
Dive into precision shooting with our 62 Exclusive MOA Targets featuring DOT Drills. Perfect for both rifle and handgun enthusiasts, these targets are designed for accuracy, especially for long-range shots.
Why You'll Love This Pack:
🎯 Expertly Crafted: Brought to you in partnership with the renowned Storm Tactical.
🎯 Versatile Use: Suitable for both rifle and handgun range sessions.
🎯 Precision Design: Target grids and bullseyes meticulously measured in MOA for the best shooting experience.
Bonus: By grabbing this offer, you'll also be subscribing to the Gun Digest email newsletter, keeping you updated with the latest in the world of firearms.
Don't miss out!
Simply enter your email below, and we'll send your downloadable target pack straight to your inbox.