[imagebrowser id=488]
Expanding technology has allowed changes in optics that could only have been dreamed about just a few years ago, and the options and features continue to expand. New coatings, resistant to scratches and abrasions, make optics more durable. Better science in lens coatings continues to increase light transmission levels, and features like zero stop prevent the long-range shooter from losing the short-range zero of his riflescope.
Imagine a spotting scope that allows comfortable high resolution far past the time when earlier scopes were unusable, or a riflescope that allows a wide field of view for fast moving targets, but at the twist of a lever, transforms into a scope suitable for precision long-range shooting. There's no longer a need to wish for such features—they're here.
Editor's Note: This article originally appeared in the Winter 2016 edition of Gun Digest the Magazine.
---
Recommended: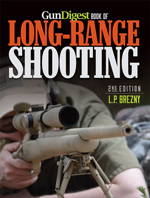 Gun Digest Book of Long-Range Shooting, 2nd Edition
Get the most recent advances in guns and gear to extend your range for hunting, informal target shooting, and formal competition. Discover new tools for long-range shooters both in the field and on the firing range, with coverage of new developments from advances in military applied combat theory. Learn more