Here's how to customize a Glock, and keep the tab under the magic $200 mark, with a few tips anyone can do at home.
In 2010, the Glock 19 was Glock's best selling gun, commercially. Now in its fourth generation and still widely regarded for its reliability and durability the midsize 19 remains a very popular choice for concealed carry, target shooting at the range, and home defense. The differences between the four generations of Glock 19s include grip patterns, finger grooves in the stock, the addition of a tactical rail, and for 2011, interchangeable backstraps for a "perfect" fit. Beyond that, not much has changed over the years.
Glocks, like any other gun, can show wear and tear over time, especially with heavy use. Tenifer slides show holster wear and night sites grow dim. In fact, that's exactly what was happening with a friend's Gen2 Glock 19. The pistol was starting to look a bit tired. Rather than shelling out $500 or more for a new gun or going through the hassle of selling it, I convinced my friend to see what we could do to upgrade the Glock, spending around $200 to turn it into a custom carry pistol.
This particular Glock 19 rides every day in a Fobus paddle holster as my friend makes deliveries and runs errands for a local firm. Because he has little kids, my friend doesn't chamber a round until he leaves for work each morning and he unloads the 19 each night when he returns home. So the gun is in and out of the holster at least a couple times every day. As such, the slide shows signs typical signs of wear. At around 15 years old, the factory night sites have lost much of their usable glow.
With a $200 limit, here's what we had done to the Gen 2 Glock 19:
The first upgrade — refinishing the slide in DiamondKote — would be purely cosmetic. At the recommendation of a local gunsmith, I sent the Glock's slide and barrel to Mike Boglarsky at M&R Arms Specialties (www.mrarms.com) in Mt. Clemens, Mich. M&R offers a multitude of color options, from matte black to gold to purple. Being somewhat traditional but wanting to jazz up the Glock a bit, I was leaning toward the silver until Mike told me that he could also do a titanium color. Relying solely on Mike's advice, I gave him the go-ahead.
Mike says he can apply color treatments to the Glock's polymer frame as well, which I respectfully declined. In a couple days, Mike called to let me know the slide and barrel were ready for pickup. It looks great and the subtle but classy titanium color is a great match for the Glock's dark polymer frame. Cost: $57 + shipping from M&R Arms
The second upgrade — replacing the old night sights — would be a much more functional change and a must-have on a carry or defense gun. I selected Truglo's Brite Site TFO, a combination Tritium and fiber optic sight that offers a bright green dot for a front sight and slightly less bright (although very visible) yellow dots for the rear sight. Never having sighted a gun through bi-colored night sites, I worried that the green and yellow dots would be gimmicky or confusing. Thankfully, neither is true. The Truglo sights are easily seen in bright daylight or in darkness. The brighter green front sight is easy to acquire and the yellow dots in the rear sight are easy to align. Cost: $97 from CheaperThanDirt.com
The third upgrade — adding a Clipdraw — would also enhance the functionality of the gun, at least in how my friend will use it on a daily basis. Since his daily routine requires a lot of driving and errands in Michigan's four seasons, he decided to try carrying inside the waistband with a Clipdraw installed—a setup that would allow easy "holstering" and removal of the Glock as needed. A simple but well-designed piece of black powder-coated metal, the Clipdraw attaches to the Glock securely and holds it inside the waistband securely, keeping it steady but allowing some movement to accommodate sitting and standing with a concealed weapon. Moreover the Clipdraw keeps the Glock at just the right height, allowing the user to get fingers around the stock when drawing.
Cost: $25.95 from Clipdraw.com
The fourth upgrade—adding a Lone Wolf Carry Package Trigger Kit—would provide a heavier, revolver-like feel to the trigger, smoothing out the overall stroke and providing an additional measure of safety to protect against an accidental discharge. Lone Wolf's Carry Package Trigger Kit is simply the combination of an 8-pound trigger spring (the "New York 1" or NY1) coupled with a 3.5-pound connector. Cost: $17.50 from Lone Wolf Distributors
With a total of $197.45 in upgrades (not counting tax or shipping), a working but very tired looking Gen2 Glock 19 became a good-looking custom carry gun that looks practically new and provides even greater functionality. My friend is happy with the changes—he even said they're "perfect."
Beyond the $200 Threshold: DC Holster
For those who prefer to holster their weapon in an actual holster that covers the trigger, consider a holster made by Greg Purcell of DC Holsters. A locksmith by trade who carries a concealed pistol, Greg found that the constant bending and moving that his work required made carrying pistol downright uncomfortable and unworkable. As such, Greg decided to design his own tuckable holster out of Kydex and leather. Word spread and a secondary business was born.
I tried the DC holster using my friend's Glock 19 and found it to be one of the most comfortable I've ever worn. The best spot for it on me was at the four o'clock position. The Glock slid in easily and snapped in securely, the molded Kydex taking a firm hold on the Glock's triggerguard. The leather helped distribute the weight across an area greater than just the point at which the belt clip attaches to my belt, adding to the comfort. Regardless of the temperature or setting, the leather never felt hot, never caused me to sweat, and generally held the Glock 19 in place very well. I could even carry the Glock 19 with the Clipdraw installed.
I did have to warm up and reform the Kydex that was directly over the front sight as it was rubbing against the sight when unholstering the Glock. This procedure took about 30 seconds with an automatic lighter and a metal rod to re-form the heated Kydex. Other than that minor fix and breaking the $200 threshold, the DC Holster was a perfect match for the Glock 19.
Cost: $65.50 shipped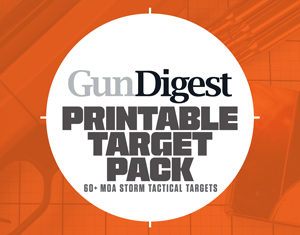 Next Step: Get your FREE Printable Target Pack
Enhance your shooting precision with our 62 MOA Targets, perfect for rifles and handguns. Crafted in collaboration with Storm Tactical for accuracy and versatility.
Subscribe to the Gun Digest email newsletter and get your downloadable target pack sent straight to your inbox. Stay updated with the latest firearms info in the industry.