Weighing just 17 ounces and with a barrel length of only 2.7 inches, the new Kimber Solo Carry puts the power of a 9mm cartridge in a micro-compact size usually reserved for smaller calibers. This pistol is easy to carry and conceal.
A manual ambidextrous thumb safety, checkered slide release and ambidextrous magazine release button promote safe and intuitive operation. The smooth single-action striker-fired trigger sets a new standard for small pistols. The slides and barrels are cut from stainless steel, making Solo pistols built to last. Their frames are machined from the finest aluminum and wear KimPro® II, a premium finish that is self-lubricating and resistant to salt and moisture. No other small pistol can begin to compare.
The Solo trigger is a single action striker-fired design with an even and smooth pull that breaks clean at 7 pounds. Frame and slide edges are rounded and blended so they do not snag on clothing or holsters. Slide serrations are deep for a secure grip and the magazine well is beveled for quick and positive loading. Solo sights are steel and securely mounted in dovetails machined into the slide for additional durability.
The Kimber legacy of offering the finest production firearms available continues with the new Solo Carry. What sets the Solo apart is quality, dependability and 1911 ergonomics that ensure comfortable shooting regardless of hand size. In every respect, Solo pistols are in a class by themselves.
Solo pistols establish a new, higher standard of small pistol dependability and performance. Their suggested retail price is just $747.
Specs
Caliber – 9mm
Height (90° to barrel) – 3.9 inches
Weight (with empty magazine) – 17 ounces
Length – 5.5 inches
Magazine capacity – 6 rounds
Extended magazine capacity (optional) – 8 rounds
Barrel Length – 2.7 inches
Twist rate (left hand) – 1:10
MSRP – $747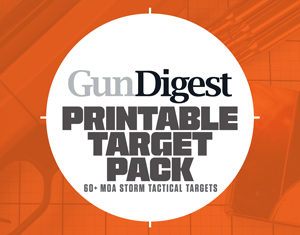 Next Step: Get your FREE Printable Target Pack
Enhance your shooting precision with our 62 MOA Targets, perfect for rifles and handguns. Crafted in collaboration with Storm Tactical for accuracy and versatility.
Subscribe to the Gun Digest email newsletter and get your downloadable target pack sent straight to your inbox. Stay updated with the latest firearms info in the industry.