Burris is a well-know name in the optics market, offering a large and diverse line of quality-built riflescopes with hunting, tactical and long-range scopes well represented. For 2016, the manufacturer is continuing to expand its optics line as well as providing Burris optics users with an all-new online ballistic resource for custom, easy-to-use solutions.
Many optics manufacturers have begun to offer online ballistic tools for customers, so Burris' new Ballistic Services page represents a wise move on the company's part. The new resource provides step-by-step navigation that allows the user to put in all relative ballistic information (scope model, height above bore, ammunition and environmental factors) to generate a precise solution.
Gun Digest caught up with Sky Leighton of Burris Optics during the 2016 NRA Annual Meetings & Exhibits to get a rundown on a couple new and updated riflescopes and to learn more about the new Burris Ballistic Services tool. Check out the video to see the new products, and visit the Burris website to find out more.
---
Recommended: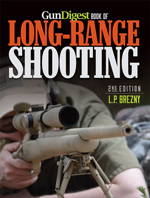 Gun Digest Book of Long-Range Shooting, 2nd Edition
Get the most recent advances in guns and gear to extend your range for hunting, informal target shooting, and formal competition. Discover new tools for long-range shooters both in the field and on the firing range, with coverage of new developments from advances in military applied combat theory. Learn more