Need a high-velocity page-turner? Check out the top Gun Digest books from the past year.
Yeah, we all know what we want to unwrap Christmas morning … a gun. Maybe it's Sig Sauer's spanking new P365 SAS or a vintage Browning Auto-5. Whatever the case, a dream iron certainly makes the season merry and bright. But there are other gifts to deck the halls with that, while not as enthralling as a rifle or pistol, will still hit the mark with your favorite marksman … even if that sharp shot happens to be you. Perhaps a gun book?
As chance has it, Gun Digest is brimming with some of the most impactful firearms literature to ever roll off the presses, penned by some of the most authoritative and respected authors in the game. From detailed gunsmithing guides to firearms histories, and in-depth looks at some of the world's most cherished guns, these tomes are certain to score a bullseye with the firearms enthusiasts in your life … no matter their interest. No joke, there's a warehouse of this high-powered knowledge waiting to be untapped. To make matters a bit simpler, we gathered together the top 10 Gun Digest books from the past year. These are what other gun buffs have been reading and are certain to make dynamite stocking stuffer or your next page-turner.
The definitive gun value guide for more than a quarter-century, offering more of what the firearms enthusiast and collector need — more photos, more prices and more guns!
---
Check Out Other Review Roundups:
---
It's "The World's Greatest Gun Book!" Need we say more?
The annual knife enthusiasts looks forward to and needs. Bursting with full-color photos plus exclusive features not available anywhere else, it's the final word in knives.
Seven PDF books are among the most detailed firearms references available, with step-by-step instructions and comprehensive photos walking you through the takedown and reassembly of the most popular models of guns.
Packed with over 688 pages of concise information and data on old, new and currently manufactured ammo every shooter and reloader need this in their gun library.
Whether you're an experienced Glockophile or shopping for your first Glock pistol, this revised and expanded second edition is essential reading.
The best-of-the-best from Gun Digest's early years. Jack O'Connor, Elmer Keith, Col. Townsend Whelen, Warren Page and More … They're All Here!
Simplifying and demystifying this daunting aspect of reloading and shooting, the book is a practical, down-to-earth guide to the subject.
In essence, the vital reference is a veritable armor's course on the AR-15.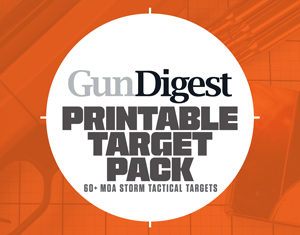 Next Step: Get your FREE Printable Target Pack
Enhance your shooting precision with our 62 MOA Targets, perfect for rifles and handguns. Crafted in collaboration with Storm Tactical for accuracy and versatility.
Subscribe to the Gun Digest email newsletter and get your downloadable target pack sent straight to your inbox. Stay updated with the latest firearms info in the industry.