America has created some truly great bolt-action rifles over the years that have done everything from win wars to put meat on the table.
What are America's greatest bolt-action rifles?
Bolt-action rifles have been with us for going on two centuries and are sure to be pounding the bullseye for years to come. That's because few other firearms match what this classic design brings to the table — capacity, relatively quick rate of fire and above all accuracy.
Whether as a military sniper implement, a dead-on hunting tool or a gold-medal match gun, the bolt-action rifle gets a rounds where they needs to be, again and again. Truly, if you don't at least have one bolt-action rifle in your collection there is something awfully wrong with you. You're not necessarily a bad person, but you're a little off.
Thankfully, the situation is more than rectifiable, and you needn't scour the globe to find the right rifle. The good old U.S.A. has produced some truly great and deadly-accurate bolt-actions over the years. So with that in mind, here are Six All-American Bolt-Action Rifles You Need to Own and that will definitely get you on target.
Springfield 1903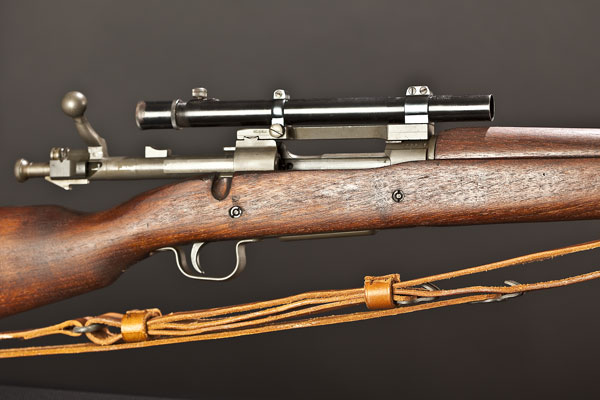 It could be said America's love affair with the bolt-action rifle started with the M1903. Deadly accurate and rugged, the Springfield was among the preeminent U.S. service rifles of the 20th Century, serving all the way up to the Vietnam War. With a scope affixed to its receiver, there were few firearms that could hold a candle to a M1903 as a sniper rifle. But the Mauser 98 clone earned its stripes away from the battlefield, as well.
The .30-06 Springfield has proven itself among the best game cartridges of all time, able to handle the meekest to most dangerous game on the planet. Cheap surplus Springfield rifles only helped to fuel the cartridge's popularity, as former soldiers, and civilians for that matter, sporterized the venerable M1903. Unfortunately, the days of cheap Springfields in good condition are drawing to a close. Now the venerable old warhorse — and hunting rifle — is becoming more and more expensive, relegating them to collector status.
Remington Model 700
Since its introduction in 1962, the Model 700 has become one of the most popular and prolific bolt-action rifles of all time. Being designed for mass production, and thus economical from the get-go, didn't hurt the rifle's chances at being a hit. But there was a much more important facet to the Model 700 that sent the push-feed dandy into the stratosphere — accuracy.
Many consider the rifle the most accurate factory bolt action ever produced, and its professional use does a great deal to lend credence to this assertion. The Model 700 has served as both the U.S. Marine Corps' sniper rifle (the M40) and the U.S. Army's (M24 SWS). To boot, it's a gem on the hunt. The Model 700 can fill nearly any role afield, be it mystifying varmints at a couple hundred yards, tagging deer with ease, or even tackling dangerous critters. Chambered for more than 35 cartridges, really the Remington can do dang near anything demanded of a bolt-action rifle.
Winchester Model 70
Dubbed the "Rifleman's Rifle," American shooters and hunters fell head over heels for this Winchester — for good reason. The Model 70 plain brought the goods, as it pertains to bolt-action rifles. The rifle was light, with a quick action and a slew of chamberings. But the little things that Winchester paid attention to is what made the rifle stand out from the crowd since its introduction in 1936: cut checkering, drilled and tapped for a scope, bolt throw that didn't come in conflict with an optic.
There was, however, one feature that really caught shooters' eyes — a big and beautiful Mauser-style extractor claw. The Model 70's controlled feed was among the rifle's most desirable assets and would eventually become a point of contention. Winchester did away with the feature in 1964, opting for a push feed. This did not go over well with sportsmen, especially those with a traditional bent who had spent most of their lives working bolts with huge claw extractors. Winchester eventually sobered up and returned to a controlled feed in 2008. But for more than one shooter, the company's break from tradition was an unforgivable sin.
Weatherby Mark V
Considered one of the finest production bolt-action rifles to come down the pike, the Mark V has turned heads since its introduction in 1958. But it's not just the rifle itself and its rock solid action that has kept the attention of shooters for more than 50 years. The red-hot Weatherby rounds the Mark V digested also had a way of captivating marksmen. Roy Weatherby built a name for himself and his company with zippy, round-shouldered cartridges that left their competition in the dust.
Designed to safely contain these cartridges' high pressures, the Mark V is outfitted with arguably one of the soundest rifle actions ever conceived. Based on the screw breech common to artillery pieces, the rifle's nine lugs (six on lighter cartridges) locked tight as a safe. On top of that, the bolt's recessed face completely enclosed the base of the cartridge, and there are vents to allow gas to escape away from a shooter's face if there were ever a case breach.
While nice, the safety features were icing on the cake. The Weatherby Mark V's smooth operation and ability to shoot cartridges of near unparalleled power was and still is what makes it a great.
Savage Model 110
Simple, affordable and above all accurate! Savage proved a tack-driving rifle was within reach of every shooter with the slick Model 110. Heck, Savage was so enamored with the value it provided in the rifle that its original pricing in 1958— $109.95 — influenced the firearm's model number.
Savage kept the price down through extensive use of investment casting for many of the Model 110's components. But the company turned to tried-and-true forged bar stock where it counted — the barrel and action. On top of that, Savage added to a couple design points to milk as much potential precision out of the rifle as possible. The barrel nut is one such example, allowing for precise and easy headspacing adjustments. The other is the bore's button rifling, which has proven to produce tight groups time and again over the decades.
The modern iterations of the Model 110 go even further in facilitating one of the most accurate rifles for the money with its AccuStock aluminum chassis and AccuTrigger adjustable trigger. This Savage might be well over 50 years old, but it's offering more bang for the buck than ever before.
Ruger M77
Around the era economics and design trends were pulling gunmakers away from Mauser actions, Ruger went running to them. What resulted was an epic and reliable little number known as the M77.
Ruger was able to offer a controlled-feed bolt-action rifle at a reasonable price, due in part to the company's manufacturing processes. Replacing a forged receiver with one made by investment casting allowed Ruger to keep other design points, then considered too costly by some companies. But the receiver wasn't the only break the M77 made from a classic Mauser design. The rifle also has a plunger style ejector, two-position tang safety and a trigger designed from the ground up.
The action screw was a stroke of genius as well, angled to tightly bed the action down and back into the stock. In classic Ruger fashion, the M77 is available in a panoply of configurations and chamberings, fit to tackle absolutely any task imaginable for a bolt action.
---
NEXT STEP: Download Your Free Storm Tactical Printable Target Pack
62 Printable MOA Targets with DOT Drills - Rifle Range in YARDS
This impressive target pack from our friends at Storm Tactical contains
62 printable targets
for rifle and handgun range use. Target grids and bullseye sizes are in MOA. Ideal for long-range shooting!
Subscribe to the Gun Digest email newsletter and we'll send your print-at-home target pack right away.
Just enter your email address below.
---