Sometimes, more is less, and it can mean using big bore rifles for small pursuits.
The sun was still plenty bright, in spite of my watch indicating it was after 10 p.m. Such is the way of Alaska in June. The marten, which had been completely intrigued with my presence in the blind had abruptly decided it was time to split, indicating to me that something else was coming along.
In a matter of seconds, a good boar black bear came into the bait, in that silent mode that bears possess. I looked over at my guide, whose thumbs-up told me it was time to go to work. I settled the forend of the Bansner rifle over the railing of the blind, steadied the crosshairs just behind the boar's shoulder and broke the trigger of the .404 Jeffery, sending a 450-grain Woodleigh Weldcore into the bear's vitals. He didn't go more than 30 yards.
When I relate that story to other hunters, their eyebrows—often involuntarily—cock at the mention of the .404 Jeffery or the 450-grain Wood-leigh load. "You don't need a .404 Jeffery to take a black bear!" That statement isn't incorrect, but I was hunting coastal Alaska and had tags for both black bear and brown bear in my pocket. While that .404 might seem a bit much for a black bear, it's perfectly acceptable for a brown bear.
I'm an unabashed fan of big-bore rifles and cartridges, especially those cartridges between the .375 H&H Magnum and the various .500s, with my favorites lying in the middle of that range. Most folks would associate those cartridges with African safari, or hunting the largest game species on Earth. But, if you spend any amount of time with them, you'll realize they're actually rather flexible and aren't regulated to just the big bears, elephants and buffalo.
I've used the .375 H&H, .450-400 3-inch Nitro Express, .404 Jeffery, .416 Remington Magnum and .470 Nitro Express on the largest species, but I've also used almost all of them on species you'd regularly hunt with a .25-06 Remington, .270 Winchester or .30-06 Springfield. Sometimes, it was intentional, but most of the time it was because I was hunting in a dangerous game area, or because I took an animal as a target of opportunity.
When More is Less
While on safari in the Nyaminga block of Zambia's Luangwa Valley—a huge concession teeming with elephant, buffalo and both the big cats—I carried my Winchester Model 70 in .416 Remington Magnum for the entire trip, which included a Cape buffalo and several plains game species. I could've easily used that .416 for the buffalo bull, and a .300 magnum or the like for the lighter species, but because of the makeup of the concession, your odds of seeing a diminutive bushbuck or impala are just as good as bumping a buffalo herd or a bachelor group of elephant. While I can take a warthog, kudu or impala with a .416 Remington Magnum, stopping a charging bull elephant with a .308 Winchester isn't exactly a situation I want to be in.
The same situation occurred in Mozambique's Coutada 11, when I was asked to cull a half-dozen reedbuck for the local village. My Heym Express .404 Jeffery was the only scoped rifle I had with me, so I made the best of the situation. Six reedbuck and a warthog couldn't have cared less what cartridge I was using. My hunting buddy Mike McNulty was on safari with me in the Chirisa block of Zimbabwe, carrying his beloved Heym .505 Gibbs in pursuit of Cape buffalo, when an absolutely ancient bushbuck ram presented a brief opportunity. There wasn't enough time to swap rifles—Mike's tracker was carrying his .318 Westley Richards—so he had to use the big bore to make the shot.
Other times I've carried a big bore for no other reason than I really enjoyed hunting with the rifle. Just last season I carried a Heym Model 26B over/under double rifle in .45-70 Government, as my hunting ground in the Catskill Mountains holds good numbers of both whitetail deer and black bear. The rifle balanced well, shot even better and I'm certain that the 300-grain bonded-core Federal bullet would handle the largest of either of those species. I took a dark-antlered mountain deer with a single shot, and the meat damage was less than what I've seen with common deer/bear cartridges.
I've used the .375 H&H for common species with great effect. I used my old Model 70 Winchester for caribou in Quebec, and my pal Dave deMoulpied uses his Luxus Arms single shot for deer on a regular basis. In both instances, lighter bullets—250- and 235-grain bullets, respectively—were employed, and the .375 H&H shoots flatter than most folks would think.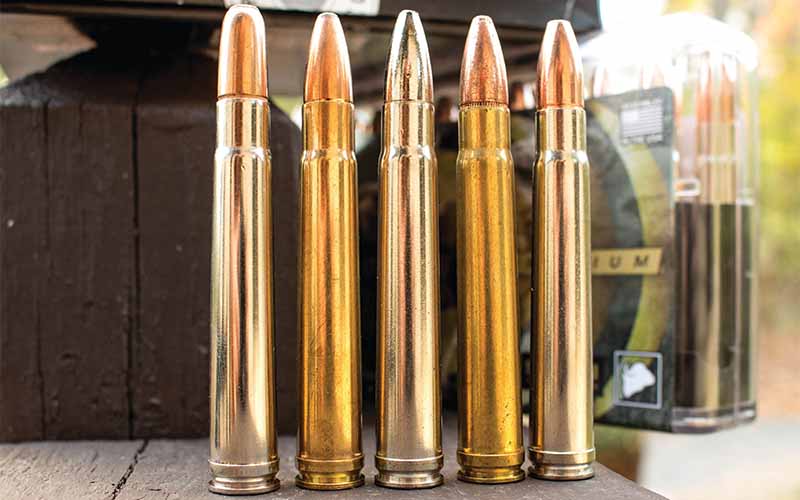 Taking a look at the Federal 250-grain Trophy Bonded Bear Claw load, which is a flat base spitzer with a middle-of-the-road G1 BC value of .340, and a muzzle velocity of 2,670 fps, you'll get a feel for the performance of a cartridge which is absolutely suitable for elephant, yet can take deer, antelope, bear and elk. Using a 200-yard zero, yet will strike 9.6 inches low at 300 yards and 28.6 inches low at 400 yards, still cruising at 1,728 fps at that distance, retaining over 1,650 ft-lb of energy.
Compare that with the Federal .30-06 Springfield 200-grain Trophy Bonded Bear Claw load, which has a bit better B.C. (.395) and a muzzle velocity of 2,540 fps, and you'll see the .30-06 drops about an inch more than the .375 H&H at the 300- and 400-yard marks, yet the .375 load has 300 more ft-lb at 400 yards.
Accuracy, Versatility and Flexibility
Does a .458 Lott make a good choice for a 400-yard elk rifle? Probably not. Should you choose to use a big bore in a situation that might not normally call for one, you'll have to make some changes in bullet shape or weight, or simply realize the limitations of the rifle/cartridge combination. And, you'll need a level of accuracy suitable for the species you're hunting; while a double rifle that prints two bullets 3 inches apart at 75 yards might be perfectly suitable for elephant or buffalo, it might not be the optimum choice for 200-yard shots on feral hogs. So, being completely honest with yourself, make sure the accuracy level you can achieve with your big-bore rifle is compatible with your hunting situation.
My Heym Express rifle, in .404 Jeffery, is currently topped with a Leupold fixed 2.5x scope, yet I've taken that rifle to the SAAM training course at the FTW Ranch in Barksdale, Texas, and repeatedly hit a 6-inch plate at 250 yards. The point being that the big-bore cartridges and rifles are often much more accurate than most people would believe.
The 9.3x62mm, .375 H&H Magnum, .375 Ruger, .404 Jeffery, .416 Rigby and .416 Remington Magnum—and there are others—can all deliver sub-MOA accuracy with a number of bullet weights. These rifles are often topped with a low-power scope for use on dangerous game animals at close ranges, as those scopes offer a wide field of view, but can benefit from a bit more magnification.
Where there are a good many round-nose or flat-nose bullets available for the big-bore cartridges, there are also many good spitzer designs, which will help flatten the trajectory and maximize the velocity of the big bores. A .375 H&H with a 300-grain spitzer bullet is actually rather flat-shooting—on par with a .30-06 Springfield with a 180-grain bullet—and one of the .416s with a 400-grain spitzer isn't all that much worse.
Should you have the inclination to use your big bore on lighter species without the possibility of encountering the larger species for which they are so well-suited, look to the light-for-caliber bullets within each cartridge.
For example, the 235-, 250- and 260-grain bullets in the .375 H&H, .375 Ruger and .375 Weatherby Magnum cartridges can greatly extend the versatility of these cartridges. The Barnes TSX 235-grain, the Sierra GameKing 250-grain and the Nosler AccuBond 260-grain bullets come immediately to mind.
The .416s can take full advantage of the 325- and 350-grain bullets—like the Cutting Edge Raptor, Woodleigh Weldcore and Swift A-Frame—and the .404s (Jeffery and Dakota) can do the same.
The .458s can use those 300-grain bullets that function so well in the .45-70 Government, though because of the higher velocity, I'd recommend bullets like the 300-grain Federal Fusion with its bonded core, or the Hornady 325-grain FTX bullet used in their LeveRevolution ammo, which is available in component form and can be loaded in the .458 Winchester Magnum, .458 Lott, .450 Rigby Magnum and .450 Nitro Express.
Is it Worthwhile?
In the grand scheme of things, what are the benefits of using what some consider to be a "shoulder-fired cannon" on smaller game? Well, I'm not about to tell you that the larger cartridges are necessary, but I do feel that dead is dead, and I've never seen an animal too dead.
But the true benefits of the practice are that you gain a whole lot of experience with your big-bore rifle long before you head off on an expensive safari or Alaskan hunt, no matter the destination. When you spend a considerable amount of time hunting with a particular rifle—including the loading, feeding, extracting, handling, etc., which happens each time you go afield—handling that rifle becomes almost second nature.
The feel of the trigger, the location and manipulation of the safety, the feel of the stock, sight picture, balance, swing, the operation of the optic on board; all these little points add up when it comes time to hunt dangerous game and use that rifle as if it were an extension of your body.
Editor's Note: This article originally appeared in the May 2021 issue of Gun Digest the Magazine.
---
More On Big Bore Rifles And Cartridges:
---
NEXT STEP: Download Your Free Storm Tactical Printable Target Pack
62 Printable MOA Targets with DOT Drills - Rifle Range in YARDS
This impressive target pack from our friends at Storm Tactical contains
62 printable targets
for rifle and handgun range use. Target grids and bullseye sizes are in MOA. Ideal for long-range shooting!
Subscribe to the Gun Digest email newsletter and we'll send your print-at-home target pack right away.
Just enter your email address below.
---