Decked out with a cutting-edge thumbhole stock, the R8 Ultimate takes the straight-pull bolt-action to a new level of accuracy.
How The R8 Ultimate Is Configured To Improve Accuracy:
Lightweight thumbhole stock for utmost control.
Adjustable and programmable comb and LOP deploy to fit you exactly.
Modifiable recoil pad system improves shot-to-shot accuracy.
Americans generally turn the same cocked eye at straight-pull bolt-action rifles they do other European staples, such as mayo and French fries or room-temperature beer. They might like it over there, but it's not for me. Despite this, the unusual middle ground between speed and accuracy has made inroads Stateside in recent years.
Blaser has piqued particular interest with the now nearly decade-old R8, which continues to show strength in this niche of the market. Need proof? Look no further than the German gunmaker continuing to release models to meet demand of focused areas of shooting. The most recent, precision marksmen and rimfire aficionados.
Hot off the presses, so to speak (they were released late summer) are the Blaser R8 Ultimate and a .22 LR conversion kit. A bit about both.
Configured for precision shooting tasks and long-range shots in the field, the R8 Ultimate includes many of the features marksmen hunt out in a practical tack driver. Right up in your face, its outfitted with a synthetic thumbhole stock that, if you study carefully, is fully adjustable for cheek height and length of pull.
---
More Rifle Articles:
---
Saving you from hair pulling, both systems are numbered, so if you happen to lose your setting for whatever reasons it's a piece of cake to dial them back in. Though you shouldn't. Both have a memory function, returning them—at the push of a button—to your specs once programmed in. Handy, if you want to keep the stock streamlined while hiking into your happy hunting grounds.
Recoil mitigation also got the once over on the R8 Ultimate, which could pay big dividends in improving accuracy while milking the rifle's speed factor. The twist here, the recoil pad inserts into the butt and is available in several hardnesses to match a shooter's personal preference. It's a logical step for Blaser, since the R8 is also a switch barrel. This small wrinkle makes the rifle more responsive to caliber swaps.
Speaking of jumping between calibers, the gunmaker has made a major leap with its .22LR conversion. Similar to other switches within the system, it involves little more than a swap of barrels, bolt heads and magazine inserts. Standard fare with the R8. From the start, the gun has been everything from a varmint to a dangerous game rifle all in one tidy package.
So as they'd say in overnight infomercials: What would you pay for all this? Those who keep an eye on European firearms know that German engineering comes with a Teutonic price tag. In this case, the R8 Ultimate runs a hefty $4,519 and the .22LR conversion $1,450. Though, you do get a whole lot of gun for your money.
For more information on the R8 Ultimate and .22LR conversion kit, please visit www.blaser.de/en.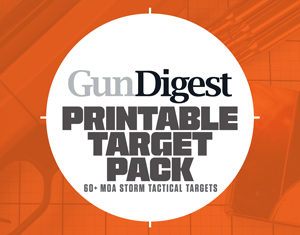 Next Step: Get your FREE Printable Target Pack
Enhance your shooting precision with our 62 MOA Targets, perfect for rifles and handguns. Crafted in collaboration with Storm Tactical for accuracy and versatility.
Subscribe to the Gun Digest email newsletter and get your downloadable target pack sent straight to your inbox. Stay updated with the latest firearms info in the industry.