Given its relatively short lifespan, the 6.5 Creedmoor continues to impress shooters around the world. Learn everything you ever wanted to know about this ballistically talented cartridge below with the most popular 6.5 Creedmoor articles on Gun Digest.
We know where it's going, but where did it come from? The answer might surprise you. Find out what led to the development of one of our favorite cartridges in the last 50 years.
Want to take your long-range game to the next level? You'll need one of these precision 6.5 Creedmoor rifles. We lay them out so you can pick one up.
When we love a round as much as we love the 6.5 Creedmoor we have to know everything about what makes it fly, and how hard it hits. If you're a shooter who loves details like we do this is an article you don't want to miss.
Find out what rounds are up to snuff. We line up 11 of our Top Picks for 6.5 Creedmoor ammunition options. Know what you want before you hit the shop.
The .308 has been a long time accuracy champion. Does the 6.5 Creedmoor have what it takes to win the top spot for preferred precision cartridge? Read on and find out!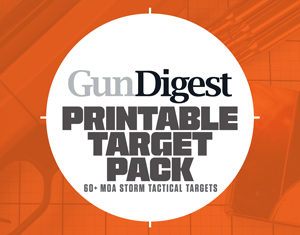 Next Step: Get your FREE Printable Target Pack
Enhance your shooting precision with our 62 MOA Targets, perfect for rifles and handguns. Crafted in collaboration with Storm Tactical for accuracy and versatility.
Subscribe to the Gun Digest email newsletter and get your downloadable target pack sent straight to your inbox. Stay updated with the latest firearms info in the industry.