A look at the Badlands Rifle Company, a group that offers custom rifles, training, education, hunts and more.
The hardest part of building a dream gun is never the rifle—it's always the dream.
Not anymore, thanks to Jeff Sipe, Badlands Rifle Company's new president and CEO. Badlands Rifle Company has partnered with Rolling Bones Outdoors to give hunters more than just a custom-built rifle; they supply the dream, too.
"We don't just build rifles; we train, we educate, we sell hunts, we do applications services, we provide the highest-quality gear and we train you how to use it," Sipe said. "We build the adventures our clients desire."
Sipe then explained the industry-unique structure of Rolling Bones Outdoors and Badlands Rifle Company. Brian and Lynley Mehman, and Brad Dana, own Rolling Bones Outdoors, parent company to Badlands Rifle Company, and handle the outfitter/guide booking agency, applications service, full concierge service and complete gear sales.
Rolling Bones Outdoors' main headquarters is in Spearfish, South Dakota, and they're franchising their services to its largest advisers. What are advisers? They're a national network of experts selling hunts, gear and concierge services. According to Sipe, there are plans for 50 franchise stores to open, with another 50 possible.
"Badlands Rifle Company, while headquartered in Spearfish, will operate in Boise, Idaho," said Sipe. "Badlands Precision University is a division of Badlands Rifle Company. We currently have one facility in southeast Montana with plans to open one this year in Idaho. By next spring, we plan to have another in central Montana, one in Salt Lake City, Utah, New Mexico … and possibly Wyoming and Arizona."
A New Trek Upward
So, what is Badlands Rifle Company?
"At this new company, Badlands Rifle Company, our goal is to build products to fit the adventure needs of our clients," said Sipe, who said their mission is building the highest-quality products for customer adventures while providing the education, training and concierge service they deserve.
The company's mission is rooted in a lifetime of experience from its CEO.
"First and foremost, I am a hunter," added Sipe. "I did not grow up hunting worldwide or with the funds for private-land hunts with guides and outfitters. I learned to hunt on my own. While my father was a large influence on this passion, nobody taught me how to hunt, shoot and do all the aspects of being a successful hunter. It became my passion, and because of the number of years spent in the field and on the manufacturing floor, I not only wanted to build the best products for our customers but also to teach and train them how to use our products to their fullest potential."
Badlands Rifle Company is betting its future on the concept of the complete turn-key hunting experience needs of future hunters.
"There are millions of people who want to hunt, learn about the products they use and learn how to be a better shooter, hunter and conservationist," said Sipe. "We will be marketing to those groups of people. I believe it will prove to be successful."
Why isn't Sipe, who has always built world-class rifles—and only rifles—staying in his comfort zone? Because he believes the industry can do better, and customers deserve that.
"We know we can build an exceptional rifle; we know we sell quality products, but what our customers want and need most is to be educated about everything and how everything works, trained for the experiences," said Sipe. "And, for the money they spend, they deserve to have the concierge services we provide to give them the memories and adventure they desire, which is why our slogan for Badlands Rifle company is simple: Built for Adventure."
Delayed Dreams
Speaking of adventures, the story of how Badlands Rifle Company started is one for the ages. One of life's biggest lessons about dreams is that they tend to come true when you least expect them and often when you're ready to give up.
"Since this isn't my first rodeo, to be honest, I wanted out," admitted Sipe. "Seriously, I put my heart and soul into Montana Rifle Company (MRC). I helped build a brand from nothing and created relationships in the industry that still follow me today. After the company was sold, I went on to Nosler for the next five years, running the Redmond plant that consisted of the rifle division, CNC division, brass manufacturing division and ammunition manufacturing. John Nosler and the whole Nosler family still mean a lot to me. I have lifetime friends there, and that will not go away, but I was done when my time ended there."
Then, SHOT Show 2023 happened.
"I told my wife I wanted to do something different. I had always thought our section of the industry was missing something, not just an element of customer service, but more training and a full concierge-type service," said Sipe. "So, I began exploring other ideas but decided to make one last trip to SHOT Show to see 'what if.'"
Asking "what if" at a place like SHOT Show can be the best or worst thing you'll ever say or hear in the firearms industry, as Sipe was about to find out.
"It was toward the end of the show after meeting with countless manufacturers. I was tired and wanted to return to my room and let it all go," admitted Sipe. "While walking through the crowded hallway, a huge man came out of nowhere and grabbed me in a huge bear hug. It scared me at first. And when I realized who it was, I smiled and hugged back. Brian Mehman is a big man and looks like a middle linebacker."
Mehman knew Sipe and his reputation as a gifted gun builder.
"While at MRC, I built their line of rifles for them," said Sipe. "And after I left, they had been looking to partner with or buy a rifle company with no luck, and they were exhausted with it. It hit me after they told me their ideas; they were looking to do the same thing I wanted to do."
Then, it happened. Sipe's dream became a reality. "After many nights discussing with my wife, we decided to start a new firearms company with the backing of and partnership with my friends at Rolling Bones."
The Winding Road
Whether dreams come true or not, the road to success will always be filled with challenges. According to Sipe, many of the challenges in our industry over the past few years impacted him and Badlands Rifle Company's eventual creation.
"Politics obviously has had a lot to do with successes and failures in the firearms industry," said Sipe. "Labor costs will continue to cause prices to go up, and technology is always advancing, which is consistently increasing manufacturing costs. COVID-19 was the absolute dumbest thing that ever happened to our country, not just our industry. But it's the manufacturing skillsets that had the most impact. Machinists are hard to find, hard to recruit and hard to place. Programming machinists are even harder to place. And don't get me started on gunsmiths … that is another level of personality."
How Sipe, Badlands Rifle Company and Rolling Bones Outdoors handle the world's day-to-day business challenges within the firearms industry also helps separate them from some of their competitors—or so Sipe hopes.
"There will always be disagreements about manufacturing practices and sales techniques," Sipe continued. "But here's my response to that: It's OK. My business partner, Brian Mehman, has a great saying, 'I'm not going to cut someone else's tree down just to plant mine.' And that's something we could all learn. There's just been too many cutthroat business practices in our industry, and I understand that's how some people become successful—but that's not how we are going to operate."
Loyalty is a foundational value for Badlands Rifle Company. They want to earn it from their customers and give it to their industry partners. "Every part of every rifle has been carefully and thoroughly checked to ensure they perform. And each portion of these rifles is built by people I trust and have a relationship with, and I stand behind their products. This is the reason they were chosen."
Ultimately, it's why, Sipe contends, customers will choose Badlands Rifle Company, too.
To learn more about Badlands Rifle Company, visit RollingBones.com.
Editor's Note: This article originally appeared in the October 2023 issue of Gun Digest the Magazine.
---
More On Precision Rifles: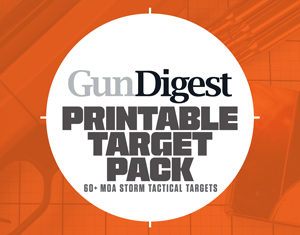 Next Step: Get your FREE Printable Target Pack
Enhance your shooting precision with our 62 MOA Targets, perfect for rifles and handguns. Crafted in collaboration with Storm Tactical for accuracy and versatility.
Subscribe to the Gun Digest email newsletter and get your downloadable target pack sent straight to your inbox. Stay updated with the latest firearms info in the industry.