Ruger has released its new AR-Lower Elite, a fully assembled lower receiver with upgrades like the company's Elite 452 trigger.
Ruger made its entry into the AR market some years back with its SR-556 gas piston rifle, and in the years since, the American manufacturer has only continued to update and improve its AR product line. In 2014, the company added the AR-556, its first direct impingement AR. In the next year, it tweaked the previous SR-556, developing a Takedown version, and introduced an upgraded, aftermarket AR trigger in the Elite 452.
Now, Ruger has announced the release of its AR-Lower Elite, a fully assembled, full-featured lower receiver that's perfect for those contemplating a custom AR build. The complete lower includes Ruger's Elite 452 trigger, a Magpul MOE SL stock and a Magpul MOE grip.
The Elite 452 trigger is a great upgrade over the GI-style trigger on most standard AR lowers, dropping the pull to a smooth and crisp 4.5 pounds. I have one equipped on one of my personal ARs, and I saw a dramatic improvement over the trigger that came factory installed on the gun. And of course, the Magpul MOE SL stock and MOE grip are both surefire enhancements over the standard six-position carbine stock and the A2-style grip.
The new Ruger AR-Lower Elite is constructed from the same hard-coat anodized, CNC-machined 7075-T6 forged lower receiver as the manufacturer's AR-556 rifle. It is fully assembled to include the pivot and takedown pins, bolt catch, magazine release, trigger guard, Mil-Spec buffer tube, buffer and spring. All the user has to do is match the AR-Lower Elite with any complete Mil-Spec upper receiver assembly, and it's ready to go.
The new Ruger AR-Lower Elite weighs 2.2 pounds and is available for $299. For right around $300, and coming with several upgraded features, this new lower should be a consideration for anyone interested in assembling a custom AR.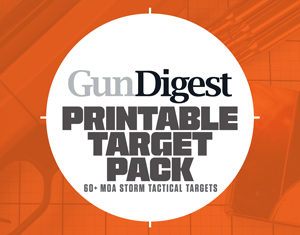 Next Step: Get your FREE Printable Target Pack
Enhance your shooting precision with our 62 MOA Targets, perfect for rifles and handguns. Crafted in collaboration with Storm Tactical for accuracy and versatility.
Subscribe to the Gun Digest email newsletter and get your downloadable target pack sent straight to your inbox. Stay updated with the latest firearms info in the industry.