Engineered not to run afoul of Draconian gun laws, the DS-10 Typhoon in 6.5 Creedmoor gives shooters an AR-style rifle that can reach out.
How the DS-10 keeps people shooting, despite restrictive state gun laws:
The DS-10 Typhoon is now available in 6.5 Creedmoor — a perfect long-range option.
The DS-10 Typhoon Featureless comes with a fixed stock.
It also removes a number of restricted features making it legal, even in NY and CA.
The rifle does unfortunately have a higher MSRP: $1,445.
It's been a tough go for AR fans in such far-flung locales as New York, New Jersey, Maryland, Washington D.C. and California. Over the past couple of decades, the state and city governments have passed a bevy of gun laws in a thinly veiled attempt to red-tape America's most popular rifle out of existence. While the politicians sure have made it a royal pain in the neck to bring the wiz-bang semi-auto into compliance, they have not ceased the sale of the firearms.
Enterprising firearms manufactures were quick to answer the call to produce AR-style rifles legal for sale, purchase and ownership in the less enlightened corners of the country. Dark Storm Industries was at the vanguard of this niche, churning out compliant versions of Eugene Stoner's brainchild. And it has continued to advance their platform to meet shooters' needs across all 50 states.
Most recently, the New York-based manufacturer gave long-range shooters a reason to look in their direction, releasing its DS-10 Typhoon in 6.5 Creedmoor. The rifle comes in the company's three configurations tailored to different gun laws around the country — Standard, Featureless and Fixed Magazine.
The Standard model DS-10 Typhoon, as its name suggests, is a standard AR configuration, familiar to shooters in the civilized world. And the Fixed Magazine is, essentially, the same as the standard, only with a non-removable 10-round box magazine. The Featureless, on the other hand, is a complete break from what most imagine when they think of an AR.
Outfitted with the Thordsen FRS-15 rifle stock, a fixed model that does not attach to the buffer assembly, and sans a number of common features, the rifle is compliant coast to coast. Other notable departures from a common AR configuration include a grip integral with the stock, Thordsen buffer tube cover (QD sling sockets on each side) and no muzzle device. As a side note, despite being fixed, the stock is still adjustable for length of pull through a spacer system.
In all cases, the 6.5 Creedmoor models have 18-inch barrels with a 1:10 twists. Each is outfitted with a 15-inch narrow profile handguard, with M-LOK slots at the 3, 6 and 9 o'clock positions and a full-length Picattiny rail on top. They have mid-length gas systems, with steel micro gas blocks. And all boast Spec Ops Gen 2 Charging handles.
The DS-10 Typhoons are available in black, flat dark earth and OD green Cerakote. The Fixed Magazine and Featureless models come with 10-round Magpul PMAGS, the standard a 20-round PMAG. The MSRP on the DS-10 Typhoon 6.5 Creedmoore is $1,545, while the Fixed Magazine and Featureless both run $1,445.
In this day and age, it's a bit steep for an AR-style rifle; however, if you reside in coarser regions of America, the price could be just right to keep on shooting.
Specifications:
DS-10 Typhoon
Standard/Fixed Magazine
Caliber: 6.5 Creedmoor
Barrel Length: 18 inches
Twist Rate: 1:10
Muzzle Device: DSI CQB Compensator
Stock: Magpul CTR Adjustable Stock
MSRP: $1,545 Standard, $1,445 Fix Magazine

Featureless
Caliber: 6.5 Creedmoor
Barrel Length: 18-inches
Twist Rate: 1:10
Stock: Thordsen FRS-15
MSRP: $1,445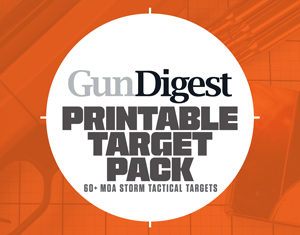 Next Step: Get your FREE Printable Target Pack
Enhance your shooting precision with our 62 MOA Targets, perfect for rifles and handguns. Crafted in collaboration with Storm Tactical for accuracy and versatility.
Subscribe to the Gun Digest email newsletter and get your downloadable target pack sent straight to your inbox. Stay updated with the latest firearms info in the industry.