These 6.8 SPC uppers hit the mark for price and quality.
What Are The Best 6.8 Upper Options:
The 6.8 SPC has endured a rocky road at times. Initial design flaws and a slew of competing cartridges, it's somewhat a surprise it's still around. Still, the hard-hitter soldiers on and continues to gain followers. Hog hunters especially have embraced the 6.8. But the snappy cartridge has won deer and predator hunters, as well as the defensive-minded.
Predominantly chambered in AR-style rifles, it's fairly easy to give the short and squat .270 a shot. Taking advantage of the gun's modular design, all an AR shooter requires is a 6.8 SPC upper—and dedicated magazines—and they're good to go. A helping of knowledge about the nuances of the cartridge and who turns out platforms that launches it helps, too.
Brief Words On The SPC II
Right now, if you bought a 6.8 SPC upper or rifle, you'd be hard-pressed to find one. Confusing as it sounds that's not what's on the market today. Instead, you'd find roll marked on every new barrel "6.8 SPC II".
So, what does that mean? Our article, Does The 6.8 SPC II Still Have A Place? explains it in depth. But for our purpose here this is what you need to know. Essentially, the 6.8 SPC II has .100-inch of lead, compared to the original design's .050-inch. Small as it might sound, the improvement made miles of difference in performance. To the quick, it eliminated pressure spikes common in the original design and allowed shooters to launch hot-loads without fear. While it doesn't play a large role in our present discussion, all the 6.8 SPC uppers discussed have type II chambers. It's good to know if you happen to hunt out vintage guns.
---
Get To Know The 6.8 SPC:
---
Best 6.8 SPC Upper Options
Palmetto State Armory
Always a safe bet for an AR build, Palmetto State Armory does a solid job marrying performance and an affordable price. Though, its 6.8 SPC upper selection is a bit on the slim side, with only one option. PSA's 18-inch upper, however, is decked out and a solid choice, especially for predator hunters and shooters with a yen to reach out.
This is mainly thanks to the build's rifle-length, stainless-steel bull barrel. With plenty of bore and excellent heat dispersion qualities, the firetube ensures a complete powder burn and is resistant to barrel whip. Of course, as mentioned in the intro, it boasts an SPC II chamber, with it a 1:11-inch twist rate. In turn, it'll handle hot loads across a wide spectrum of bullet weights.
PSA's Lightweight handguard keeps the upper manageable, allows for the addition of a front sight and boasts M-Lok slots at the 3-, 6- and 9-o'clock positions. The bolt is 9310, which might prove a point of contention with carpenter steel devotees. But with the rest of its bells and whistles—forward assist, adjustable gas block, M4 feed ramp—it's by no means a dealbreaker. MSRP: $639, palmettostatearmory.com
Blackstone Arms
A boutique manufacturer specializing in 6.8 SPC uppers, Blackstone offers a great selection at a relatively competitive price. They cost a smidgen more than the big boys, but not prohibitively so. As far as options, Blackstone offers everything from 10.5 short-barrel uppers up to 20-inch rifles.
Interestingly, the company serves up 5R and 3R rifling in its barrels, depending on the model. Most know how 5R rifling's off-set lands, with their angled sides, are supposed to help maintain a bullet's ballistic integrity. The concept is the same for 3R, except with three lands to reduce the bearing surface. Reportedly, this reduces pressure and improves the performance of solid copper projectiles. At least that's the theory; do with it what you will.
As far as choices, we prefer the 16-inch SOCOM upper. Carbine-length, it's nimble, yet still has enough bore to get the 6.8 to perform. Plus, the upper is decked out with top components, including an Aero Precision upper receiver and a beefy ARP Superbolt. Additionally, Blackstone offers semi-customization, with your choice of handguard, gas block and muzzle device. MSRP: $770; blackstonearms.com
Bison Armory
Bison Armory is found on the 6.8 SPC. It's since branched out, still, the manufacturer remains dedicated to the punchy intermediate cartridge. It shows in the company's catalog. Selection abounds, from 8.5-inch barreled pistol configurations, up to a mammoth 22-inch heavy barrel option. If you're just dying to milk every last ounce of velocity out of a trigger pull there you go. For our money, the company's 16-inch barreled Recon fits the bill. A middle-ground option, generally quick to target and fairly flawless in execution.
The deal sealer on the model is the heavy stainless steel barrel, which adds some heft to the build, but is worth the extra weight. The upper is still light enough not to prove a burden in the field. But the heavier firetube is a solid target shooting option, giving you the best of both worlds. Furthermore, it boasts a 1:11-inch twist rate, which provides a measure of versatility and, of course, an SPC II chamber. All the other features are there too, and if they aren't up to your standards you can easily customize them in your order. MSRP: N/A; bisonarmory.com
Radical Firearms
Tighter budget but still looking to build an AR? Radical Firearms is generally a good choice with its priced-right uppers. Its 6.8 SPC uppers are no different, among the most economical on the market today. But don't let the price fool you, the manufacturer puts out a solid product.
While the company technically offers four models of 6.8 uppers, the distinguishing features are rails and barrel contour. It's a choice of 12- and 15-inch versions of its lightweight RPR and large diameter MHR rails. In both cases, you get plenty of M-Lok slot real estate and full-length upper rail. Though, on the MHR there is a bottom rail if you run a bipod. The shorter railed models have heavy contour chrome-moly vanadium barrels, the longer medium contour. MSRP: $475; radicalfirearms.com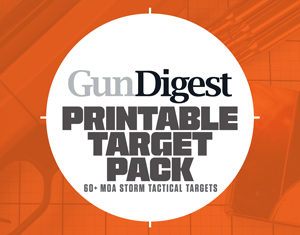 Next Step: Get your FREE Printable Target Pack
Enhance your shooting precision with our 62 MOA Targets, perfect for rifles and handguns. Crafted in collaboration with Storm Tactical for accuracy and versatility.
Subscribe to the Gun Digest email newsletter and get your downloadable target pack sent straight to your inbox. Stay updated with the latest firearms info in the industry.