There's no two ways about it, the AR-15 is America's most popular rifle. No matter where you go in the gun world — self-defense, hunting, target shooting — the ubiquitous semi-automatic is there.
Certainly, the rifle's shootability and accuracy have a great deal to do with its meteoric rise. But there's another facet to the firearm that has made it the No. 1 choice for marksmen of all stripes — its easy customization.
With a tweak here and there, the good old AR can be all things to all shooters. But given its muzzle to buttstock adaptability, where should you start if you're looking to trick your rifle out? With that question in mind, here are four quick and easy AR-15 upgrades and accessories that are perfect places to start making a black rifle truly yours.
How To Trick Out Your AR-15:
Trigger


Unless you've purchased a rifle that's already been upgraded, you're most likely going to have a Mil-Spec trigger in your AR. This is generally not considered a good thing, unless you thrive under adversity.
Gritty, squishy and just plain bad are all phrases that come to mind when talking about stock AR triggers. And overall, that nasty bang switch is hurting your marksmanship. Whether you like it or not, that one simple little motion with your index finger has more to do with accuracy than nearly anything else. Remedying this situation with an aftermarket trigger, however, is staggeringly simple and, like most AR upgrades, can be done at home.
Drop-in triggers are the simplest to install, given they are self-contained and literally do what their name suggests. But it doesn't take a veteran gunsmith to upgrade an AR-15 with a standard-style performance trigger.
Best of all, there are a slew of styles that go way beyond single- and double-stage trigger pulls, allowing you to customize your rifle to your purpose. On top of that, manufacturers abound — Timney, Geissel, Hiperfire and Wilson Combat, just to name a few. Honestly, the most difficult part of the process is wading through the sea of options to figure out which one is right for you.
Hitting what you're aiming at is the name of the game with any firearm. Luckily, we live in a golden age of optics, with a piece of glass out there for nearly any purpose you can conceive of — from defending hearth and home to precisely beating the crap out of the bullseye at 300 yards. Best of all, when talking AR-15 rifles, the system facilitates a nearly seamless transition between aiming solutions, making it a gun for all occasions.
When the action is up close and personal, red dots have by far become the most used optics, for good reason. Once dialed in, the simple aiming system provides almost point-and-shoot capabilities that allow for swift and smooth transitions between targets. Aimpoint kicked it all off, but there are plenty of other manufacturers in the market today, including: SIG, Bushnell and EOTech among others.
But red dots, in general, have their limitations. Move a target out past mid-range and its 3 MOA dot doesn't provide the precision it did at 25 yards. All is not lost, however, as the system can regain functionality with the addition of a magnifier. The device allows a red dot to reach out a great deal further (300 yards in some cases) and is engaged and disengaged in the blink of an eye, giving supreme adaptability to a rifle.
However, if your AR-15 dwells exclusively past the 100-yard mark, then a traditional scope is going to be your best bet. There is really no single good suggestion on what scope will work for you, meaning every optic from Burris to Ziess is fair game. It comes down to your shooting style, needs and objective. But rest assured, no matter what those are, there's a piece of glass out there for you and your rifle.
You bet your cutting-edge optic is dynamite at tightening groups and transitioning targets. But what happens when the batteries run out? Or the objective lens gets cracked in the heat of battle? In these situations, you better hope to God you had the foresight to build redundancy into your rifle.
Backup iron sights are a must on any rifle outside a bench plinker because you never know when gremlins will start poking around your optics. Luckily, options in flip-up sights are plentiful and, once mounted, are always there if you happen to need them.
Though, just because this is a redundancy sighting system doesn't mean you should go cheap. You want something that's going to hold its zero, so the sights aren't wildly off the mark when called into action. This means searching out sturdier-constructed options, which in general means metal.
American Tactical, Magpul, Precision Reflex and Promag Industries all have rock-solid options that will keep you in the fight. But shop around; there is certain to be a configuration with which you'll be comfortable. And, oh yeah, once you have them mounted, practice with them.
As Tiger McKee recently pointed out, a rifle's sling is akin to a pistol's holster. And he's dang right. You need to do something with your rifle when it's not in use.
Like holsters, it will most likely take some tinkering to figure out what works best for you: single-point, two-point or three-point. It all depends on how you use your rifle and what gets it in and out of action most efficiently.
Luckily, there is no shortage of slings available, in a vast array of configurations and materials. Magpul, Viking Tactics and BLACKHAWK! are good starting points. But look around; there are a lot of innovative slings by less known names out there.
Also make certain you have the appropriate mounts. There's nothing worse than having to retroactively buy the goods to get a sling into operation.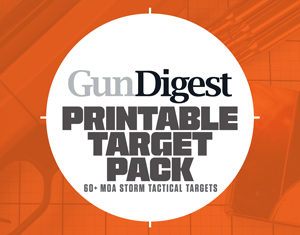 Next Step: Get your FREE Printable Target Pack
Enhance your shooting precision with our 62 MOA Targets, perfect for rifles and handguns. Crafted in collaboration with Storm Tactical for accuracy and versatility.
Subscribe to the Gun Digest email newsletter and get your downloadable target pack sent straight to your inbox. Stay updated with the latest firearms info in the industry.