These seven takedown rifles will have you prepared to tackle any situation, survival or otherwise.
The top portable gems:
Takedown rifles appeal to a variety of hunters and shooters because of their unmatched portability, and they're a favorite firearm of campers, hikers and survivalists because they fit neatly into tight spaces where a full-length rifle simply can't be stored.
But there are other advantages to owning takedown rifles as well, primarily that these guns don't immediately look like a firearm (so they're less likely to draw attention from thieves) and, in many cases, they are so compact and well thought-out that you can neatly fit them in a backpack or bugout bag. These guns piece together in a hurry and their design allows for repeatable accuracy after each reassembly.
Here's a look at seven of the best takedown rifles available today, perfect for everything from high-mountain hunts to serious survival situations.
Ruger SR-556 Takedown
I suppose you could argue that any AR-15 rifle is a takedown rifle. However, Ruger took that one step further with its SR-556 Takedown model. Instead of breaking down into just upper and lower components, the SR-556 Takedown allows you to remove the barrel, too, and doing so requires nothing more than moving a slider bar back toward the breech of the rifle, twisting and removing the barrel. This piston-operated AR features a multi-stage regulator and you can perfectly match the rifle to your load, making this a durable, versatile AR that will work properly in even the worst conditions on the planet.
Ruger offers a .300 Blackout barrel as well for the SR-556, so you can modify this rifle as needed. Magpul furniture is also included, as is Ruger's 452 AR two-stage trigger.
This gun comes with a convenient nylon carry case that allows you to transport the broken-down rifle, magazines and ammo easily and efficiently, even when you're walking over rough ground.
With the SR-556 Takedown, you get the capabilities of an AR rifle combined with the reliability of a piston action in one of the most portable, easy-to-transport models ever developed. Even shooters who believe an AR is an AR is an AR can appreciate the design features on this ultimate survival tool. MSRP: $2,199
Browning BLR Lightweight '81 Stainless Takedown
Browning's BLR rifles combine the time-tested reliability of a lever-action rifle with the convenience of a takedown gun. BLRs use detachable box magazines so they can be chambered for modern cartridges loaded with spitzer-type bullets, and there are 13 caliber options ranging from .223 Rem. to .450 Bushmaster.
Browning has modernized the lever gun action by including a rack-and-pinion system and a rotating bolt head positioned inside an aircraft-grade alloy receiver so these rifles can handle magnum cartridges, such as the .270 WSM and .300 Win. Mag., without problems. The side-ejection design makes it easy to mount an optic on these rifles, but if you prefer iron sights, they come standard on the BLR so there's no need to worry about optics breaking, fogging or coming loose. The heat-treated chromoly steel barrel is precision button rifled, and accuracy potential with these guns is truly excellent — even at extended ranges.
To assemble the rifle, simply slip the two component parts into place and a lever on the underside of the gun locks the receiver to the barrel via a locking lug that engages with the bottom of the receiver. Breakdown is also simple: Unlock the lever, twist 90 degrees and the two halves separate for transport.
The laminate stock and durable matte nickel receiver finish will stand up to the worst elements, too, so this is a durable centerfire that's easy to carry and store anywhere. Weights range from 6 pounds, 8 ounces to 7 pounds, 12 ounces, depending upon caliber. MSRP: $1,229.99-$1,299.99
Marlin 70PSS
The 70PSS is the modern version of the classic Papoose rifle that has been among the most popular takedown rifles for years. This lightweight, blowback-operated .22 LR repeater is a natural choice for camping, hiking and survival bags because it breaks down easily and is durable enough to withstand some rough handling.
To further reduce bulk and weight, the black polymer stock cuts off at the confluence of the barrel and the action, and there are two sling studs in case you prefer on-shoulder carry of the assembled rifle. The 16¼-inch stainless-steel barrel features Micro-Groove rifling and is topped with an adjustable rear sight and hooded front sight with a high-visibility orange post. The receiver is also grooved for adding a scope or other optic, and the rifle can be taken apart in seconds by simply loosening the barrel nut.
Each 70PSS comes with a seven-shot nickel-plated magazine, and the crossbolt safety is easy to use and intuitive. The assembled rifle measures less than 3 feet long and weighs a scant 3¼ pounds, so it's among the lightest and most portable survival guns on the market. Plus, the combination of a fiberglass-filled synthetic stock and stainless-steel metalwork makes this one tough survival gun.
The 70PSS even comes with a padded case with built-in flotation, and it's one of the most affordable survival guns on the market. MSRP: $345
Savage Model 42 Takedown
Based on the venerable Model 24, Savage's Model 42 is simply one of the best survival guns available. It offers break-action simplicity and reliability and fires either a .22 LR or .22 Mag in the top barrel and a .410 shotgun shell from the bottom pipe. A barrel selector is located on the large hammer, and the adjustable rifle sights can be removed if you want to add an optic.
But the trim, 6-pound Model 42 is primarily a camp, survival and close-range hunting weapon, and in that capacity it shines. It breaks apart with the touch of a button and can fit into just about any pack or bugout bag. The 20-inch barrels offer a long enough sight plane to shoot vermin at a distance, but they're still compact enough to carry in heavy cover. The stock is made of durable polymer, which helps keep weight down and stands up well to the elements. The .410 barrel has a 3-inch chamber, adding to the versatility of this little gun, and the 42 is as well-suited for lazy autumn days in the field hunting squirrels and rabbits as it is for survival situations.
Campers love the gun because it's ideal for popping small game or shooting grouse or other birds for the pot, and it also serves as effective backup in the wilderness when you're faced with dangerous two- or four-legged predators. MSRP: $499
Henry Arms AR-7
The AR-7 was originally designed by Eugene Stoner, who also invented the AR-15 rifle. Built as a survival rifle for troops, the AR-7 design has long been a favorite of anyone who needed a lightweight, compact semi-auto rimfire for the direst circumstances, and around the turn of the 21st century, Henry Rifles tweaked the design to make this perhaps the most appealing civilian survival gun on the market.
For starters, all of the AR-7 components can be broken down and stored within the rifle's waterproof polymer stock, which measures just 16½ inches. The blowback action is rugged and reliable, and each of these guns ships with two, eight-round .22 magazines. The rifle is quickly assembled by piecing together the receiver with the 16½-inch barrel (via a barrel nut), and these guns weigh just 3½ pounds, ideal for carrying in a backpack or bugout bag.
This is also among the most popular takedown rifles for campers because it's so compact and lightweight that the entire rifle — plus ammunition — will fit easily into a standard day pack and there's no need to worry that precipitation or spills during creek crossings will impede the rifle's function. These takedown rifles also come with iron sights and a top rail if you want to mount an optic.
There are three color options: black, and True Timber Viper Western and Kanati camo patterns. MSRPs are $305 for the black version and $368 for the camo models. If you're serious about survival, you can purchase the Henry Survival Pack that includes an AR-7 rifle and various other items you may need in an emergency, such as a Buck Rival knife, fire steel, paracord, emergency food, a water purification straw and much more. MSRP for Henry Survival Pack: $550
Browning SA-22 Grade I
This could be the classiest of the takedown rifles. The SA-22 is one of John Moses Browning's last designs, a semiautomatic .22 rifle that ejects spent shells from the bottom of the receiver, which is loaded using a port in the stock. The Grade I version comes with a glossy walnut stock and a blued steel receiver with scroll engraving. The trim SA-22 weighs in at just 5 pounds, 3 ounces, and measures 37 inches with its 193/8-inch barrel.
There's a nut on the barrel that allows the buttstock and receiver to be easily separated from the barrel and forearm, and since the scope mounts and iron sights on the SA-22 are affixed to the barrel and not the receiver, there's no issue with return to zero after reassembly. These takedown rifles are loaded by turning a lever and drawing the follower from the stock, then loading through the port on the right side of the gun. When the tubular magazine is full, the follower is pushed back into place and locked, one of John Browning's sleekest designs.
But don't let the SA-22's beauty fool you: This gun has what it takes to be a survival rifle. Its adjustable iron sights (folding rear, gold-bead front) and easy-to-use crossbolt safety make it as functional as it is handsome. The svelte little SA-22 is a beautiful gun that's pretty enough to display in the home and functional enough to serve as a life-saving tool. MSRP: $699.99 (Grade I)
Ruger 10/22 Takedown Lite
The Ruger 10/22 has been one of the top-selling rimfire autoloaders for decades, and that's thanks in large part to its reliable blowback action that cycles a wide range of .22 LR ammo. The Takedown Lite version is perhaps the most versatile of all the 10/22 models and a top pick among takedown rifles. It features a 16.12-inch cold hammer-forged barrel that's tensioned inside a lightweight, ported aluminum alloy sleeve.
The rifle comes equipped with Ruger's lightweight polymer stock with replaceable stock modules. Two modules are included when purchasing the rifle (standard length, low and high-comb versions) and these modules can be quickly swapped out as needed for proper eye alignment with the optic.
The 10/22 Takedown Lite comes without iron sights, but a base is included that accepts both Weaver and tip-off style rings, so mounting an optic is fast and easy. The muzzle comes with a 1/2×28 thread pattern for mounting suppressors or other barrel devices, and the reliable rotary-design Ruger 10/22 magazine is held in place by a quick-release extended lever.
The takedown process is very simple: Lock the bolt in the rearward position and ensure the gun is unloaded, push the recessed lever on the underside of the gun and twist the subassemblies 90 degrees to separate. These rifles weigh just 4.5 pounds, so they're very light and easy to carry in the provided zippered case. MSRP: $659
Did we hit a bullseye with this list or miss the mark? What's your favorite from the list? Or is there one missing? Tell us about it in the comments.
Editor's Note: The article originally appeared in the May 2018 issue of Gun Digest the Magazine.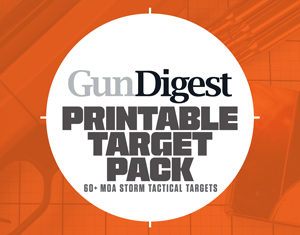 Next Step: Get your FREE Printable Target Pack
Enhance your shooting precision with our 62 MOA Targets, perfect for rifles and handguns. Crafted in collaboration with Storm Tactical for accuracy and versatility.
Subscribe to the Gun Digest email newsletter and get your downloadable target pack sent straight to your inbox. Stay updated with the latest firearms info in the industry.