Updated 04/25/2023
This small buyer's guide looks at a spread of some of the best .17 HMR rifle options available in 2023.
.17 HMR Rifle Options:
.17 HMR is a relatively new cartridge in the grand scheme of things, but its attributes made it an instant success upon its introduction. While it still may be somewhat of a niche cartridge mostly appreciated by small game hunters, it has secured its place in the rimfire market and isn't going away anytime soon. Short for "Hornady Magnum Rimfire", .17 HMR is really just .22 WMR necked-down to a .17 caliber projectile. The result is a very small bullet with a high velocity and very good accuracy. As a velocity-dependent cartridge, its benefits are best exploited out of something with a rifle-length barrel, but there are a few different kinds available. Here are our picks for the top five best .17 HMR rifle options currently on the market:
Best Bolt-Action .17 HMR Rifle: Ruger Precision Rimfire
The majority of available .17 HMR rifle options are bolt-actions, so this category had the stiffest competition. There are many good bolt-action .17 HMR rifles made by many different manufacturers, but at the end of the day, we feel as though the Ruger Precision Rimfire was the best all-around option. It's reasonably priced compared to other similar quality bolt-actions in this caliber, but also has some features that most of its competitors are missing. Besides being well-established as a solid, reliable and accurate rifle, Ruger's precision model includes several features that should be appreciated by hunters, plinkers and competitors alike. The Ruger's chassis comes with an adjustable precision-style stock that should provide better ergonomics than any of the traditional stock models out there. It also has an adjustable trigger, a free-floated handguard, a threaded barrel and includes a 15-round magazine. For the price, this is one solid, feature-rich .17 HMR rifle. MSRP: $619
Best Autoloader .17 HMR Rifle: Savage A17
There aren't too many semi-auto .17 HMR rifle options to begin with, so this choice wasn't as difficult to make. One of .17 HMR's original shortcomings upon its introduction was that it was notoriously unreliable out of autoloaders, so when Savage succeeded in making the first reliable model with the A17, it was regarded as a big deal. The A17's best trait is its reliability, but it is otherwise a mostly standard sporting rifle. It feeds from a 10-round rotary magazine and also includes an adjustable trigger. MSRP: $539
Best Lever Action .17 HMR Rifle: Henry Varmint Express
Other companies have made .17 HMR lever-actions in the past, but as far as I know, Henry is the only company that has any still in production. While that makes them somewhat of the de facto winner in this case, it doesn't mean the Henry Varmint Express is a bad rifle. Henry is well-regarded for their rimfire lever-actions, and their .17 HMR models are no different. These certainly won't be the most practical option for hunting or competing, but they probably will be the most fun to shoot and look the coolest while doing it. Henry has a few variants available depending on your style and budget, but they should all be solid shooters that add some historical charm to this relatively new cartridge. It also has a leg up in terms of capacity and speed compared to most bolt-actions available. MSRP: $654
Best Budget .17 HMR Rifle: Mossberg 817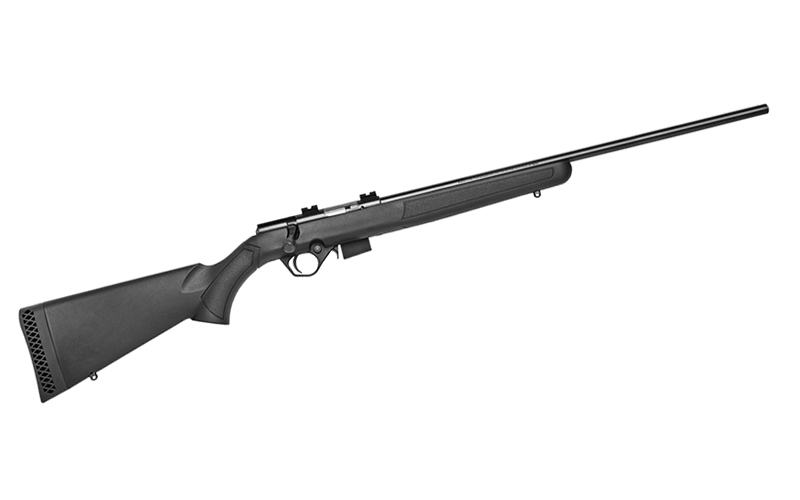 If you want the least expensive .17 HMR rifle you can find, you'd be hard-pressed to do better than the Mossberg 817. This is a very basic bolt-action rifle, but the word on the street is it can still perform where it counts. Its plastic stock likely isn't the most durable, but it certainly is lightweight. The action isn't the smoothest out there, but it cycles and is accurate enough for .17 HMR to be appreciated when fired out of it. It feeds from 5-round mags and has provisions for mounting a scope, so if you need the cheapest varmint-slayer you can find the Mossberg 817 can still be a very decent option to look at. MSRP: $269
Best Non-Budget .17 HMR Rifle: Alexander Arms Tactical
This is another one of the few semi-auto .17 HMR guns out there, and it's simply too expensive to be our pick for the best semi-auto .17 HMR rifle category. For those whose rimfire budgets accommodate this rifle, however, it is still worth considering. The Alexander Arms Tactical's biggest draw is its AR-15 manual of arms and modularity. As the only AR-based rifle in .17 HMR, those who want to fire this zippy rimfire in the most tactical way possible are limited to this model. Capable of accepting most standard AR-15 furniture and accessories, this rifle could be configured in several different ways. Its biggest downside is it's pretty damn expensive for a rimfire that won't be any more accurate or reliable than many of the other options on this list. For those dedicated to the AR platform who want to clear their property of varmints in style, the Alexander Arms Tactical in .17 HMR is probably the best tool to do it with. MSRP: $1,696.95
---
More On .17 HMR:
---
NEXT STEP: Download Your Free Storm Tactical Printable Target Pack
62 Printable MOA Targets with DOT Drills - Rifle Range in YARDS
This impressive target pack from our friends at Storm Tactical contains
62 printable targets
for rifle and handgun range use. Target grids and bullseye sizes are in MOA. Ideal for long-range shooting!
Subscribe to the Gun Digest email newsletter and we'll send your print-at-home target pack right away.
Just enter your email address below.
---