Winchester Repeating Arms has won its share of smoothbore fans with its line of Super X3 shotguns. And the company is shooting for more with a recent expansion of the line of semi-automatics.
Winchester has turned its eye to sport shooters with the addition of the Super X3 Ultimate Sporting Adjustable model and Composite Sporting Carbon Fiber model. And while each shotgun has its own specific features, both appear ready to break their fair share of clays.
The Super X3 Ultimate Sporting Adjustable is an upgraded model of Winchester's Sporting Adjustable Shotgun. Like its predecessor, the new smoothbore features an adjustable comb, which will go a long way to facilitate a more intuitive shouldering and pointing of the gun. But the company has included a few new perks that sets the shotgun off from older iterations.


In particular, the Super X3 Ultimate Sporting Adjustable is outfitted with a signature Red Briley bolt handle and bolt release button and magazine cap weight system. The final feature is intriguing, as it expands the customization of the gun by allowing the user to fine-tune its balance by adding or removing weight.
The Super X3 Composite Sporting Carbon Fiber boasts nearly all the features of the Ultimate Sporting; there are some notable exceptions, such as the adjustable comb. But it is a marked break from the other new semi-automatic with its furniture, as it is outfitted with a synthetic stock. The carbon fiber dipped finish should make the gun quite resilient to the bumps and bruises that can come with hard use. Not to mention, it gives the shotgun a rather modern, sporty look to boot.
Presently, the MSRP of the Winchester Super X3 Ultimate Sporting Adjustable is $1,869.99 and the Super X3 Composite Sporting Carbon Fiber is $1,739.99.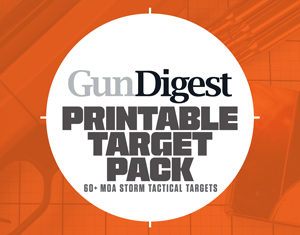 Next Step: Get your FREE Printable Target Pack
Enhance your shooting precision with our 62 MOA Targets, perfect for rifles and handguns. Crafted in collaboration with Storm Tactical for accuracy and versatility.
Subscribe to the Gun Digest email newsletter and get your downloadable target pack sent straight to your inbox. Stay updated with the latest firearms info in the industry.