In the realm of hunting and shooting, Swarovski Optik is best known for its riflescopes.
The Austrian-based company has earned a place in hunters' hearts with high-end options to draw a bead on their game. But Swarovski has made a push in recent years to diversify into sport shooting.
The STR 80 spotting scope is an example of this move. The optic zeros in at F-Class and other long-range shooters offering Swarovski's clarity, and a number of other features to get them on target.
Perhaps, the feature most likely to endear the STR 80 to long-distance shooters is its illuminated reticle. It is designed to aid in evaluating target distance, as well as correcting point of impact.
Presently, the optic is available with two version of the reticle, one with MRAD subtensions and one in MOA. The former version is adjustable in .10th MRAD increments, the latter in ¼ MOA increments.
In both cases, the reticles are adjustable to match nearly any light condition with 15 brightness levels – 10 for day levels and five for night.
The subtenions in the spotting scope operate on the first focal plane, meaning they are always in proportion to the target. This is makes the scope ideal for rapid ranging and holdover adjustment, particularly if there are multiple targets at various distances.
What appears to be an added bonus for tack tappers is STR 80's HD optical system. Swarovski touts the rich contrast and color fidelity of the system as being ideal for identifying bullet holes in paper targets, no matter the distance.
The company has not completely pigeonholed the optic for the competitive range, however. The reticle can be shut off, to allowing the STR 80 to be used as a traditional spotting scope, as well.
The scope appears to have some versatility in magnification in it can be used with both Swarovski's 20-60x and 25-50xW (wide angle) eyepieces. With the proper adapter, the STR 80 can also work in conjunction with an iPhone 5 or a camera.
The top-notch clarity and function of the STR 80 comes at a price. Presently, Swarovski lists the spotting scope for $3,689 on its website.
Technical Data
Effective objective lens diameter (mm): 80
Shortest focusing distance (ft/m): 19 / 6
Diopter correction at ∞ (dpt): > 5
Diopter correction reticle: ± 5 dpt
Objective filter thread: M 82 x 0.75
Functional temperature: -40 °F to +131 °F (-40 °C to +55 °C)
Storage temperature: -40 °F to +158 °F (-40 °C to +70 °C)
Submersion tightness: 13 ft (4m) water depth (inert gas filling)
Technical data STR 80 with eyepiece 25-50x
Magnification: 25-50x
Exit pupil diameter (mm): 3.2-1.6
Field of view (ft/1000 yds / m/1000m): 126-81 ft / 42-27 m
Field of view (degrees): 2.4-1.55
Field of view for spectacle wearers (degrees): 2.4-1.55
Field of view. apparent (degrees): 60-70
Light transmission (%) total product: 75
Weight without battery (oz/g): 71.6 / 2030
Length (in / mm): 15.9 / 403
Technical data STR 80 with eyepiece 20-60x
Magnification: 20-60x
Exit pupil diameter (mm): 4.0-1.3
Field of view (ft/1000 yds / m/1000 m): 108-60 / 36-20
Field of view (degrees): 2.1-1.1
Field of view for spectacle wearers (degrees): 2.1-1.1
Field of view. apparent (degrees): 40-65
Light transmission (%) total product: 75
Weight without battery (oz/g): 70.4 / 1995
Length straight view (in/mm): 15.9 / 403
---
Recommended For You: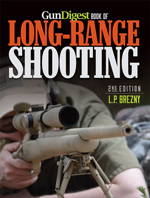 Gun Digest Book of Long-Range Shooting, 2nd Edition